CROSS COUNTRY CLINCHES LHSAA DIVISION I TITLE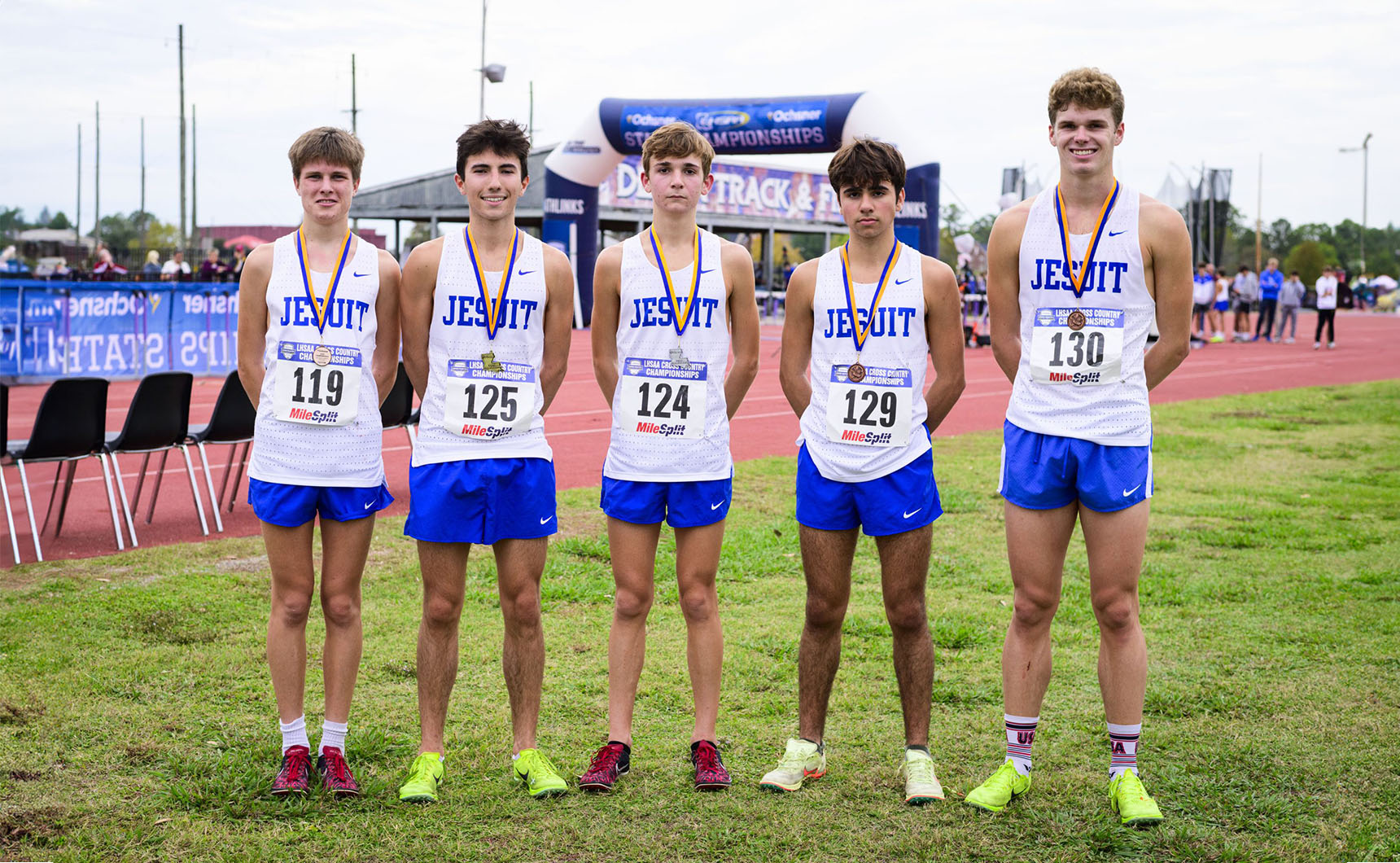 The cross country team raced to victory at the thrilling LHSAA Division I State Championship at Northwestern State University in Natchitoches, Louisiana. The team's triumph, its third consecutive state title, was highlighted by the remarkable performances of Blue Jay runners paced by Brady Mullen, showcasing the depth and talent of Jesuit's cross country program. The Jays overcame a cadre of Crusader runners from Brother Martin, drawing from their rigorous training but ultimately relying on teamwork to clinch the victory.
Mullen, a junior standout, led the pack with a phenomenal first-place finish, clocking an impressive 14:50. This achievement adds another feather to Mullen's cap, who has previously distinguished himself by finishing a 3,200-meter race in under nine minutes—a feat not achieved in the state for 40 years. Mullen's performance at the state championship was a testament to his continued hard work, further solidifying his reputation as a premier distance runner under cross country coach Cullen Doody '08.
Hot on Mullen's heels was sophomore Brady Monahan, who secured a second-place finish with a time of 15:01. This one-two punch from Jesuit set a formidable pace for the competition. Seniors Lucas Sampedro and Michael Vocke also delivered strong performances, placing 6th and 8th with times of 15:12 and 15:14, respectively. Their contributions were crucial in bolstering Jesuit's lead.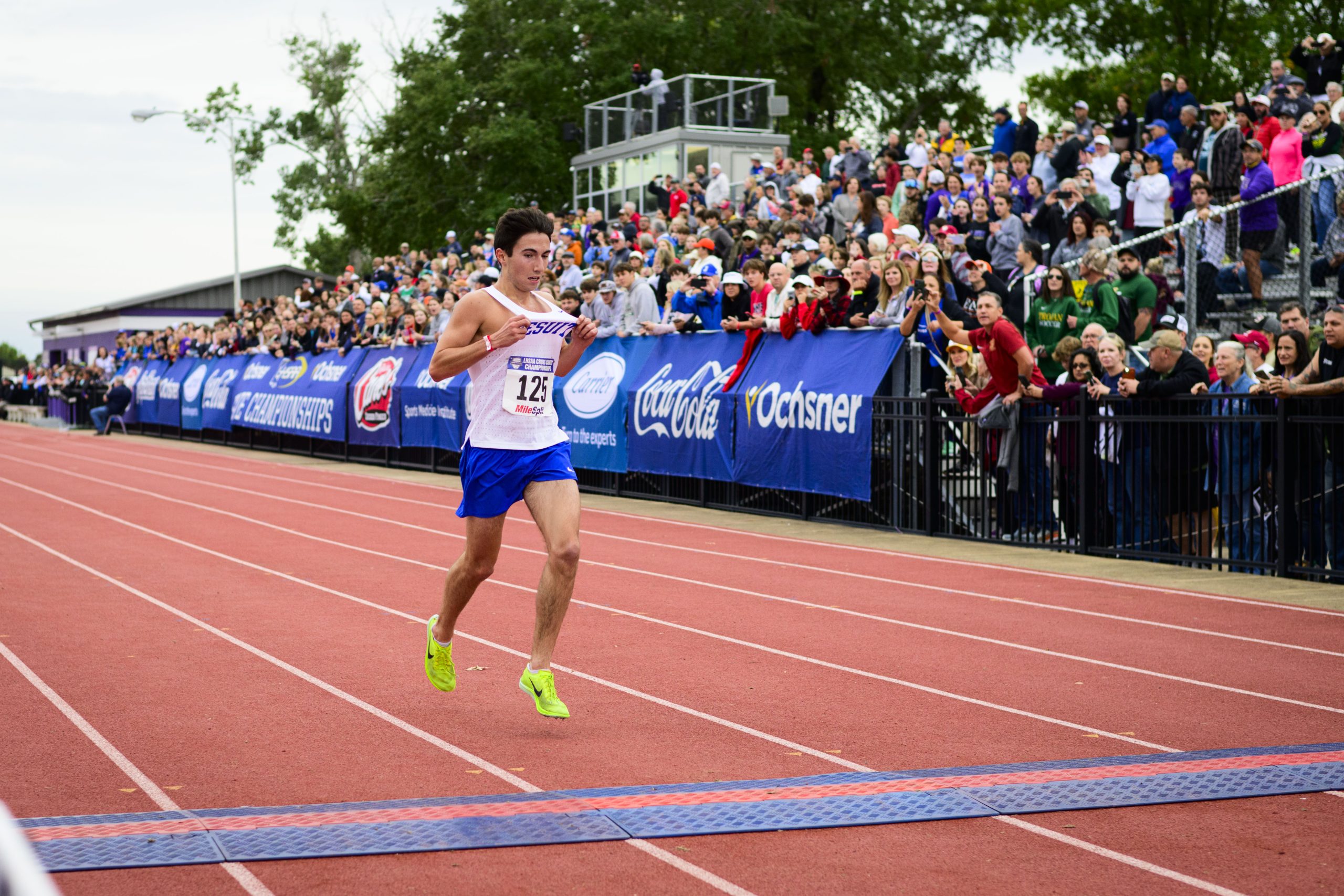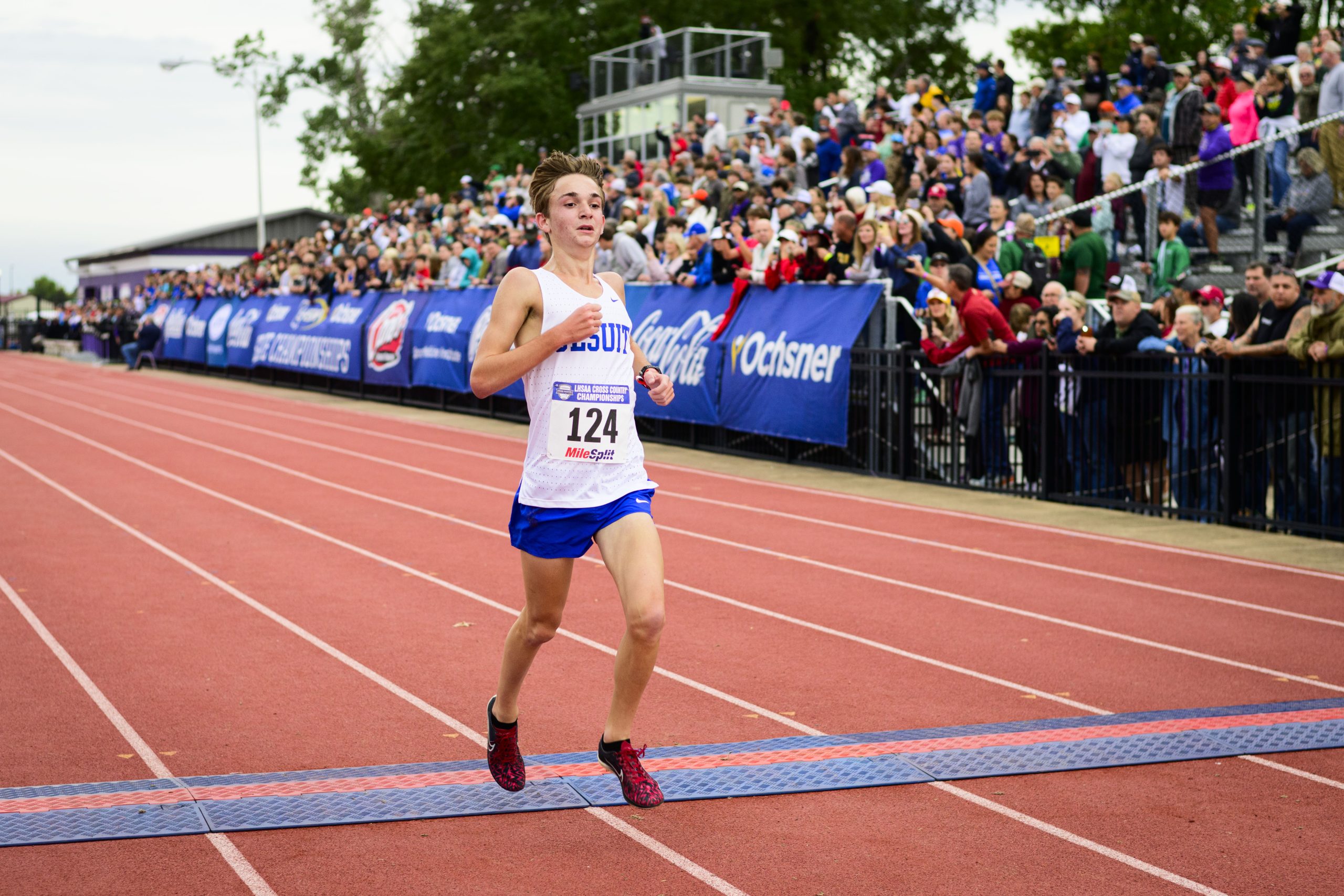 The team's victory was sealed by sophomore Joe Accardo's critical 10th-place finish, clocking in at 15:25. Accardo's performance underscored the depth and ability of the younger members of the team, promising a bright future for Jesuit cross country.
"This year's state championship was a nail-biter—much closer than in 2022—but our runners truly rose to the occasion," said Doody. "They demonstrated not just their physical prowess, but also their mental toughness on the course. Each runner played a crucial role. I'm proud of the hard work they've put in all season."
As the cross country season concludes, Jesuit's team stands out not just for its athletic prowess but also for the camaraderie and discipline instilled by its coaches, Doody and Rudy Horvath '86. Under Doody's mentorship, the team has cultivated a process-focused approach, emphasizing improvement and hard work. This philosophy has paid dividends, as evidenced by the team's state championship win and the individual successes of runners like Mullen.
Looking forward, the Jesuit cross country team, buoyed by its recent victory and the rising talent of runners like Mullen, is poised to continue its legacy of excellence in distance running. The team's performance at the state championship is a clear indicator of the strength and depth of Jesuit's cross country program, setting a high benchmark for races to come.