A Cherished Piece of Rivalry Game History Honoring John Petitbon '48 Returns to Jesuit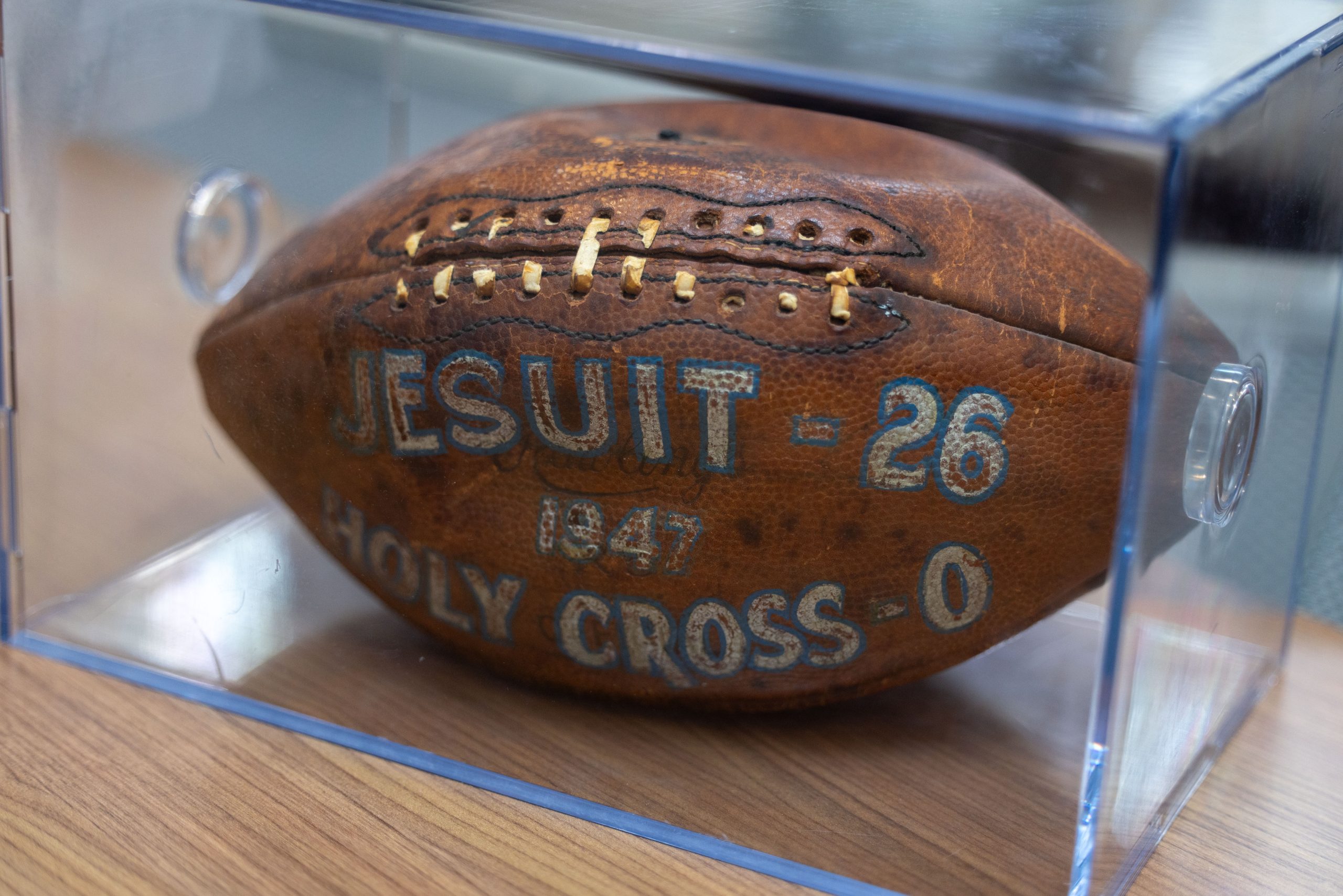 Jonathan Hurd '96, accompanied by his son Hartlee, graciously donated a cherished artifact from Jesuit's history—the game ball from the 1947 Jesuit-Holy Cross Rivalry game. Hurd's stepfather, a Jesuit legend, John Petitbon '48, received the ball as a gift after scoring all 26 points in the 26-0 victory over Holy Cross.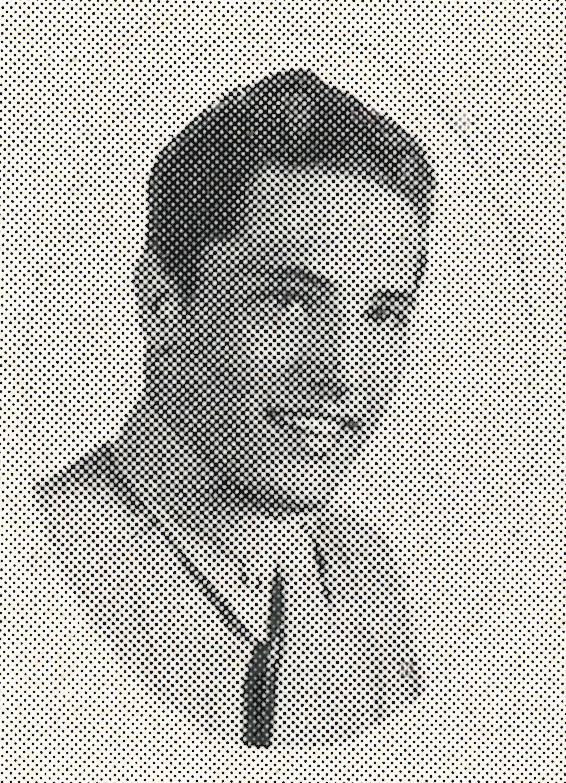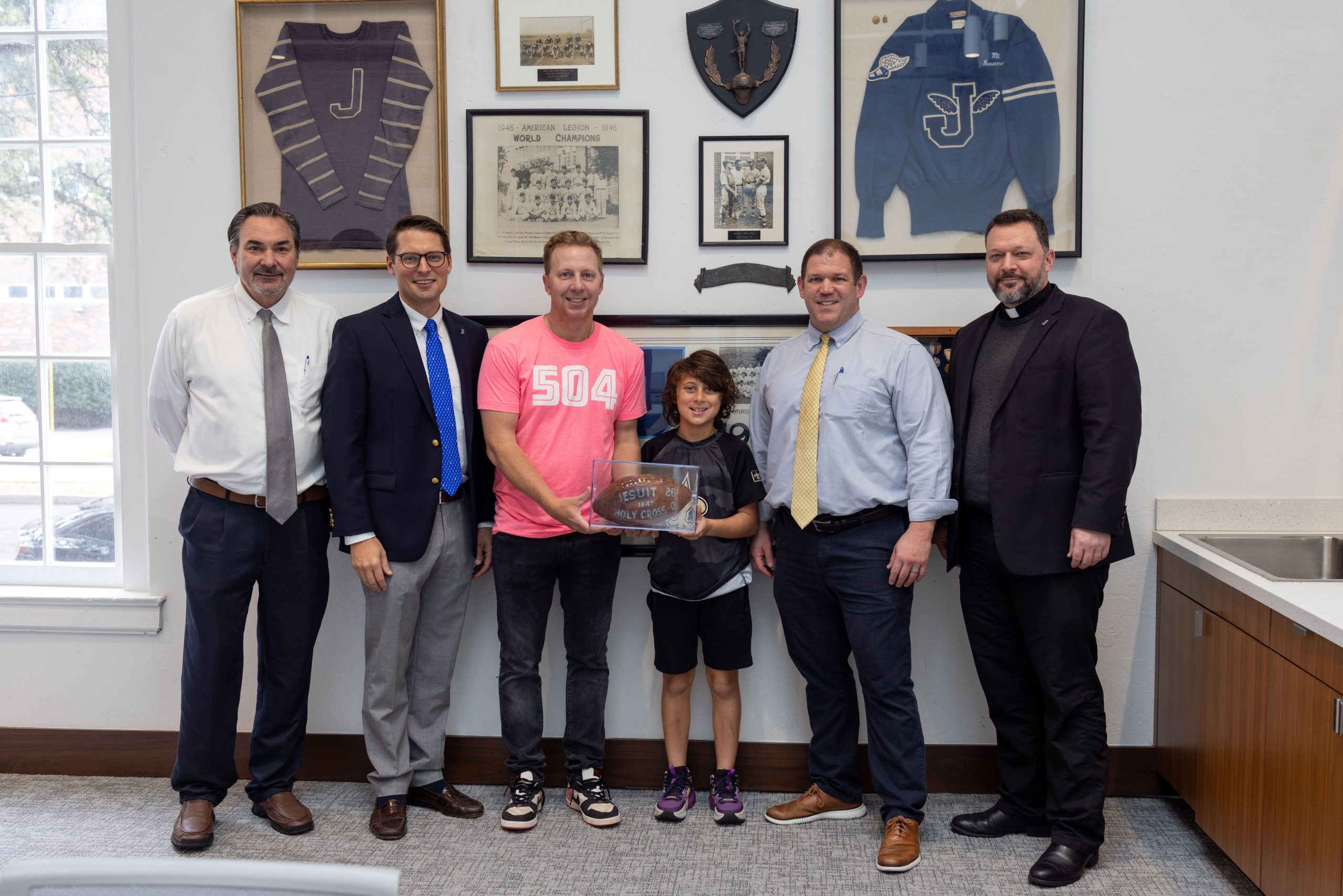 In the 1940s "Golden Age" of high school football, Petitbon distinguished himself as the finest player. A multi-sport letterman, Petitbon became Jesuit's starting tailback at 14, leading the team to a flawless 13-0 record in 1946. Jesuit's victory in Louisiana's Class 2A finals was part of an unprecedented feat: winning championships in all four major sports in one year, with Petitbon starring in three. His final two seasons boasted 50 touchdowns, earning him the title of the state's top football player in 1946.
Following high school, Petitbon played football at Notre Dame, contributing to their 1949 national championship. In his junior and senior years, he amassed 1,432 yards and 10 touchdowns, earning All-American honors. Drafted by the New York Yanks in 1952, he intercepted five passes as a rookie before serving in the Korean War. Post-service, he played for the Cleveland Browns and Green Bay Packers, securing an NFL Championship in 1955. Petitbon, born on June 4, 1931, passed away on November 11, 2006, and is honored in the Louisiana Sports and High School Sports Halls of Fame.
"I learned a lot of really good life lessons from him and always respected where we came from. That's why I wanted to make sure I got the ball to the school. He loved Jesuit and that's where he would want it to be."

Jonathan Hurd '96