Jesuit Celebrates 2023 Homecoming Court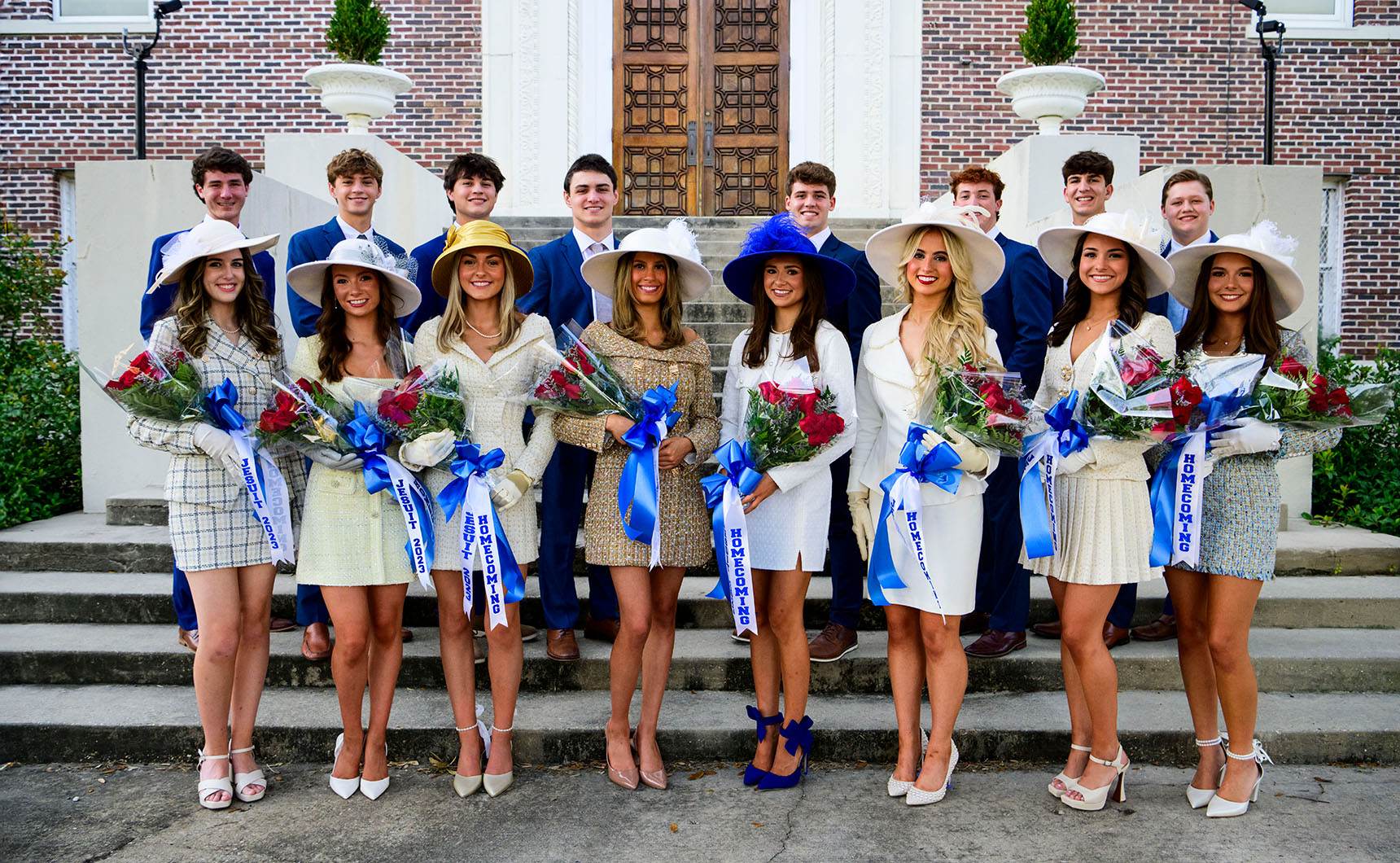 During halftime at the Jesuit vs. Booker T. Washington football game, Jesuit formally presented the 2023 Homecoming Court. The celebration was elevated by performances by the Jayettes, the MCJROTC, and the Blue Jay Band, all of whom contributed their talents to the occasion.
The evening culminated with the crowning of the homecoming queen, Lily Dubret, elected by the senior class, adding another layer of excitement to a night already filled with anticipation.
Loading…
Christian Aertker and Ava Hoffmann
Christian Aertker is a standout both on the varsity soccer team and in the National Honor Society. With aspirations to major in Petroleum Engineering at LSU, Aertker embodies Jesuit's commitment to academic and athletic excellence. His court partner, Ava Hoffmann, is a senior at Mount Carmel Academy. She participates in various activities such as the National Honors Society and Mount Carmel Against Destructive Decisions. Hoffmann intends to study Nursing at the University of Alabama.
Brennan Aucoin and Blaire Power
Brennan Aucoin serves as the Student Council treasurer and is also the varsity baseball manager. His involvement doesn't stop there; he is active in the Investment, Fishing, and Pickleball Clubs. Aucoin's post-graduation plans include staying in the South for college. Accompanying Aucoin was Blaire Power, a senior at Dominican High School, who serves as the Yearbook Editor and is also the cheer captain at Jesuit. She aims to join a college dance team and pursue law.
Nick Celestin and Emery Baudry
Nick Celestin is the president of Jesuit's senior class and plays on the varsity soccer team. His partner, Emery Baudry, is a senior at Mount Carmel Academy. Baudry co-captains the Carmelette Dance Team and serves as a Eucharistic Minister. She is a member of multiple honor societies and plans to study Physical Therapy at LSU.
Kyle Collins and Ella Waguespack
Kyle Collins serves as Student Council vice president and plays on the varsity football team. In addition to his athletic commitments, he is a member of the National Honor Society and Fishing Club. Collins aims to study Medicine or Engineering at LSU. Ella Waguespack, his counterpart, is a senior at Mount Carmel Academy. She co-leads the Carmelette Dance Team and is an active member of multiple societies and clubs. Waguespack wishes to pursue a career in physical therapy.
Luke Couret and Lily Dubret
Luke Couret serves as student body president and excels on the varsity basketball team. He is also an active member of Sodality and Beach Volleyball Club. Lily Dubret, a senior at Mount Carmel Academy, is co-captain of Jesuit's cheer team and is involved in various community-oriented programs. Dubret plans to study Sports Medicine at LSU.
Alex Grilletta and Audrey Foster
Alex Grilletta serves as Student Council secretary and participates in lacrosse, Philelectic Society, Peer Support, J-Troupe Improv Comedy Club, and Barbershop Blue Jays. Audrey Foster is a senior at Mount Carmel Academy and is involved in Teens for Life, Come Lord Jesus, and Jesuit's Philelectic Society. She aims to major in journalism with aspirations to teach.
Charles Lemann and Brylin Hunt
Charles Lemann, a varsity football player, also serves on the Student Council Executive Board. His college plan is to study business at LSU. Accompanying Lemann was Brylin Hunt, a senior at Mount Carmel Academy. Hunt is active in various programs and societies and aims to major in Business and Marketing at LSU.
Arthur Schott and Emily Carbo
Arthur Schott, a varsity wrestler, serves as Team Captain and is involved in numerous academic societies and mentorship programs. His future plans include pursuing an MBA and attending law school. His partner Emily Carbo is a senior at Mount Carmel Academy and is involved in multiple community service and environmental initiatives. Carbo plans to major in Business.