Football Clinches Tactical Victory Over St. Augustine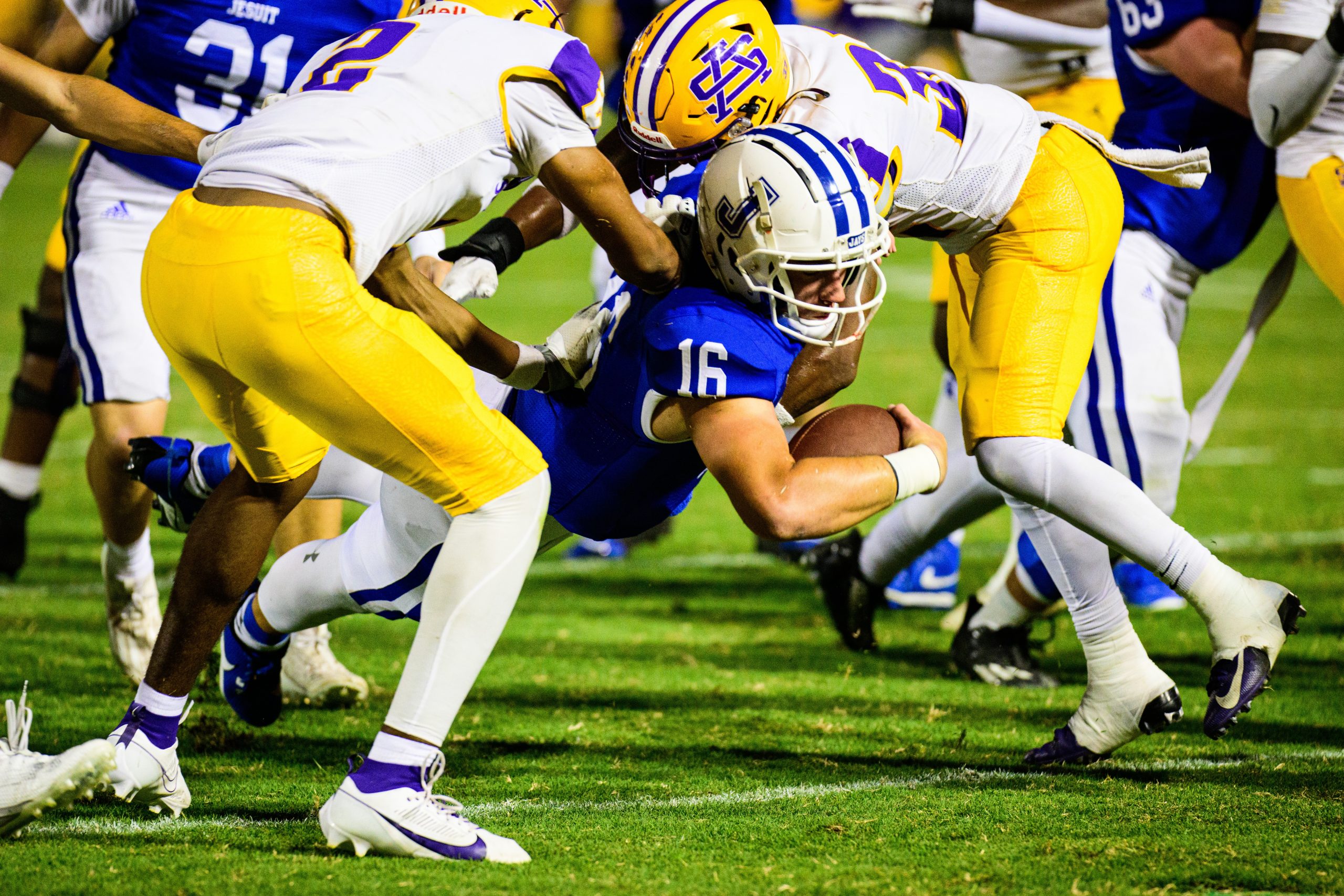 In an important match-up under the Friday night lights at The Shrine on Airline, the football team clinched a 13-6 victory over St. Augustine. Both teams entered the game eager to add a victory to their record, but it was the Blue Jays' disciplined defense and timely offensive strikes that carried the day.
The Jays displayed a resilient defensive front, holding off the Purple Knights who are known for a strong offensive program. St. Augustine's offensive players found themselves stifled as the Jays' defense kept them scoreless for over three quarters.
At the helm of Jesuit's offensive charge were senior quarterback Beau Perez and senior running back Landon Garcia. Perez put up a commendable performance, both in the air and on the ground. He completed five out of seven passes for 86 yards while also rushing 16 times for 37 yards, scoring a crucial touchdown in the process. Garcia added to the offensive tally by contributing 42 yards over 20 rushes along with two receptions for 16 yards.
Despite being outgained in yardage, the football team's opportunistic play was a game changer. The team's ability to capitalize on St. Augustine's errors, including 15 penalties and two lost fumbles, showcased a tactful blend of defensive solidity and offensive precision. Particularly notable was an errant option pitch by St. Augustine's quarterback that the Jays recovered, setting the stage for Perez's four-yard touchdown dash.
Sophomore Ethan Cabos also played a pivotal role by nailing two field goals, extending Jesuit's lead and ultimately sealing the win. His 34-yard and 29-yard field goals were crucial in maintaining a distance between the Jays and the Knights.
The win brings a surge of momentum as the football team prepares for its next challenge against Brother Martin at the Shrine on Friday. With the lessons gleaned from this victory, Blue Jay football players and Jesuit football fans will spend the upcoming week in anticipation of this pending Catholic League face-off.
Loading…