After Tenacious Opening Games, Football Heads to Lafayette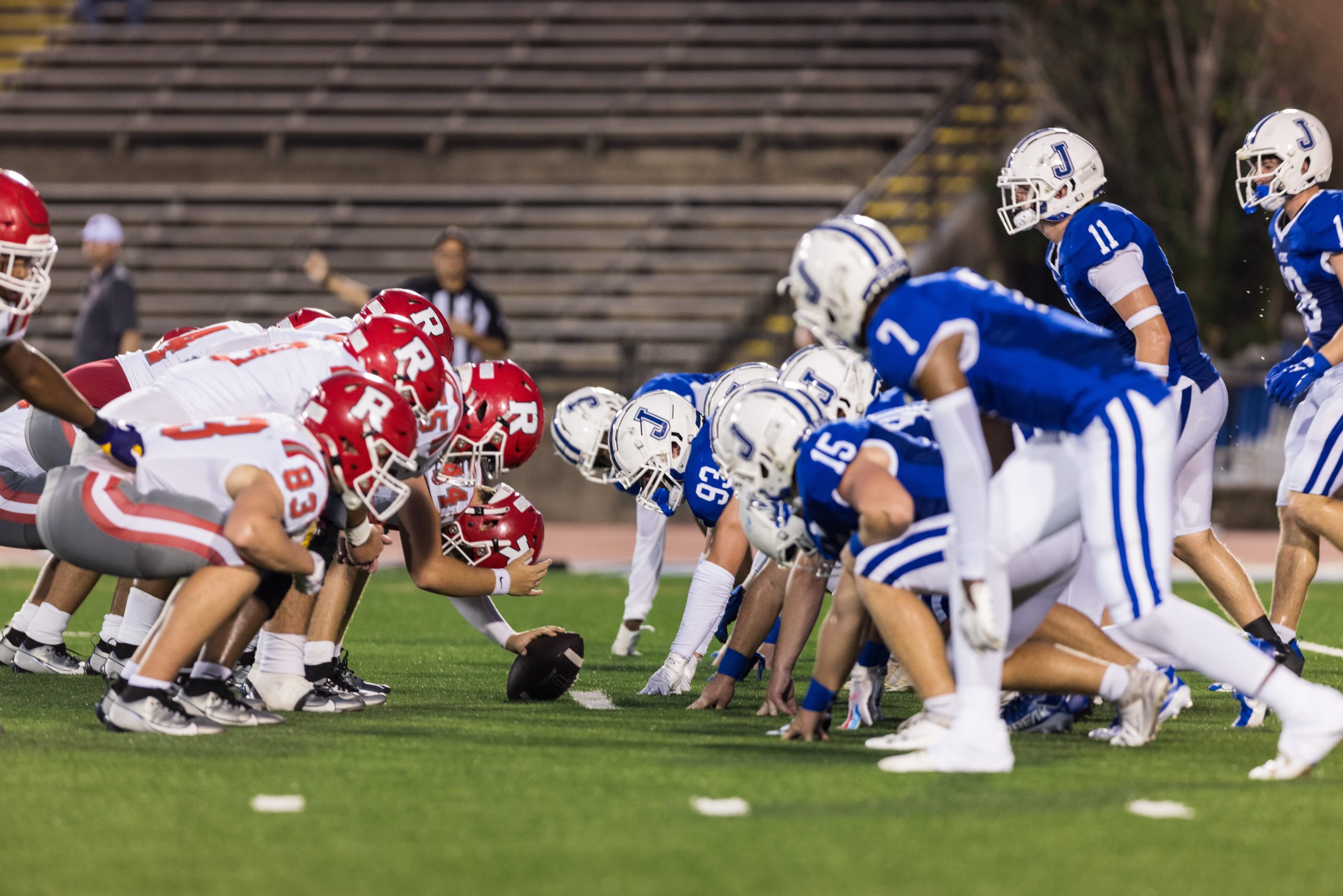 As Friday night lights illuminate stadiums across Louisiana, Jesuit football team has signaled that it has a promising season ahead. With two games already in the books and the third one coming up this evening in Lafayette against Lafayette Christian, the Blue Jays are geared up to make this season a memorable one.
In the season opener against Slidell, the football team demonstrated a formidable combination of offensive and defensive prowess. The game, which was largely a defensive showdown, saw Jesuit's rushing attack control the narrative. Senior quarterback Beau Perez, together with senior tailbacks Patrick Berrigan and Landon Garcia, combined to chalk up an impressive 168 yards, setting the tone for the entire match. Berrigan, who stood out as the player of the game, exhibited exemplary skills and determination, darting through openings created by the offensive line and ensuring the Jays remained ahead in terms of game tempo.
Loading…
Jesuit's defense was equally commendable. Disrupting the Slidell offense, the Blue Jays' defensive linemen frequently halted the Tigers' drives even before they could pick up momentum. Jesuit's head coach, Ryan Manale, praised the team's efforts, stating, "I thought the offensive line controlled the offense. We didn't have the negative plays."
Click here to view photos from the Jesuit-Slidell game.
The subsequent game against Ruston proved to be a learning curve for the Jays. The game began with promise, with the two teams locked in a 7-7 stalemate at the half. Despite a challenging second half, Jesuit's performance in the first half showed the potential the team possesses. Manale reflected on the game, saying, "It was a 7-7. We won the turnover battle in the first half. We had the ball in the red zone. I thought we played hard for 24 minutes."
The young team, led by the strong-armed Perez, has shown unmistakable glimpses of brilliance. With Perez's experience and knowledge of the playbook, combined with the budding talent of the sophomores and freshmen, the team's potential is undeniable. Perez has been instrumental in guiding the young receivers, helping them acclimatize to the team's strategies.
As the Jays head to Lafayette for their third game, the lessons from the past games will be at the forefront. The upcoming game provides a perfect opportunity for the team to regroup and exhibit tenacity and determination.