Join Us in Prayer for Ben de Boisblanc and Family
Benjamin Joseph de Boisblanc, the son of Jesuit High School theology teacher Susan de Boisblanc, passed away on Sunday, August 6, on the feast of the Transfiguration, in Alexandria, LA. Please join the Jesuit community and his family in mourning and prayer.
The wake and funeral for Ben has been scheduled on Jesuit's campus for August 14—further details below.
Monday, August 14, 2023
Chapel of the North American Martyrs
Visitation: 3 – 5 p.m.
Rosary: 4:30 p.m.
Mass of Christian Burial : 5 p.m.
Burial: Will take place the following morning, August 15, at St. Patrick's # 1 at noon.
---
Benjamin Joseph de Boisblanc Obituary
1999 – 2023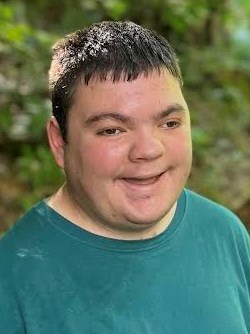 Ben was born in New Orleans to Charles and Susan de Boisblanc on March 24, 1999. Ben was a special angel who made a difference in the life of everyone he met. He was a Kabuki Syndrome Warrior and wore his pure love on his sleeve. Everyone that Ben encountered was influenced by him and became a better person for it. He was a giving soul, always thinking of others, and was particularly exuberant in his love for his family and for serving the Lord in the Mass.
There isn't a McDonald's in Louisiana that has not been visited at some point by Ben, who loved to use his pudgy little fingers to eat his favorite chicken nuggets, fries, and caramel sundae. There wasn't a bag of M&M's, a bottle of coke, or Sour Cream and Onion chips that were safe in his vicinity. He was a lover of Super Mario, opening Christmas presents from Santa, watching the Mass and Rosary on EWTN, and spending time with his family and friends. He particularly loved to be with his Momma, Daddy, his brothers, and his Grandma and Grandpa, who were his second set of parents.
Ben attended St. Michael's Special School beginning at 6 years old and made many good friends. As he grew older, he became a resident of St. Mary's Residential Training School from the age of 15 until his death. In that time, he was a student at Alexandria Senior High School and earned a Louisiana Diploma at the age of 22, thanks to many wonderful teachers, especially "his" Mrs. Maurer. Ben was an athlete in the Special Olympics and an enthusiastic member of the Best Buddies program. He was a very good reader, but lacked good math skills, just like him Momma (sorry, bud)!
Ben was an excellent altar server and served Mass in many churches and chapels in Louisiana. He served at St. Dominic's in Lakeview, his parish, when he was home. In Alexandria he served weekly in the chapel on campus as well as at the Cathedral of St. Francis Xavier. His presence at Mass never failed to bring a smile to many faces; his love for God truly shone through. He taught us all the joy of unconditional love. His family and friends rejoice through our sorrow that he is now with Jesus, his Lord that he loved beyond all else.
Ben is preceded in death by his grandmother, Rebecca de Boisblanc. He is survived by his loving parents, Charles and Susan, his brothers, Charles, Jr. '13, Joshua '15, and John Paul, his grandparents, Kenneth, Sr. and Patricia Martinez, and Donald de Boisblanc, Sr., his godmother Sr. Ann Martinez, M.S.C., his uncles and aunts, Kenneth, Jr. and Kathy Martinez, Donald, Jr. and Erin de Boisblanc, Jeb and Laura-Helen Bruneau, and cousins Jacob Martinez, with whom he had a special bond, Pierce and Reece de Boisblanc, Emile and Mason Bruneau, Amanda and Abigail Richard, his two dogs, Birdie and Ellie, as well as many family members and friends.