Hook, Line, and Sinker: Brother Dardis Fishing Rodeo a Reel Success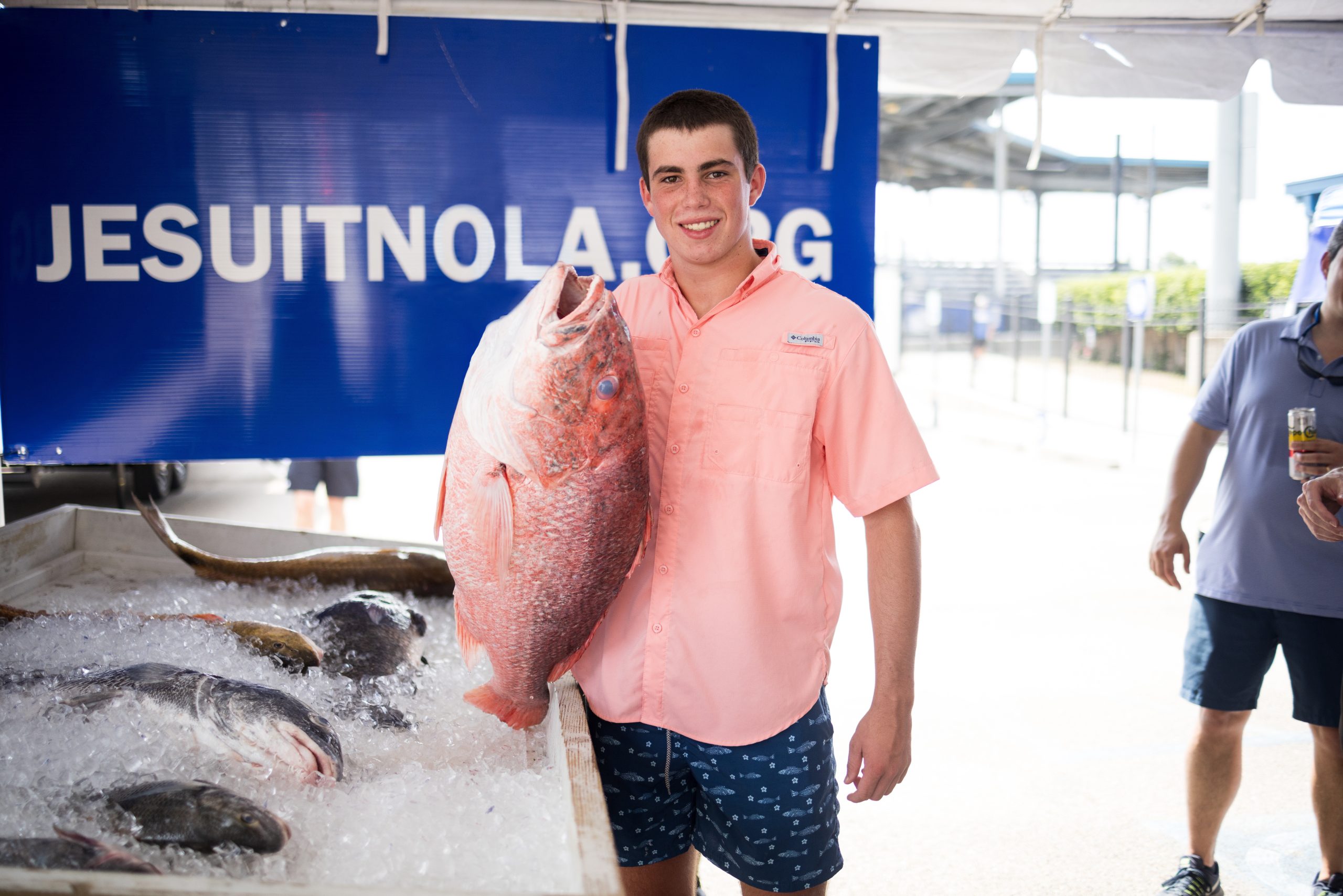 Families gathered at the 2023 Brother Dardis Fishing Rodeo at John Ryan Stadium on June 17, 2023, to weigh their catch, enjoy cold drinks, and indulge in delicious seafood. Despite the heat of the day, participants were able to cool off with refreshing snowballs. Additionally, the Jesuit Blue Jay Shop proudly displayed and sold spirit items under their own shaded tent. Jesuit extends its sincere appreciation to Brian Bent '89 and Greg Bent of Bent's RV and Bent Marine for their generous presenting sponsorship and for showcasing their impressive RVs and boats.
Before Mike McMahon '85 announced the winners and handed out plaques and trophies, Jesuit President Fr. John Brown, S.J. led a prayer to commence the presentation. Committee member Jude Trahant '80 introduced Msgr. Christopher Nalty '80 who entertained the crowd with the Parable of the Megalodon. The fishing rodeo results can be viewed below.
Jacob Howat '25 was the lucky winner of the grand raffle prize– a fishing trip for four with Capt. Evan Hatrel '17 and Fish Commander– underwritten by Edward Jones. Campbell Levy '28 won the second grand prize– a fishing trip for three with Capt. Dudley Vandenborre. Chris Puckett '23 won the IGLOO Trail Mate 70-quart cooler filled with Jesuit items (IGLOO cooler donated by Augie Leopold '61 Promotional Products).
In addition to savoring a delicious seafood meal prepared by Max Gruenig '06 and his team, every registrant received a ditty bag packed with the new Jesuit Fishing Rodeo shirt.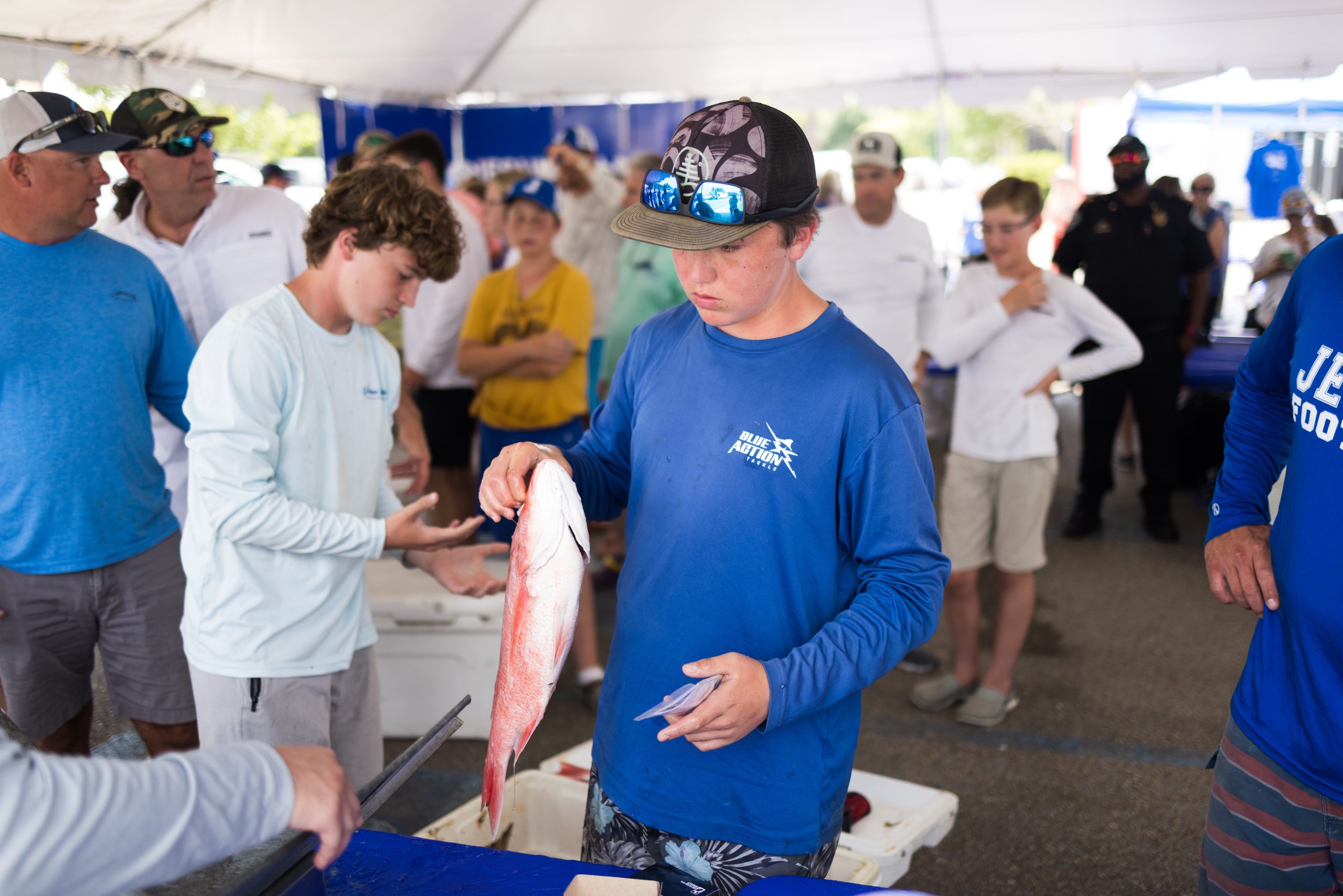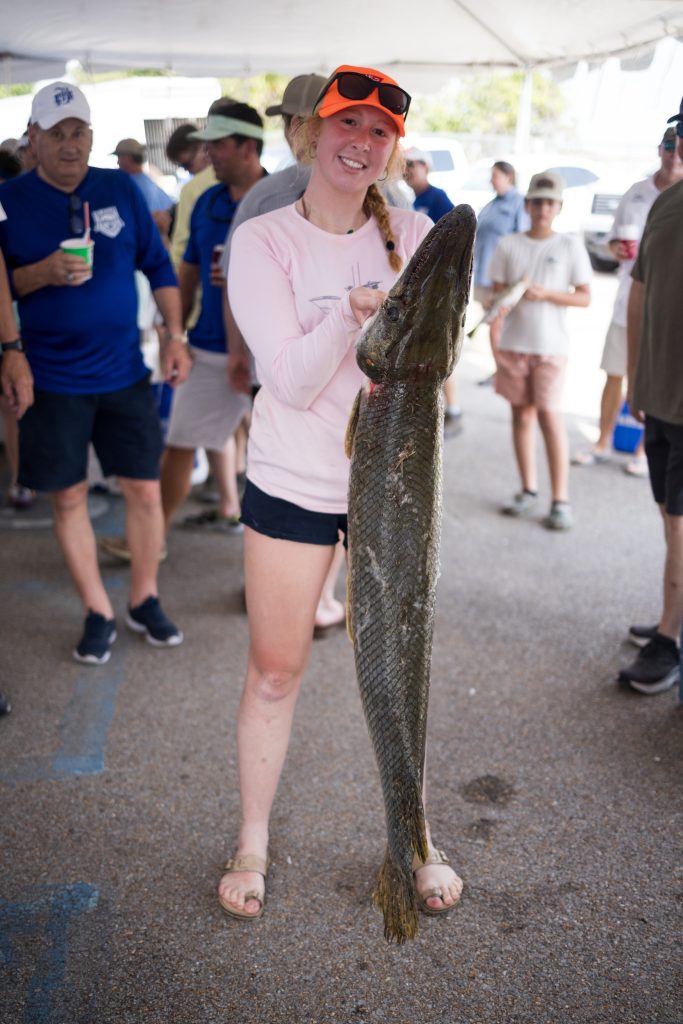 DIVISION 1 (ADULTS)
| | | |
| --- | --- | --- |
| CATEGORY | NAME | WEIGHT |
| Speckled Trout (1st Place) | Fr. Kramer, S.J. | 3.15 |
| Speckled Trout (2nd Place) | Ryan Goote ' | 2.95 |
| Speckled Trout (3rd Place) | Kevin Prados | 2.85 |
| Redfish (1st Place) | No Entry | —- |
| Redfish (2nd Place) | No Entry | —- |
| Redfish (3rd Place) | No Entry | —- |
| Red Snapper (1st Place) | David Cashio | 13.90 |
| Red Snapper (2nd Place) | Carter Round | 4.60 |
| Red Snapper (3rd Place) | No Entry | —- |
| Sheepshead (1st Place) | Mike Deichmann | 4.25 |
| Sheepshead (2nd Place) | Fred Debram | 0 |
| Sheepshead (3rd Place) | Drew Necaise | 3.45 |
| Black Drum (1st Place) | Drew Necaise | 2.25 |
| Black Drum (2nd Place) | Scott Dusang | 2.24 |
| Black Drum (3rd Place) | No Entry | —- |
| Flounder (1st Place) | Art Brewster | 2.45 |
| Flounder (2nd Place) | Kevin Trahant | 2.20 |
| Flounder (3rd Place) | No Entry | —- |
| Bass (1st Place) | Mat McMahon | 4.00 |
| Bass (2nd Place) | Christopher McMahon | 3.05 |
| Bass (3rd Place) | Mat McMahon | 2.85 |
| Freshwater Catfish (1st Place) | No Entry | —- |
| Freshwater Catfish (2nd Place) | No Entry | —- |
| Freshwater Catfish (3rd Place) | No Entry | —- |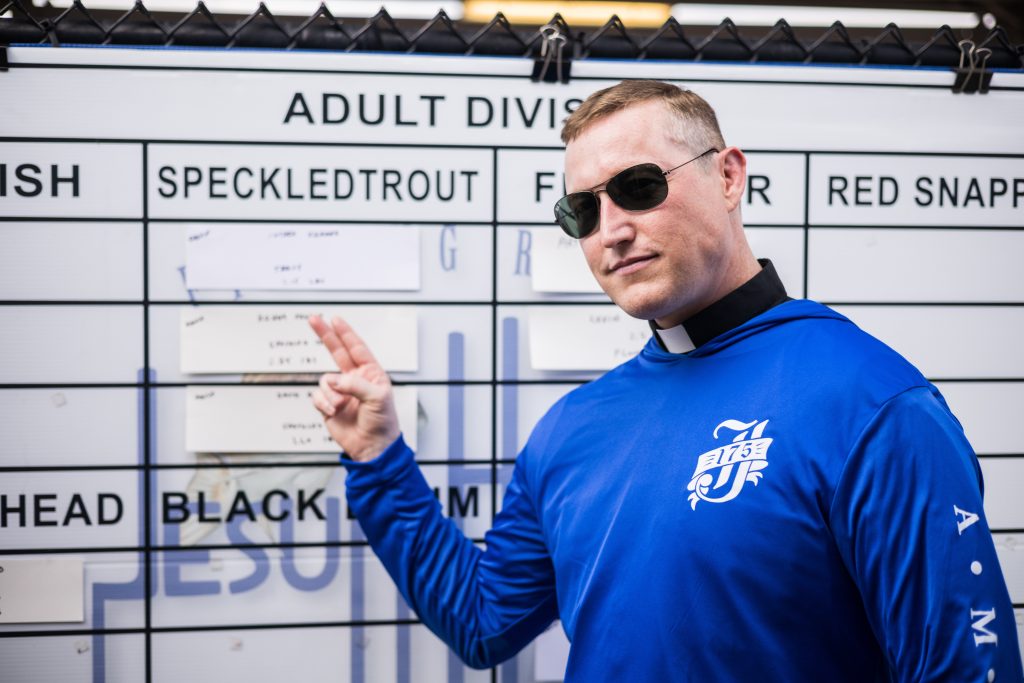 DIVISION 2 (18 & UNDER)
| | | |
| --- | --- | --- |
| CATEGORY | NAME | WEIGHT |
| Speckled Trout (1st Place) | William Bonafacic | 2.35 |
| Speckled Trout (2nd Place) | William Bonafacic | 2.25 |
| Speckled Trout (3rd Place) | William Bonafacic | 1.90 |
| Redfish (1st Place) | James Breaux | 4.10 |
| Redfish (2nd Place) | Steve Danna | 2.80 |
| Redfish (3rd Place) | No Entry | —- |
| Red Snapper (1st Place) | Brad Frischertz | 22.05 |
| Red Snapper (2nd Place) | Hayes Round | 10.10 |
| Red Snapper (3rd Place) | Mason Long | 4.95 |
| Sheepshead (1st Place) | Alec Poe | 6.40 |
| Sheepshead (2nd Place) | Tristan Alonso | 4.60 |
| Sheepshead (3rd Place) | Jack Holley | 4.25 |
| Black Drum (1st Place) | Cameron Martin | 5.55 |
| Black Drum (2nd Place) | Cameron Martin | 5.50 |
| Black Drum (3rd Place) | Julia Trahant | 3.10 |
| Flounder (1st Place) | James Breaux | 2.35 |
| Flounder (2nd Place) | Will Bonafacic | 2.30 |
| Flounder (3rd Place) | Connor Pilie | .65 |
| Bass (1st Place) | Jack Holley | 2.45 |
| Bass (2nd Place) | William Degehart | 1.80 |
| Bass (3rd Place) | James Breaux | 1.60 |
| Freshwater Catfish (1st Place) | Cameron Martin | 15.95 |
| Freshwater Catfish (2nd Place) | Sam Noveck '24 | 5.70 |
| Freshwater Catfish (3rd Place) | Truman | .0 |
DIVISIONS 3, 4, & 5
| | | |
| --- | --- | --- |
| CATEGORY | NAME | WEIGHT |
| FIVE-TROUT STRINGER | Mark Bonafacic | 14.5 |
| BIGGEST FISH | Lillian Stouder (Gar) | 32.85 |
| FATHER-DAUGHTER (1st Place) | Julia Trahant | —- |
Loading…