On Air and On Top: Student Podcast Places First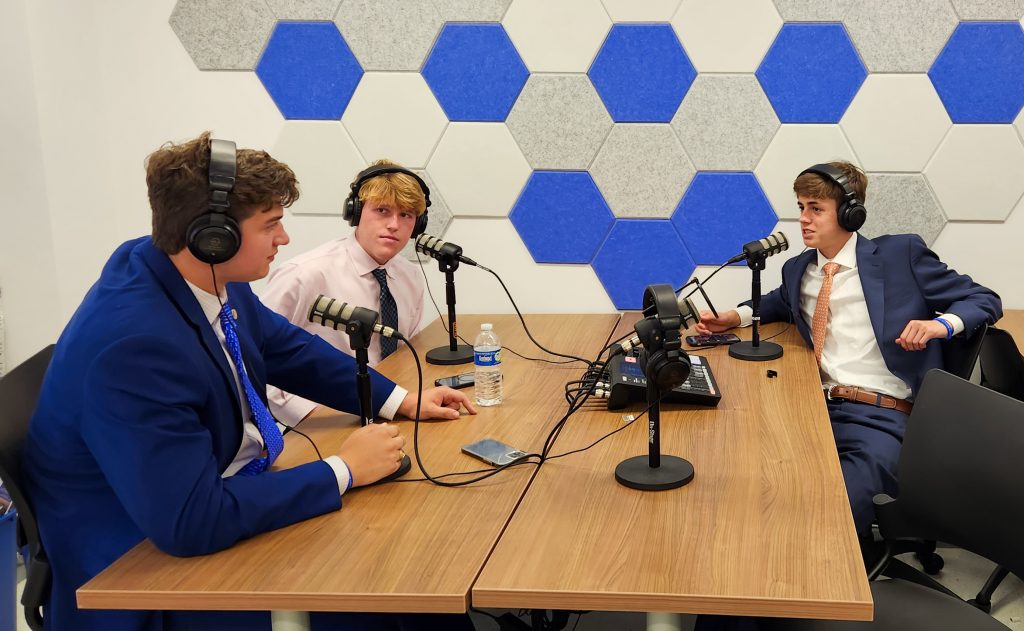 "In my sophomore year I was listening to Coach Ursin give a moving speech on leaving behind a legacy at Jesuit for future Blue Jays and I realized I didn't really have much to leave behind," recalled recent graduate Killian Lyon '23. "After two years and many episodes later, to be able to hand on the Ten Minute Break podcast is a true honor."
Originally started within Jesuit's Campus Ministry department to discuss recent spiritual events such as retreats, religious news, as well as featuring segments on student life, the Ten Minute Break podcast grew over the course of four years to become the flagship show of Jesuit's growing student media endeavors. The first few shows were recorded in a do-it-yourself fashion with simple microphones, a laptop, and a rotating crew of student ministers and guests.
"Watching the podcast grow is so meaningful to me," said Roland Waguespack '23, "I remember my first episode as I was featured on the podcast as a guest. That episode means a lot to me because it was truly the beginning of the "host trio" and the beginning of great friendships." The "host trio" of Patrick Dowd '23, Lyon, and Waguespack would continue over the next two years and saw the student hosts hone their broadcasting skills. "If you listen to some of the earlier podcasts, you might find that I always rambled and tried to find something to say," said Dowd, "Over time I learned to formulate my ideas before I started talking and in that way I was more clear and concise."
"The main skill I learned was to talk more succinctly. By recording, I learned to avoid mumbling and 'ums'," said Waguespack, "Also, my ability to communicate with Patrick and Killian silently during an interview became a real strength, and in doing so, we avoided talking over each other, which made the broadcast all around better."
It wasn't just the hosts that noticed the improved quality in production, but the entire school community. The podcast increased its viewership over those two years as well as its number of guests. Each episode of the latest season featured a special guest such as star place kicker Aidian Corbello '23, wrestling state champion coach Jon Orillion '01, or the previous school chaplain Fr. Kevin Dyer, S.J. "Fr. Dyer was my favorite guest," remembered Dowd, "Even though he was living in Denver, he became our most frequent guest which was funny; but he also gave some great insight and humor to every episode of which he was a part."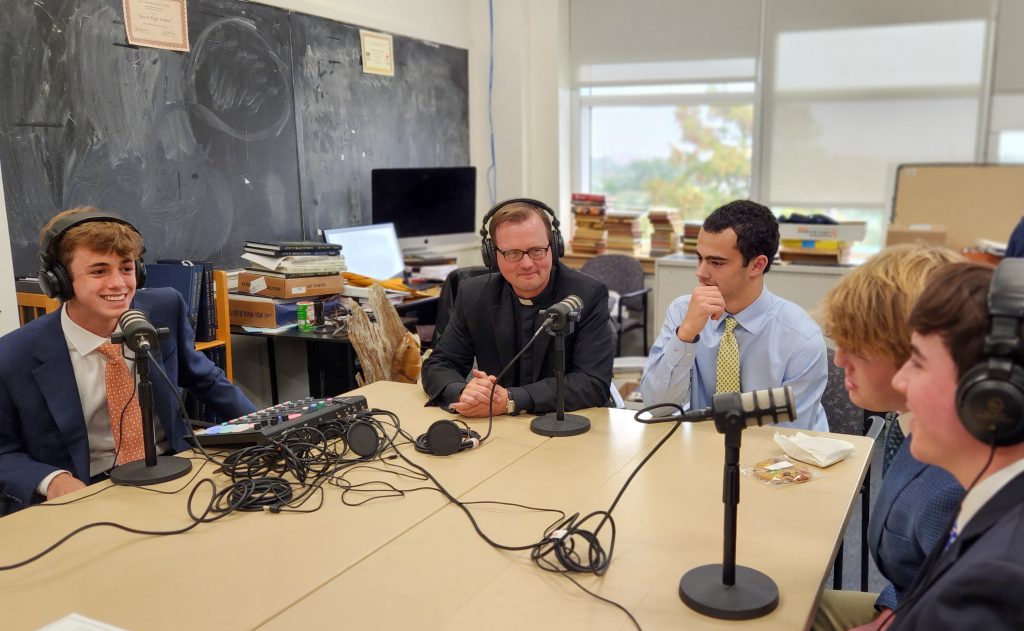 Season four saw the show solidify its line-up of segments and codify a format that became the norm throughout the season. Each episode would begin with an introduction of the topics typically followed by an interview with the featured guest. The hosts would then give their takes on recent student events before transitioning into the most anticipated part of each show: "Killian's Concerns." What started as a standalone feature with Lyon listing his favorite types of pasta, the show's closing segment became a staple of each episode. "My favorite segment has to be 'Killian's Concerns'," stated Waguespack, "Whether it was his long and complicated metaphors or the joy of listening to him debate anything from ice cream to movies, Killian's shenanigans always brought joy to the show."
In addition to the increased audience, the Ten Minute Break podcast was recently recognized as the top podcast in the JEA/Loyola University of New Orleans Silver Scribe Awards, which honors high school journalistic efforts. Jesuit was also recognized for first and second place in Monthly News Broadcast for its Valor's Cry documentary series, and Patrick Dowd earned second place for Sports Journalism. "It's been an incredible journey watching these students build something like the Ten Minute Break podcast from the ground up," said Student Communications Director Peter Flores '09, "They've not only created an entertaining show that students are excited to catch each episode, but one that highlights how are students are fulfilling the school's mission even in the everyday life at Jesuit."
"To leave a legacy like this at Jesuit is very special because of all that the school has provided me, academically, socially, and spiritually," recalled Dowd. "I really feel that the podcast gives great insight into what it means to be a Jesuit student and to be a cornerstone of that is very special."
The Ten Minute Break podcast is available on Spotify, Apple Podcasts, and Google Podcast. It is recorded bimonthly in Jesuit's newly updated Student Communications Office and posted every other Friday.