Dr. Noel Osborn '58 Imparts Wisdom on Servant Leadership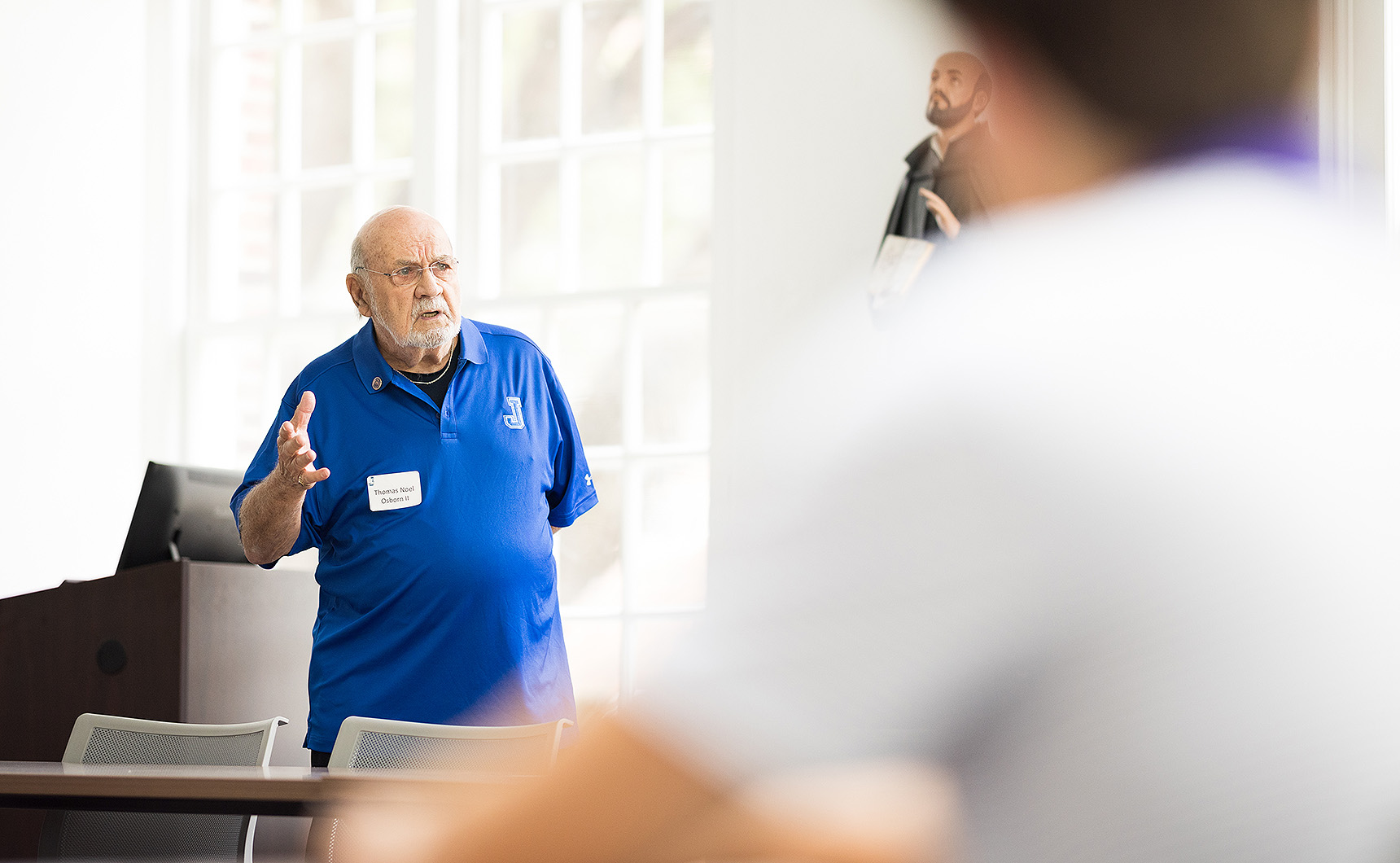 Jesuit was privileged to welcome back alumnus Thomas Noel Osborn '58. Speaking to an exclusive assembly of the rising Student Council Executive Board, MCJROTC participants, and other selected students and staff, Osborn shared his insights on servant leadership.
A respected figure in leadership development, Osborn's leadership journey began at Jesuit, growing eventually to include his achievements as a professor at the National University of Mexico (UNAM) and his service in the U.S. Navy Reserve. Over the years, his presentations, lectures, and workshops have reached over 10,000 participants, 2/3 of which were from Latin America. Drawing from his diverse experiences, beginning with his tenure as a student editor for the "Blue Jay," Osborn stimulated thought-provoking discussions on the essence of servant leadership among Blue Jay future leaders.
Osborn's address resonated with Jesuit's student leaders, affirming the school's mission of shaping men for others. His insights, steeped in his 40 years of global experience in leadership development, particularly as the founder of TEAM International® and working with the Center for Creative Leadership of Greensboro, NC, facilitated a discussion that oscillated between lively and introspective as the group traversed various leadership-related topics.
Despite his wide-reaching impact, his bond with Jesuit remains strong. His visit to the "Blue Jay Room," where the student newspaper used to be edited and published, brought to the surface the imprint of his Jesuit education. Osborn's journey underscores the exceptional caliber of Jesuit's alumni the world over and the far-reaching societal impact of lessons learned on Carrollton & Banks.
Following his address, Osborn attended his class's 65th reunion, reminiscing with his classmates about their time at Jesuit and celebrating their enduring connections. His commitment to visiting Jesuit and sharing his wisdom is a testament to the bond between alumni and today's students, a relationship that will continue to inspire generations of Blue Jays to come.
Loading…