Mock Trial Celebrates Stellar National Performance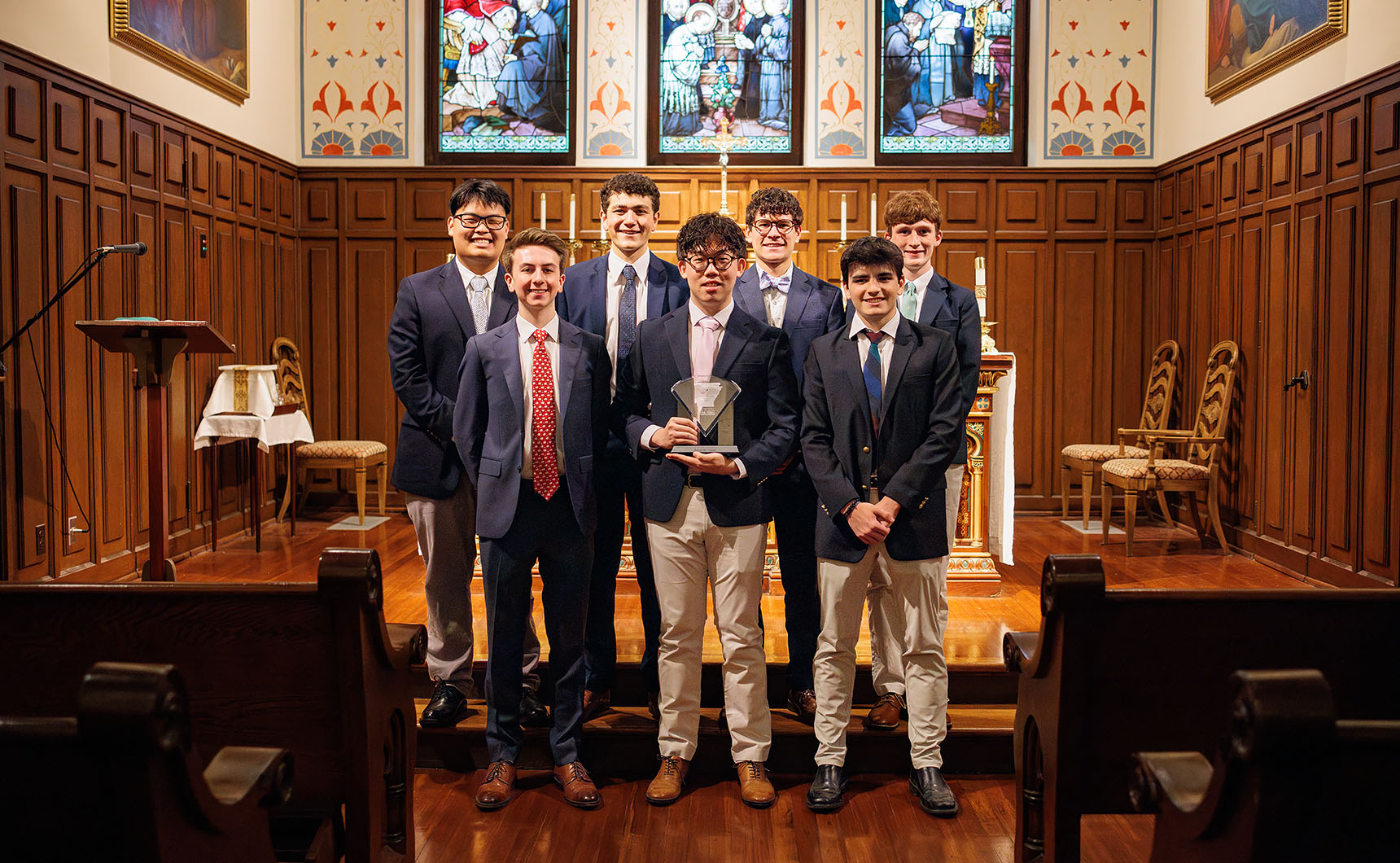 Fresh off a state championship, the members of Jesuit's Mock Trial team continued to showcase their legal acumen on the national stage. In an impressive display of skill and determination, they claimed a seventh-place finish at the national competition held in Little Rock, Arkansas. This achievement matches the record set by the 2009 Jesuit team and stands as the highest any Louisiana team has ever placed in the competition.
This journey to the national level began when Jesuit claimed a recent state championship at the Jefferson Parish courthouse in Gretna. The team triumphed over Central High School in the final round, securing its place at the national competition. This formidable team comprised senior attorneys Dalton Haydel, Wade Rogers, Preston Rumney, and Asher Terrell alongside witnesses Daniel Lee, Jake Morvant, and Ben Tran.
Jesuit's success in these tournaments would not have been possible without the guidance and leadership of alumni coaches Brett Wise '82, Mike Mentz '74, Nick Mole '01, Brandon Long '95, and Jordan Lacoste '14. Greg Ernst '83 is the faculty moderator.
Loading…
The national competition proved to be a challenge, testing both the students' understanding of the law and their own tenacity. After an initial practice round against Iowa, who eventually earned the national title, Jesuit emerged more focused and determined. They registered clean sweeps of the ballots against Missouri and Mississippi, won a split ballot victory against Michigan, and lost on a split ballot to Nevada.
Wise lauded the team's exemplary efforts, stating, "The tournament lived up to our expectations both in terms of the difficulty of the problem and the level of competition. Every single team member has to pull his weight. The team can't carry someone who is not up to par and still be successful."
In Wise's estimation, every team member significantly contributed to their national success. Rumney showcased poise and passion during introductions and opening statements. Tran expertly navigated concessions and disputes, proving his tactical abilities. Lee convincingly portrayed diverse roles, giving cross-examining attorneys a run for their money. Morvant stood firm during intense cross-examinations. Rogers skillfully navigated a complex scenario in a difficult role, Terrell conducted expert cross examinations, and Haydel delivered a vital closing argument in the third round.
Reflecting on the journey, Wise observed, "It's a bit of an emotional tug to say goodbye to such a fantastic group who has been doing this so well for so long. They all have great and challenging things in store for them. To quote the traditional Navy farewell, 'may you have fair winds and a following sea.'"
To honor these graduating seniors, who missed their scheduled Baccalaureate Mass due to the national tournament, Jesuit held a private alternative Mass in the second-floor chapel for Mock Trial team members and their families. Looking ahead, future Blue Jays are preparing to step up, undoubtedly inspired by the impressive achievements of this year's team.