Blue Jay Band Shines on Stage at Annual Spring Concert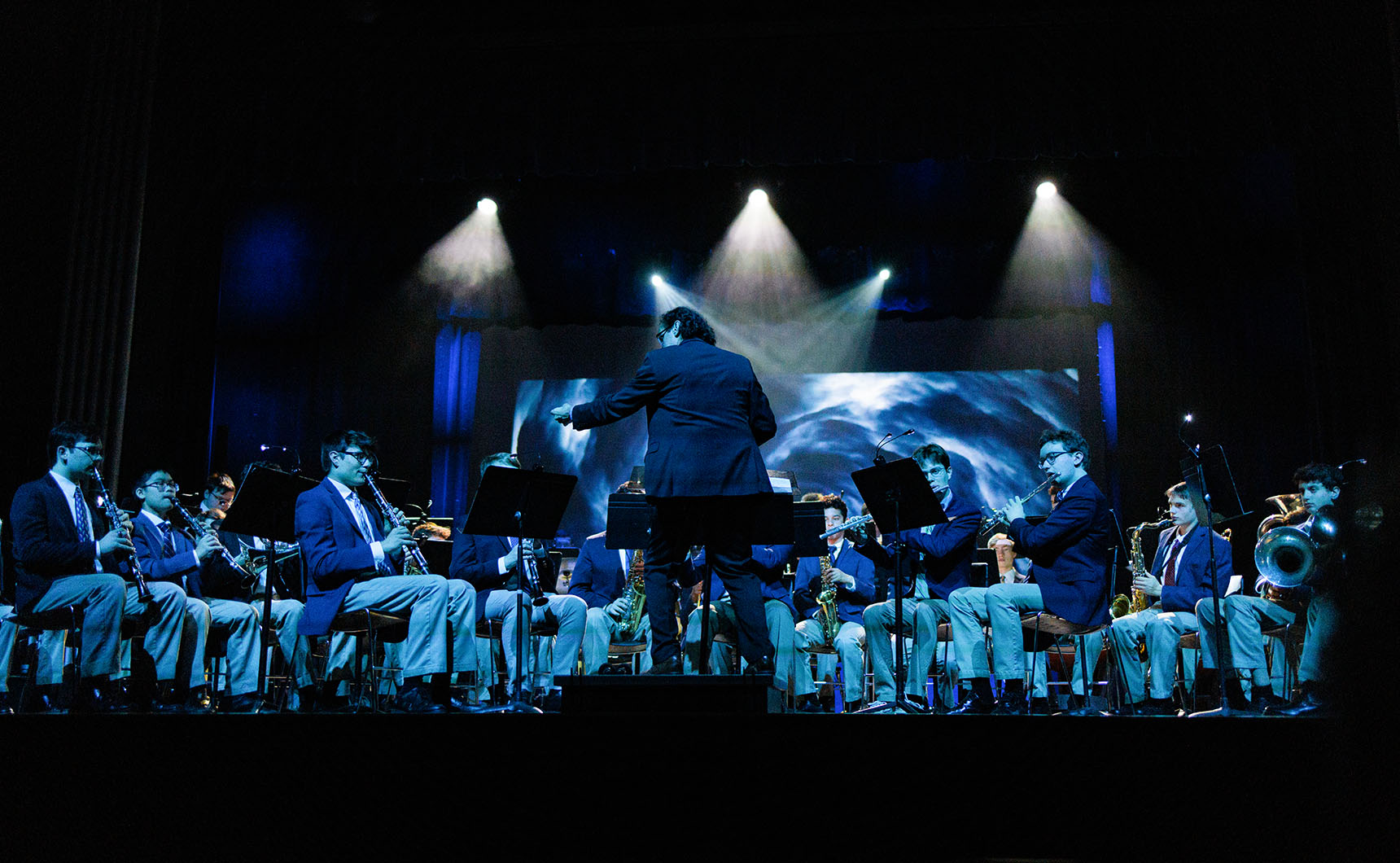 On Saturday, May 6, Jesuit High School's auditorium came alive with the sound of music as the Blue Jay Band hosted its annual Spring Concert and Awards Ceremony. Band director Joe Caluda '79 and associate band director Jason Giaccone led the concert and jazz band performances, respectively, while D.J. Galiano '07 executed an unforgettable audio-visual experience.
Caluda led the concert band in opening the evening on a patriotic note with "Star Spangled Banner" by Francis Scott Key. Following this rousing start, the band dove into an inspiring rendition of "This is Me" from the film "The Greatest Showman," arranged by Michael Brown. Their performance of Robert W. Smith's "Into the Storm" showcased the Jays' wide-ranging musical talents.
A moment of reflection was brought forth by "Halcyon Hearts" by Katahj Copley, a composition dedicated to the graduating seniors, highlighting the significance of their contributions to the band. The band's portion of the evening was then concluded with a compelling performance of "Highlights from Wicked," arranged by Michael Sweeney. The impressive visuals provided by Galiano added to the immersive storytelling, striking an emotional chord with the audience.
Loading…
The concert band ceremony was made even more poignant as Caluda honored the graduating seniors. Andrew Davis, Scot Fisher, Jacob Foster, Joshua Fuentes, Luke Gilmore, Andrew Nata, Ronnie Reeb, Gabriel Schwarz, Sebastian Seals, Jacob Tobler, Colin Torrance, and Alex Weeks were recognized for their dedication and commitment to the band. Caluda's words of encouragement echoed through the auditorium, reminding the Jays that they would forever be part of the Blue Jay Band family.
The second half of the evening was charged with energy as the jazz band, led by Giaccone, performed a lively second-line performance of "Grazin' in the Grass," arranged by R. Flowers. Senior Jacob Tobler kicked off this portion of the concert from the center aisle, making for an engaging start. The band continued with captivating renditions of "Just the Way You Are," arranged by Jerry Nowak, and the "Mission Impossible Theme," arranged by Michael Sweeney.
Their performance culminated with "Frankenstein," arranged by Jack Cooper, and ended on an electrifying note with "What a Feeling" from the film "Flash Dance." The final piece, featuring a standout vocal performance by senior Colin Torrance, energized the auditorium.
Caluda also took time to recognize incoming band students, who stood to receive an applause, a nod to the bright future of the band.
An additional sincere thank you was extended to the Band and Jayette parent booster organization and all parents who give tirelessly of their time.
The Blue Jays will take the stage next at the 2023 Commencement Exercises at 8 p.m. on Wednesday, May 24. As another successful concert season draws to a close, the Jesuit High School community eagerly awaits the next performances from these dedicated Jays with the first "away" band camp in three years officially on the calendar.