LACROSSE WINS STATE CHAMPIONSHIP 6-5 IN OVERTIME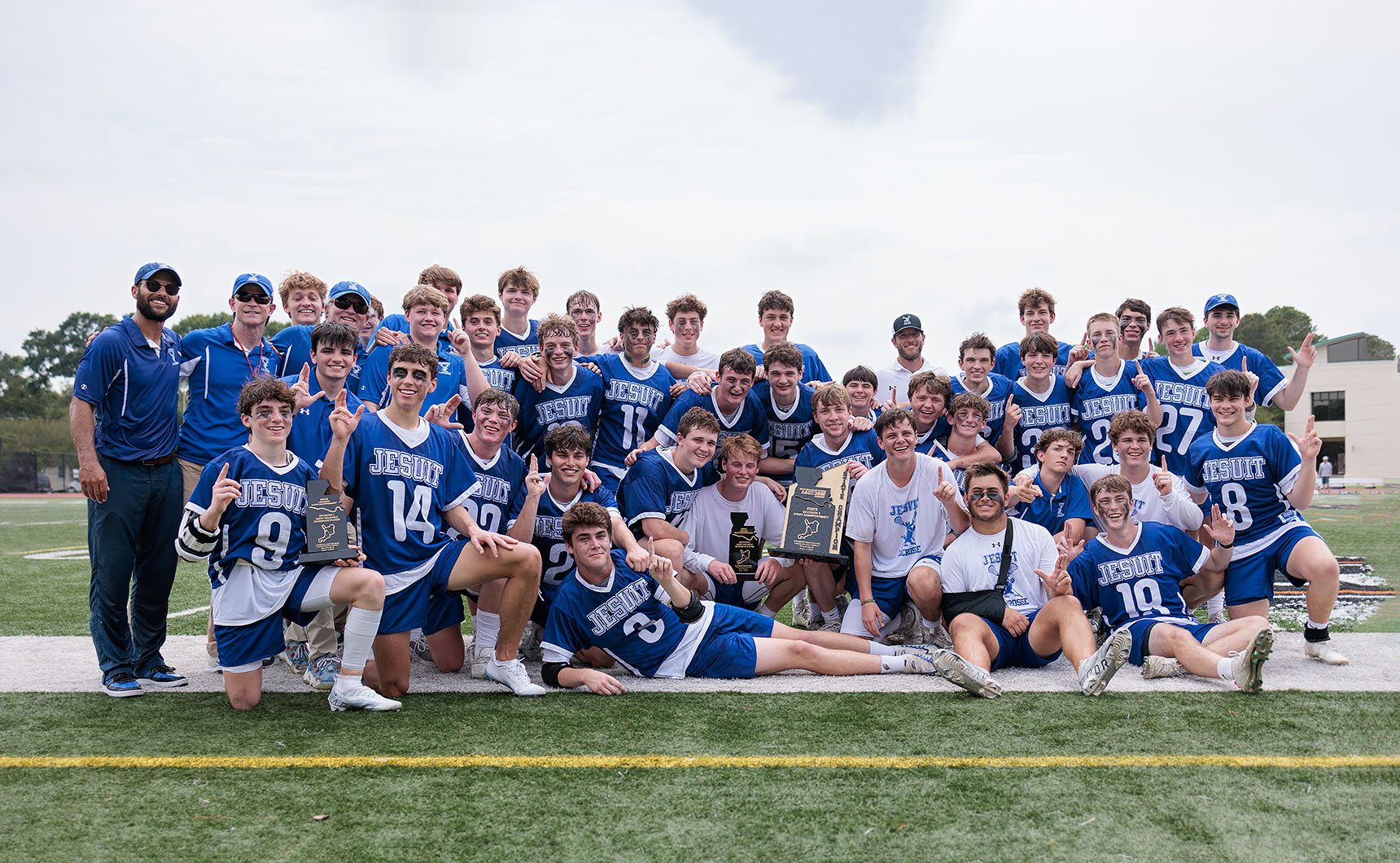 In a down-to-the-wire state championship matchup against Baton Rouge rival Catholic High School, the Blue Jay lacrosse team sealed the state title in sudden death overtime with a fiery shot from sophomore Wilson Frischhertz assisted by junior John Calhoun. With a final score of 6–5, the win is Zach Pall's second title as head coach of the team and the seventh for the lacrosse program at Carrollton & Banks.
While Jesuit's senior leadership was the foundation of the team's success, the hard-won victory ultimately required outstanding performances from Jesuit players of all ages, and after the game freshman standout Zachary Raymond was presented with the offensive player of the game award. Senior goalie Ethan Lago, who made ten successful saves, was named defensive player of the game.
The Blue Jays put up the game's first point off of a pass from Calhoun to Raymond at the seven-minute mark. Raymond followed up with another mid-range shot to pick up his second goal of the game. Shortly after the Jays exited the locker room from halftime, Calhoun sprinted around the goal to pick up a point of his own in the third quarter. Despite three unanswered goals and three quarters of strong defensive, midfield, and offensive play, the game was far from over.
Catholic finally found the back of the net in the third quarter, but a quick assist from Frischhertz and yet another goal from Raymond—his third of the match—seemed to tamp down any hint of momentum for the Bears. The toughest moments of the game were yet to come, however, and an impassioned blitz saw Catholic suddenly earn three consecutive goals to bring the score to an unexpected 4–4 tie.
In defiance of Catholic's newfound footing, junior Jack Sutherlin let a shot fly from up top that earned the team a critical goal and reestablished a 5–4 lead for Jesuit—but not for long. Catholic took their own successful long-range shot with seconds left in the game to send the matchup into a nail-biting sudden death overtime.
While the Blue Jays struggled to gain possession in the first moments of the overtime period, Calhoun soon found Frischhertz on a fast break to end the game with six points on the board to Catholic's five.
"This is a very special group for me," Pall told Varsity Sports Now. "[These seniors] were sophomores for me when I started at Jesuit, and for them to go out as seniors and finish their job was unreal to watch."
Click here to watch VSN's coverage of the major beats of the game.
Loading…