Blue Jays Attain ACT® Scores of 30 or Above 1,214 Times in Five Years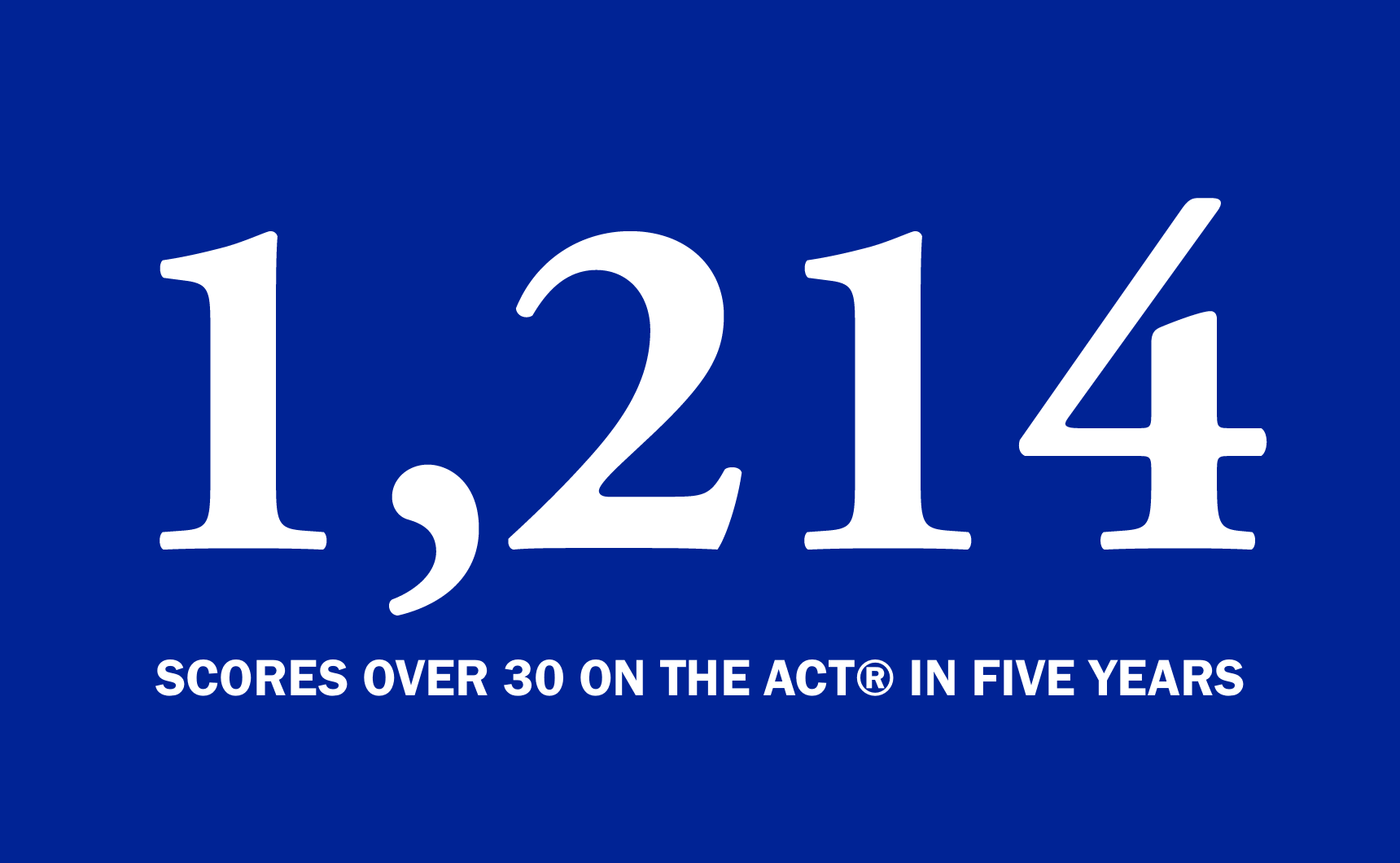 With senior week beginning for the Class of 2023, the combination of celebration and nostalgia on Carrollton & Banks provides an opportunity for reflection on the past five years of academic, athletic, co-curricular, and spiritual achievements. While the school has recently highlighted the academic accomplishments of individual students—with more to come—the collective academic performance of Jesuit's students over the past five years is a story unto itself.
Over the past five years during the Class of 2023's time at Jesuit, Blue Jays have scored above a 30 on the ACT® an outstanding 1,214 times. For context, no peer school in the area has attained more than 175 reported comparable ACT® scores in that time period.
Scored from 1–36, the ACT® is a standardized college entrance assessment, and students who score above a 30 are considered to be the top 90th percentile of the nation's test takers. Students can take the test more than once, and these 30-or-greater scores were earned by about 550 individual Blue Jays.
| Segment | Jesuit Students |
| --- | --- |
| Scores Over 30 on the ACT® | 1,214 |
| Individual Students Over 30 on the ACT® | 550+ |
| Individual Students with a 36 on the ACT® | 28 |
| National Merit Semifinalists & Scholars | 175 |
Blue Jay ACT® and National Merit performance over five years
In this same time period, 28 Jesuit students have also scored a 36 on the ACT®, placing them in the top 99.7% of all high school students in the United States. Attaining a 36 on the ACT is a major academic accolade for an individual student, and on a given year approximately 5,000 students in the country earn a 36 out of 1,200,000 who take the test.
"The secret to Jesuit's sustained academic success isn't a secret at all," said Fr. John Brown, S.J., Jesuit's president. "These accomplishments are the result of our classically grounded liberal arts curriculum, the tireless dedication of the most inspiring and talented faculty members I know, the hard work and passion of our students, and the support and love of Blue Jay families and family members."
"While we say it in one way or another year-in and year-out," he continued, "it's worth repeating that academic excellence is a byproduct of Jesuit's educational philosophy, not its true goal. A strong academic foundation is one way that we equip students to become sharp tools in God's hands—to become, in other words, competent men for others—to transform the world for His greater glory."
| Local | Average ACT Composite Score |
| --- | --- |
| Jesuit | 27.7 |
| Local Boys 8-12 Grade Catholic School (Second Highest) | 23.8 |
| Local Boys 8-12 Grade Catholic School (Third Highest) | 23.0 |
| Louisiana | 18.1 |
| United States | 19.8 |
Peer school ACT performance
As shown above for reference, the Louisiana state average ACT score for 2022 was 18.1, and the national average was 19.8. While the state's lowest category was math with an average of 16.7, Jesuit students scored an average of about 27 on the math subsection.
---
Alongside celebrating students who attain certain outstanding academic accomplishments, Jesuit also highlights graduating seniors who are named winners of highly selective merit-based national scholarship competitions. Click here to read about more of these students.