Nationally Ranked Rugby Takes Down Brother Martin to Open Season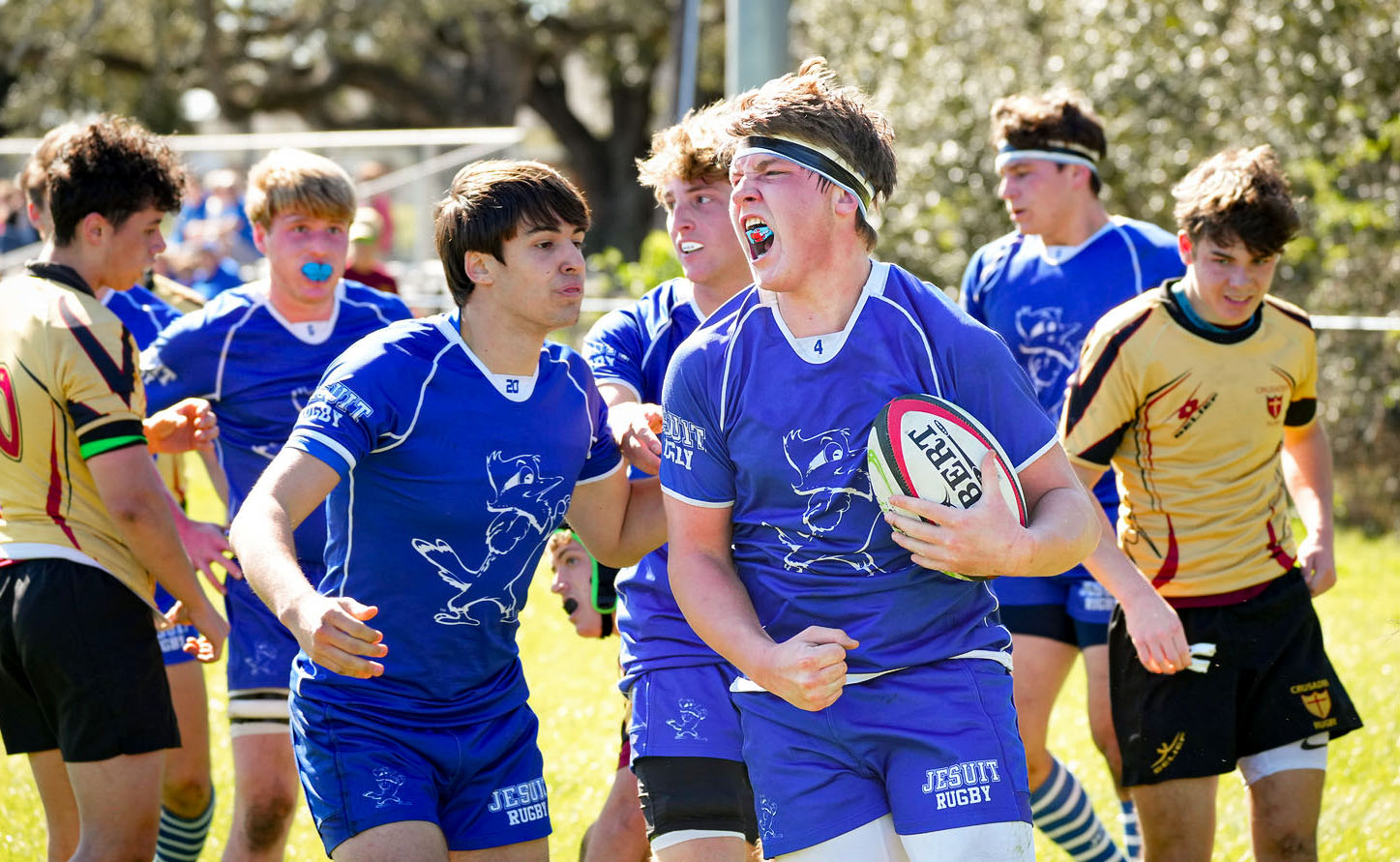 This past weekend, the Blue Jays (ranked 12th in the nation) opened up the 2023 season with a 70-7 signature defeat of cross-town rival, Brother Martin. Senior halfback Matt Cashio opened the scoring when he and senior 8-man connected on a well-timed weak-side attack off the scrum. Brother Martin had the play well defended, but Cashio used a combination of footwork and stiff-arms to defeat three would be tacklers. Within a few phases of the ensuing restart, Cashio combined with a pod of marauding forwards led by football cross-over star, senior Jon Rouse to find a seam through the Crusader defense to once again find the tryzone.
Throughout the contest, the Jesuit forwards were led by senior second-row, Timmy Peterman and senior hooker, Ben Musgrave. Both Peterman and Musgrave organized and led their respective pods of forwards on repeated assaults of Brother Martin's defensive line. Their efforts kept Brother Martin on the back foot, which in turn created numerous opportunities for the Blue Jay backs, who were led by the inimitable Andrew Newel (senior, flyhalf). Throughout the afternoon, Newel connected with repeatedly with his band of screamers, including senior fullback Otto Hirstius and senior wing Joe Trask, both of whom dotted down tries. Senior center Joey Haase added pounding runs combined with very skillful offloads. Spectators were surprised that Haase, a very recent football crossover, had become so skillful so soon into his rugby career.
A number of underclassmen took the pitch in their first ever A-side (varsity) action, including sophomore front row Myer Stedman, sophomore front row Ian Miranda, and sophomore front row Noah Burgau. The underclassmen were led by sophomore second-row, Frank Finicle. Finicle, a second-year player, earned a spot on the Jays starting 15, the only sophomore to do so. Rumor has it his imposing size and skill has the All-American coaches taking a close look at him.
Tries were scored by Matt Cashio (2), Rowan Bourdais (2), Andrew Newel, Timmy Peterman, Otto Hirstius, Joe Trask, and others.
Next up is United Rugby, a powerhouse squad from Missouri, who are looking to test their skills against the Jays. The match is set for Friday, February 10, at 6 p.m., at the Marconi field.