Tradition of Service: 2023 Service Project Begins
For 175 years, Jesuit High School has formed men of competence, conscience, and compassion to be men of faith and men for others. There is nothing more emblematic of this mission than the annual service project that takes place between the summer of a student's junior and senior year. Each student in the graduating class completes over 100 hours of service in direct contact with people in need. Popular service projects include tutoring and mentoring at-risk children, working at camps for children with disabilities, performing manual labor in Appalachia or Latin America, and working with the elderly.
The project began anew on Tuesday as Mr. Scott Delatte '06, the Director of Community Service, detailed the many different service opportunities as well as the expectations for the project.
"Your service project will require you to work directly with a marginalized community and it should be done entirely with one organization," said Mr. Delatte, "This will allow you to really immerse yourselves in that organization and the people you will serve there."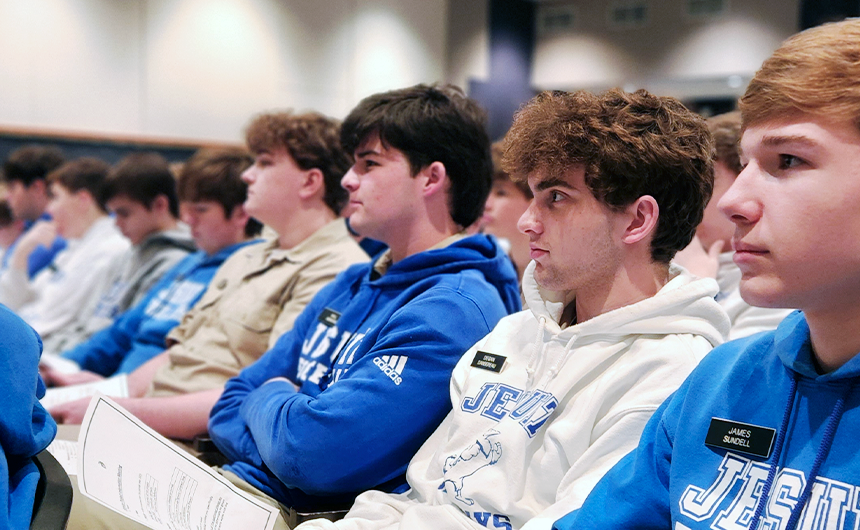 Students are asked to complete all 100 hours with a single agency in order to build lasting relationships with the people that they serve. Upon completion of the service projects, the students submit a reflection on their experience to Mr. Delatte and later discuss their project with faculty advisors.
Junior Jeremy Rink recalled after the presentation, "I'm looking forward to the service project. I think it will be a great opportunity to put into practice what it means to be a man for others."
Each year, the current graduating class completes over 2000 hours of service for those in need in the New Orleans area and beyond. For 175 years, Jesuit has continued the tradition of service that finds its roots in the original mission of St. Ignatius and the early Jesuits of the Society of Jesus.
For more information regarding the service project, please contact Mr. Delatte at delatte@jesuitnola.org or 504-483-3872.