Thanksgiving Drive Brings Joy in Doing the Lord's Work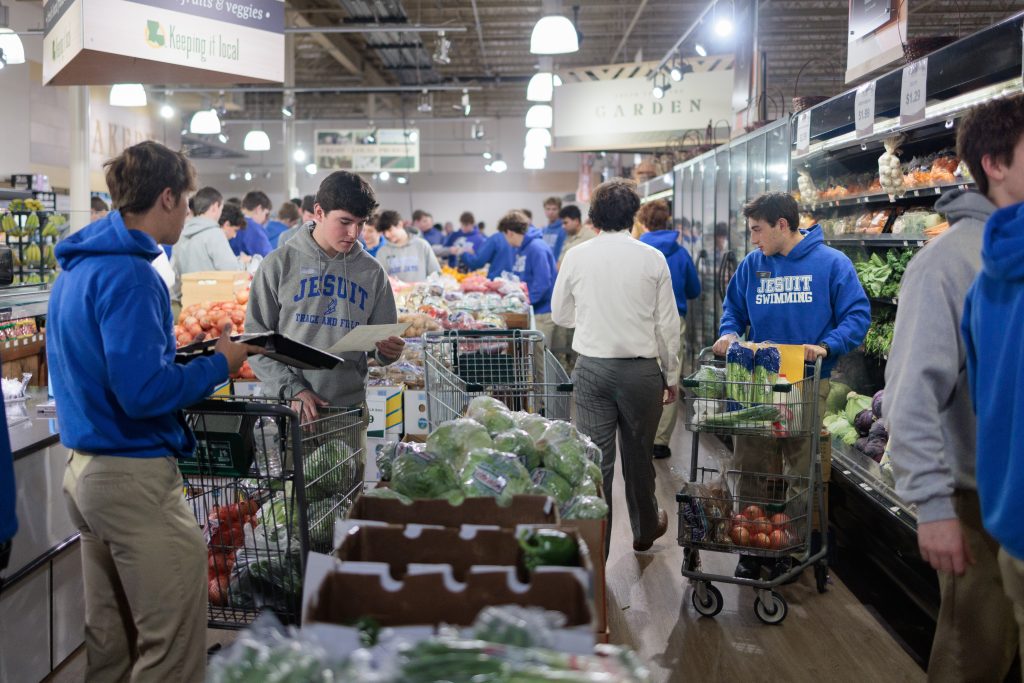 With dawn still an hour away, the Jesuit community joyfully packed into Robért Fresh Market on Allen Toussaint Boulevard to start the day with the annual tradition of shopping for groceries. Students and faculty arrived around 5 a.m. to purchase perishable food items as part of Jesuit's annual Thanksgiving Drive. In the preceding weeks, alumni, faculty, staff, homerooms, clubs, honor societies, and other student organizations collected non-perishable items that were combined together in baskets with turkeys donated by the Class of 1983.
The year's drive, the latest in a decades-long Jesuit High School tradition, fed 573 families throughout the greater New Orleans metropolitan area.
Loading…
After shopping at Robért's and arriving back on campus to assemble food into deliverable boxes, students and faculty met in the Chapel of the North American Martyrs for prayer and adoration. The service was led by Fr. John Polce, S.J., Jesuit's chaplain, and music was provided by Jesuit's choir under the leadership of scholastic Jeff Miraflor, S.J.
Senior Patrick Roddy delivered an address that recalled the importance of his own service project as a camp counselor for Krewe de Camp, a non-profit organization that provides a traditional summer camp experience, free of charge, to children with developmental disabilities.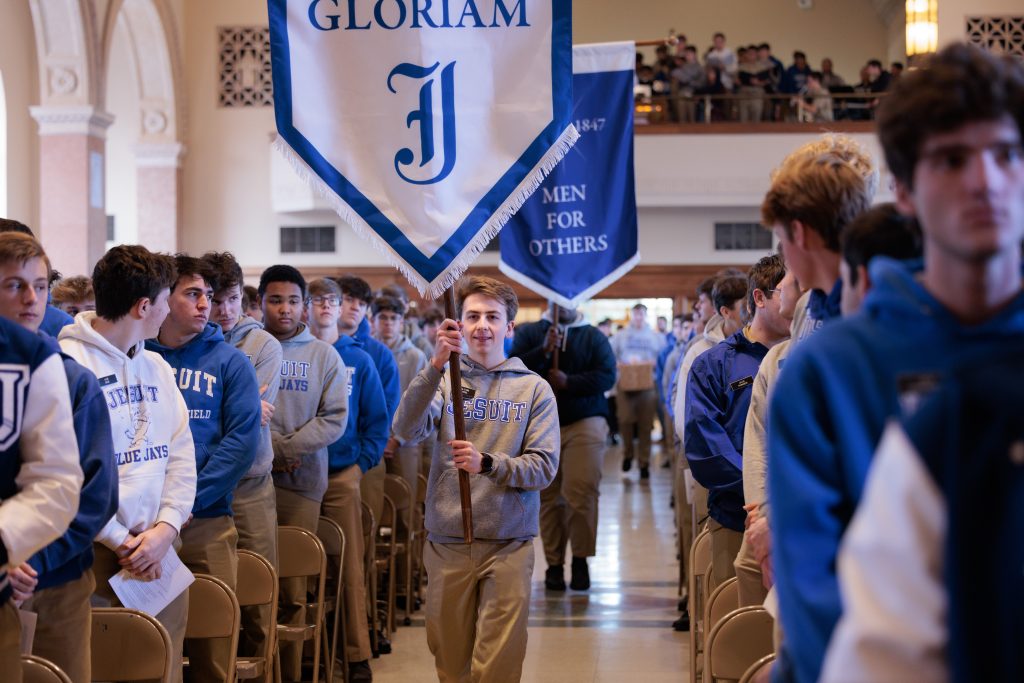 "Thanksgiving is all about being thankful for everything in your life, and I have learned that a big part of showing thanks is giving back to others because of what you have," said Roddy. "Over the summer, I was able to give back by volunteering to help at a summer camp in Camp Abby called Krewe De Camp. This camp dealt with kids with cerebral palsy, down syndrome, and other illnesses. About 40 Jesuit students and I stayed at this camp as attendants for the entire week with the sole job of protecting our campers and making sure they had fun."
"The material goods in this life are not as important as the experiences we get and the people we serve. When one dies possessions are useless, and all you leave behind are the things that you have done in your life. I truly admired every single person I worked with that understood this. The fact that they would take the time to do this for the campers showed that they understood this calling to love others," Roddy added.
English teacher Joshua Bourgeois '13 also addressed the school community, recalling his past and present participation in the Thanksgiving Drive and reflecting on the nature of generosity.
"Dearest Lord, teach me to be generous," he began. "What is generosity? Generosity is a matter of time with the Lord. We all have time and that time can be used to bring us closer to God or farther away."
"The more moments I can surrender to God, the more moments he can reveal to me how to be generous," Bourgeois concluded.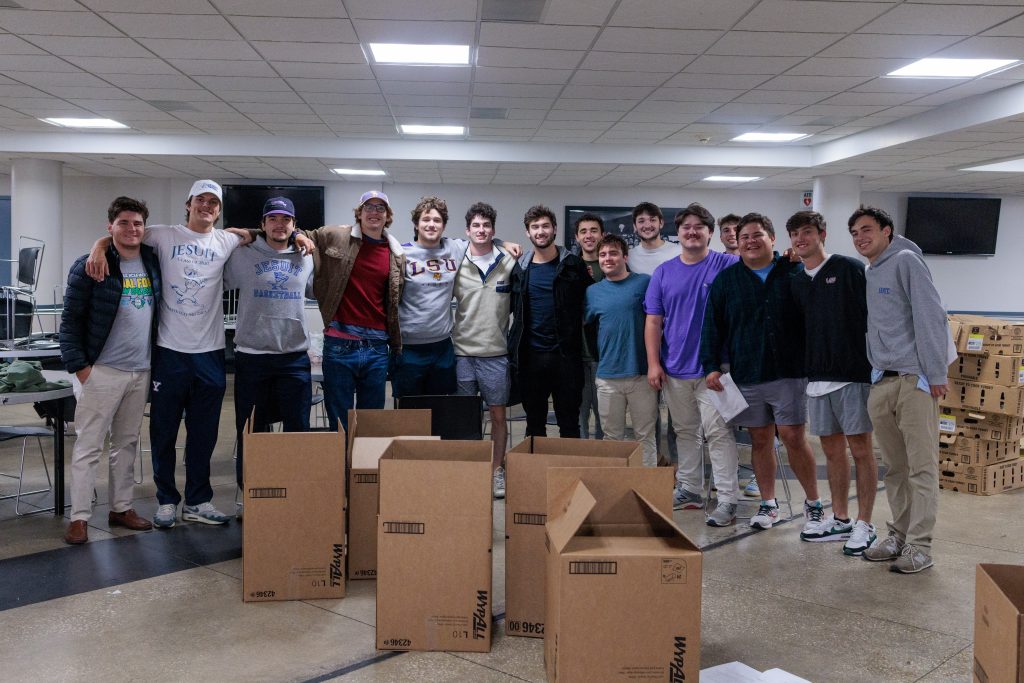 "My favorite thing is the joy and enthusiasm with which this school community has carried out this incredible work today," said Service Project Coordinator Scott Delatte '06 as he addressed the student body. "Today is a joyful day. It's a joyful day because we are doing the Lord's work…serving the poor, a corporal work of mercy, and there is great joy in doing the Lord's work."
He also went on to thank the many Alumni participants of the drive including the Classes of 1979, 2002, 2014, 2015, 2018, and 2020 who are all visiting a large numbers of families on top of the 200 that Mike Prados '83 and the general alumni base are feeding. Members of these as well as other alumni also helped package boxes and manage logistics on Carrollton & Banks throughout the morning.
The drive also had great participation from numerous co-curricular and other school groups including the Blue Jay Band, Cheerleaders, Jayettes, Sodality, Pro-Life Club, National Honor Society, Mentoring Group, Robotics Team, Philelectic Society, swim team, student council, administrative team, and advancement team.
After baskets were assembled on campus, homerooms, alumni, and other groups distributed them to nearly 530 homes in the New Orleans area.