Football Clinches Victory for 100th Anniversary Rivalry Game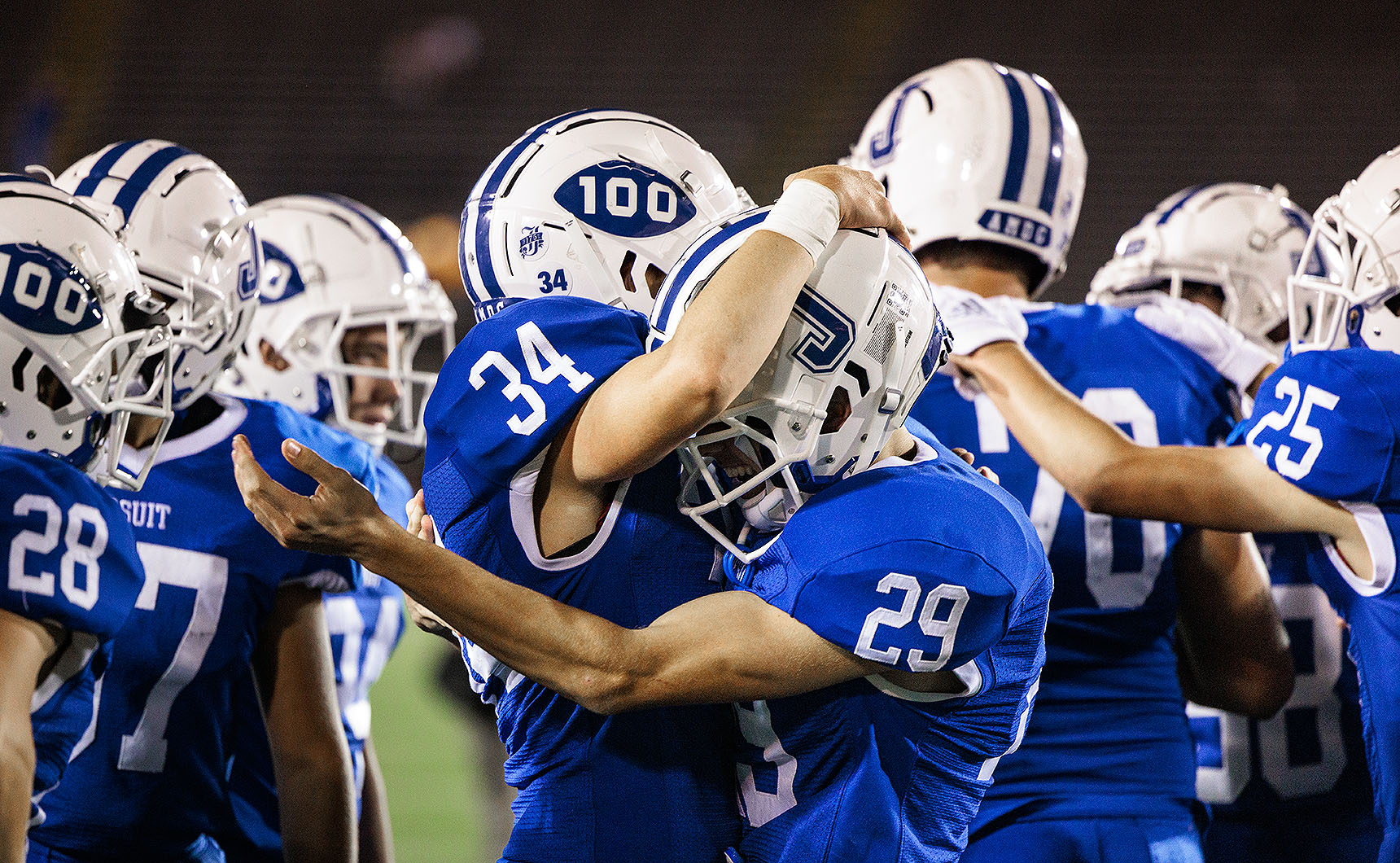 In a game for the history books, the football team came away with a 16-12 victory against Holy Cross to mark the 100th anniversary of the schools' football rivalry. Picking up a critical third win, the team (3-6) played hard against the Tigers until the the last seconds of the fourth quarter. Jesuit's victory ensures that the "Golden Football" will remain on Carrollton & Banks for another year. Overall, the rivalry stands at 61-40-1 in favor of Jesuit.
Holy Cross opened the game with a nine-minute running campaign that prevented the Blue Jay offense from having a scoring opportunity for the first quarter. While the Tigers were able to pick up two touchdowns in the first half, Jesuit managed to block both PATs, and senior quarterback Beau Perez picked up a running touchdown in the second quarter to head into the locker room with a score of 7-12.
Early in the third quarter, senior kicker Aidan Corbello punched in a field goal to bring the score to 10-12. With the Jesuit defense holding the Tigers scoreless for the rest of the third, Perez found senior wide receiver Jace Larsen for a 34-yard touchdown.
Despite a strong effort from Holy Cross, the Jesuit defense held the Tiger offense scoreless for the rest of the game, capping off the game with a last-second interception by senior Connor Cappo.
Before the game and during pauses in play, Joseph Angelico '63, Steve Foley '71, and seniors Roland Waguespack and Jaron Duplessis were honored—details can be read here. After fans were treated to a performance by the Blue Jay Band and Jayettes during halftime, local middle school musicians joined the band on the field for a special performance of the Jesuit Fight Song. Additionally, as is tradition for the Rivalry Game, the Blue Jay Band was augmented by a dozens of band alumni in the stands.
At the game's conclusion, Perez was named Jesuit's outstanding player after racking up over 150 passing yards, a passing touchdown, and a walk-in touchdown of his own.
The game was streamed by Crescent City Sports and is available to rewatch here.
"I'm really glad the defense fought through," Perez told Crescent City Sports. "We just needed to stay together and play our game. I'm glad we did that."
On November 4 at 7 p.m., the football team is set to face off against Rummel in its last regular season game.
Loading…