Seniors Reminded of God's Divine Love at Ring Mass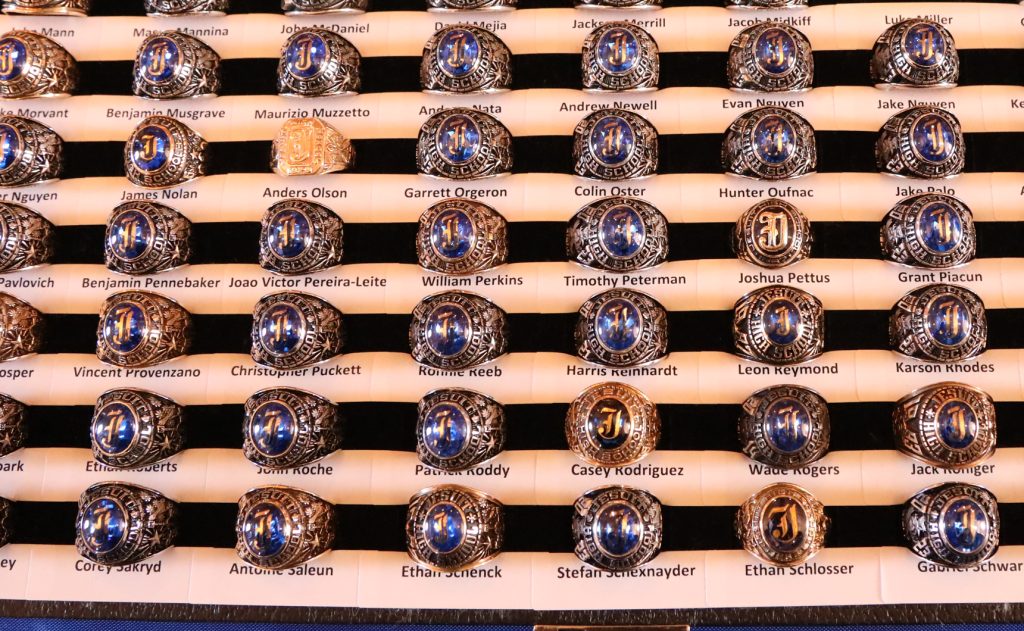 On Saturday, September 10th, 2022, the members of the Class of 2023 gathered with their families in the Chapel of the North American Martyrs to receive their senior rings. Fr. John Brown, S.J., presided over the Mass, while Fr. Stephen Kramer, S.J., delivered the homily with characteristic verve.
"I'm not sure how to tell you all this," Fr. Kramer began. "I have some bad news. You are all crazy."
The suitably amused and intrigued congregation listened as Fr. Kramer described the fundamental schizophrenic tension at the heart of human experience: the draw, on the one hand, to indulge our base passions in the manner of an animal, and the conviction, on the other, that we are each somehow gods. As C.S. Lewis once noted, man is curiously suspended between the animals and the angels. If he indulges his animal side, he runs the risk of becoming, as Fr. Kramer warned, that most distasteful of creatures: the bachelor, hardened in his opinions, dishonorable in his speech, slovenly in his appearance.
At the same time, man's conviction that he is somehow divine may after all spring from a sense of the divine love whereby God gave us his only Son so that we might have life more abundantly. God became man so that man, in the Eucharist, might become God, sharing in the body of Christ.
Loading…
This sharing, Fr. Kramer reminded the senior class, demands the kind of sacrifice which is typical of marriage. Husbands and wives share in each other's needs and help to smooth each other's faults. Likewise all individuals are called to marriage with God, to a renunciation of self-indulgence and self-obsession which enables us to participate in the joy of the divine life. Fr. Kramer urged the seniors to put on their rings and in so doing to honor the divine call placed before them, to enter into loving union with God and to take their places in the community as brothers striving to bring about the kingdom.
More than 200 seniors then received their rings. Later that evening, they celebrated with Senior Ring Dance at Club XLIV at the Caesars Superdome.