Focused on Mission and Identity, Christian Bautista '06 Named Director of Institutional Advancement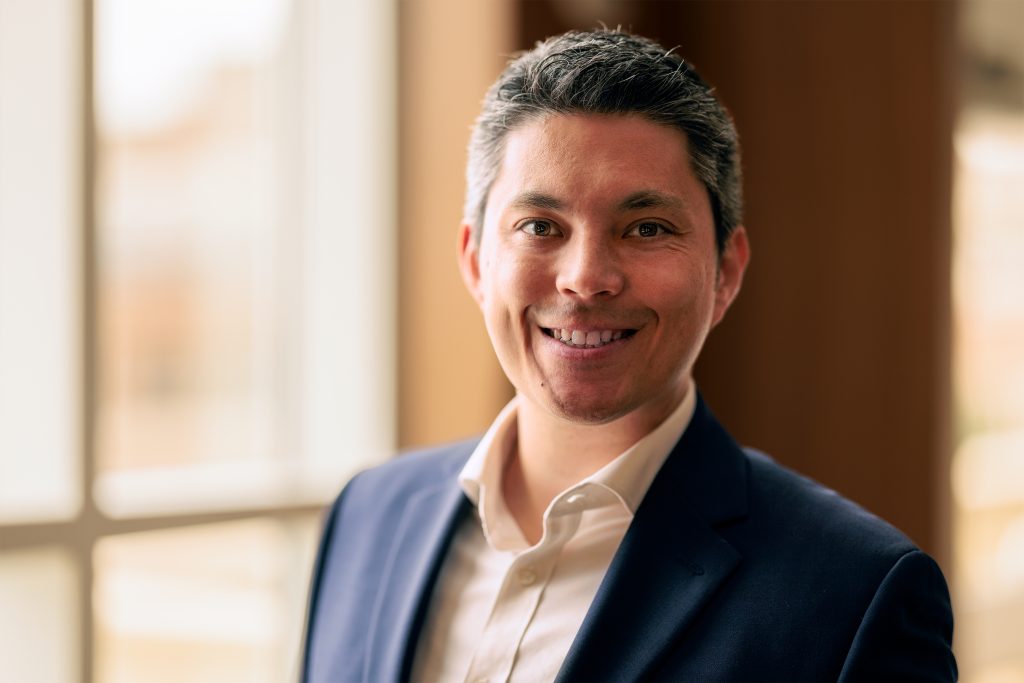 Walking the halls of Jesuit High School in the latter weeks of summer, it is impossible to miss the buzz of anticipation in the air. In Jesuit's 175th year in particular, these July days on Carrollton & Banks are characterized by an increasingly spirited ebullience, foreshadowing the upcoming occasions to celebrate the anniversary of the school's founding. This excitement stands out against the backdrop of the world at large, which has marked these past years with bleak commentary framed in cynical headlines. In contrast, Jesuit's redoubled commitment to its mission has given rise to nothing short of a renaissance of identity. Named Jesuit's director of communications two years ago and entrusted with discerning and articulating the school's identity and mission during this rebirth, Christian Bautista '06 has been charged with setting out a bold vision for the school's future as he assumes the role of Jesuit's Director of Institutional Advancement.
"I am humbled and honored by this opportunity to continue to serve my alma mater," said Bautista. "The gravity of the work we do here is never lost on me, and between the passion of our exceptional advancement team and the inspirational support of Jesuit's parents, alumni, and benefactors, I am constantly reminded how special this place is.
"I feel especially privileged at the chance to work more closely with our faculty and staff," he added. "They are the men and women who tirelessly and most directly carry out our mission, and they are the ones who make possible what we do in the advancement office."
In his new role, Bautista will lead the efforts of Jesuit's development, alumni affairs, marketing and communications, and event and volunteer offices. With a master's from Harvard, two bachelor's degrees from Louisiana State University, over a decade of experience as a classroom teacher and school leader, a stint as a policy analysis consultant for the United Nations and UNESCO, a history as a freelance software developer, and a background as a nonprofit co-founder and member of several boards, he brings a broad set of skills and experiences to this role even beyond his recent years at Jesuit.
As director of communications, Bautista oversaw Jesuit's strategic marketing efforts, managed public relations and crisis response, supported the school's development efforts, and consulted on school-level strategic decisions. During his tenure, the school has broadened and deepened its approach to communications while maintaining what he calls a "relentless focus on the mission."
If over the past two years Bautista has led the effort to tell the story of Jesuit's optimism and renewed attention to its Catholic identity, the driving force behind this ambitious posture is Jesuit's president, Fr. John Brown, S.J. With an eye on consistent growth, Brown has overseen the completion of the Madonna della Strada Building, the renovation of the school's dining facilities, and the addition of significant space for student activities and student digital media in the newly renovated Banks Street wing of the school.
"The country's conversations around identify politics," said Fr. Brown, "have misled our understanding of what constitutes the identity or soul of an organization. At Jesuit, we have really begun to dig into our identity in the truest and fullest sense. To a large extent, Christian Bautista has been at the heart of that effort alongside other key contributors such as Jeremy Reuther '01, our assistant to the president for mission."
Reuther has been leading up initiatives such as the Athanasius Kircher Fund, a special donor-supported fund that provides resources for teachers to engage in professional development at the intersection of Catholic identity and their own academic discipline. This summer, that fund allowed social studies teachers Jonathon Orillion '01 and Scott Bairnsfather to undertake a pilgrimage to Spain where they retraced the steps of St. Ignatius of Loyola, the founder of the Society of Jesus.
With these and other initiatives in mind, Fr. Brown sees the school's 175th anniversary as the perfect occasion for making connections between the present-day work of the school and the values that go back to its founding in 1847.
"From professional development to advancement and even to admissions," Fr. Brown said, "Jesuit is making a concerted and conscious effort to ensure that everything we do is focused on telling our story."
"It is easy for communications and fundraisers in schools and nonprofits to accidentally focus on tools or on what are ultimately false or meaningless metrics," Bautista said. "For our team, our best moments come when we ask ourselves, 'Who are we really, and how do we connect people to that?' rather than pursuing a particular toolset, technology, or medium. Together with Brittany Donnes, our creative coordinator, and Myles Kuss '16, our alumni and communications assistant, we have doubled down on both new and traditional media ranging from YouTube to Jaynotes. It's not about what is old or what is new, the real key is articulating the mission of the school in a way that inspires people to become participants in it and beneficiaries of it."
This, he says, is the perspective he will bring to his role running the advancement office.
"Simply put, the work of advancement is connecting people to our mission in deeper and more meaningful ways. I will continue a large part of the communications work I've been doing at Jesuit by ensuring that everything that represents the school publicly is truly mission-aligned. While an intentional shift towards prioritizing strategic communications and building meaningful relationships has already been underway, we will no doubt continue to move in this direction in the coming years.
"What really motivates me," he added "is knowing that the faculty, staff, parents, alumni, and students that make up Jesuit High School—building on the 175-year legacy that we have inherited—will ensure that the best days for our school community are still ahead of us."