2022 Jesuit Commencement Celebrates 235 New Graduates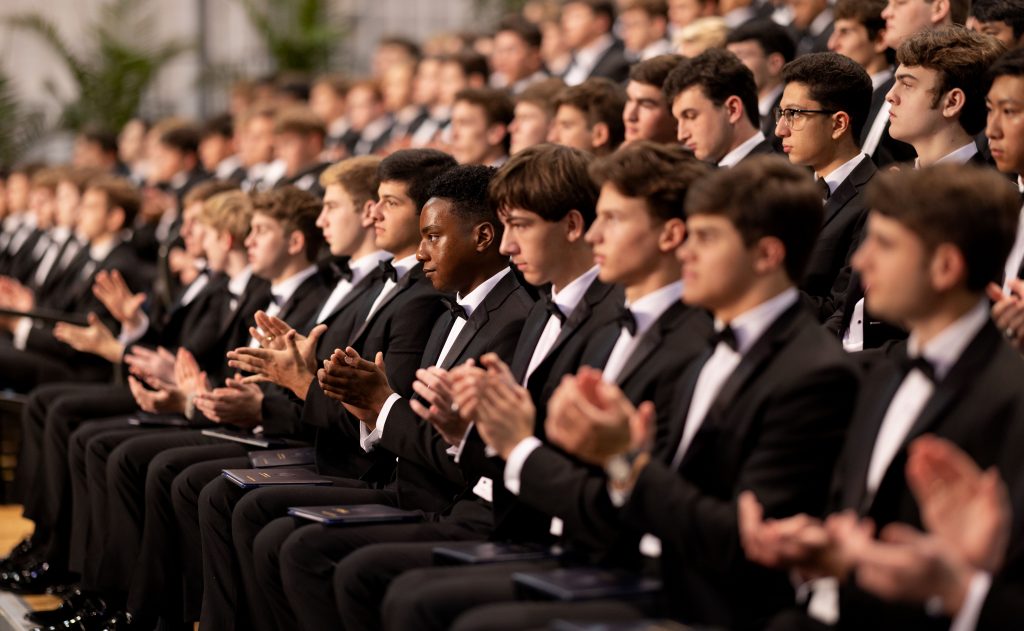 The Class of 2022 was welcomed back to the Pontchartrain Center after a two year hiatus, and the sight of the traditional blue curtains parting did not disappoint. Faculty, staff, family, and friends cheered as loudly as ever for the achievements that these newly-minted graduates have garnered over the years.
The class was awarded 235 diplomas by President Fr. John Brown, S.J., on May 25, 2022. This year's valedictorian, Nick Nobile '22, said it well when he stated during his address, "What I have seen from my fellow classmates makes me confident that our accomplishments at Jesuit, while significant, pale in comparison to the potential we possess as we go out into the world."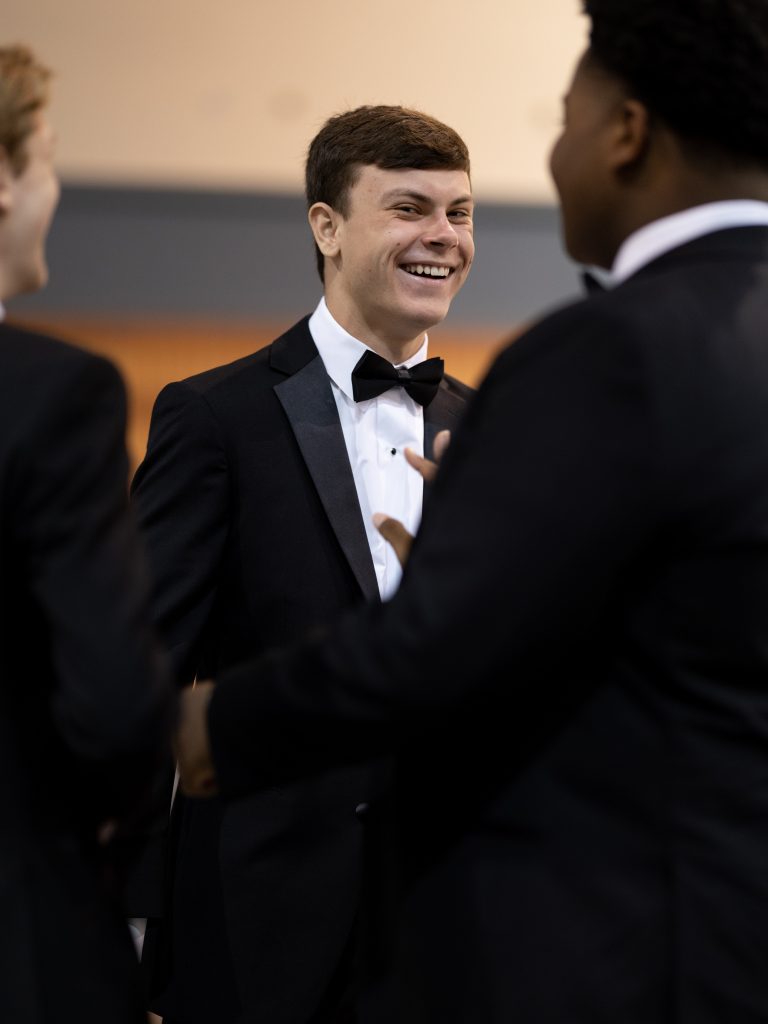 The Blue Jay Parents' Club Award
The Blue Jay Parents' Club Award for excellence in scholarship was awarded to the seniors who graduated with the highest grade point average for four years at Jesuit High School. This year the award was merited by six seniors: Nicholas M. Nobile (valedictorian), Louis M. Bercaw, Dylan D. Bracey, Matthew J. Busenlener, Luc O. Carriere, and Matthew A. Vuong.
Commencement Award Winners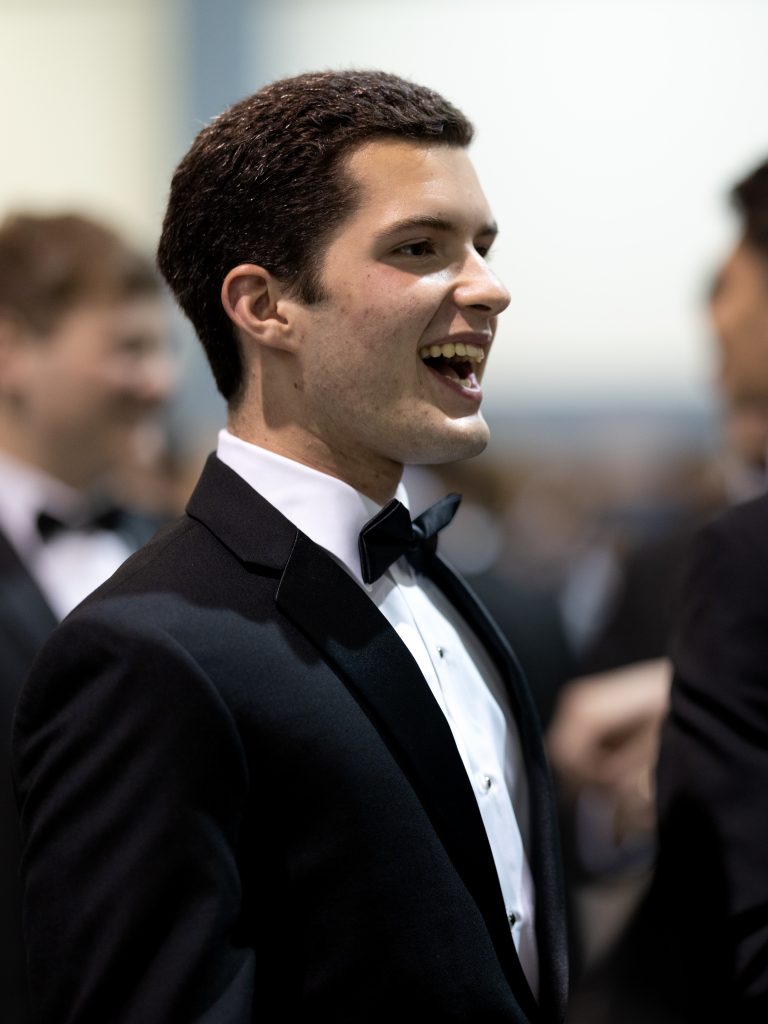 Gabriel J. Sacasa
Gabriel J. Sacasa received the Reverend Father President's Spiritual Leadership Award, which is presented to the senior who has exerted the greatest spiritual influence on others by living a life exemplifying his Catholic faith.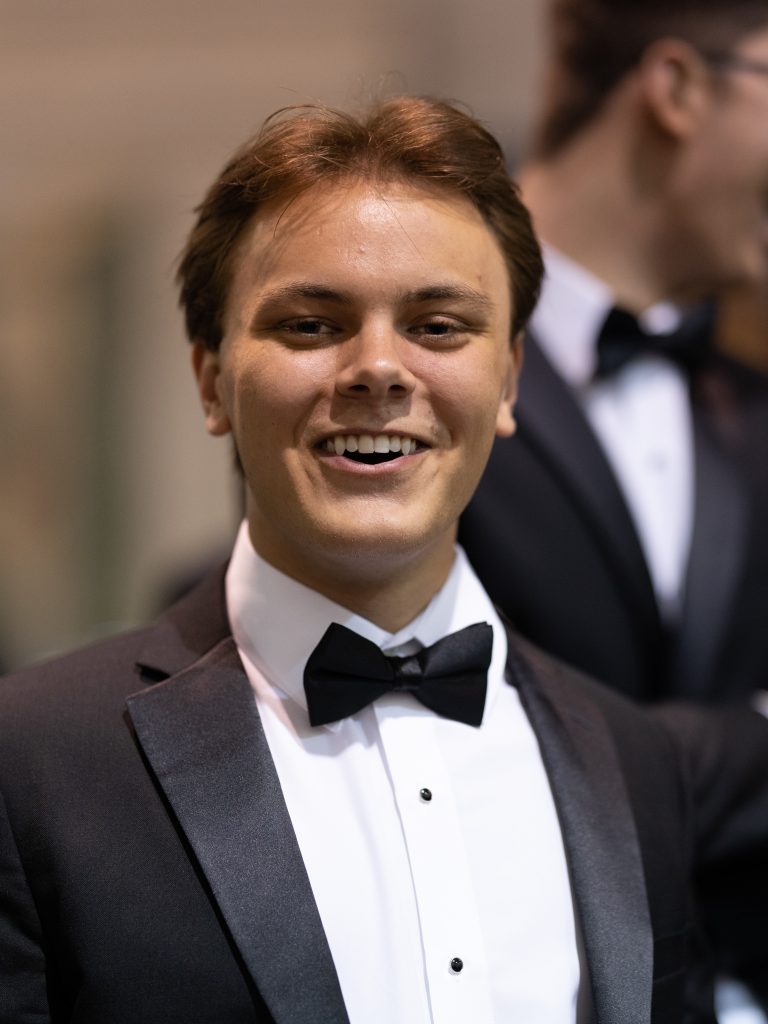 Christian J. Collins
Christian J. Collins was the recipient of the Very Reverend Father Pedro Arrupe Award, which recognizes the senior who has exemplified the spirit of being a man for others by his participation and excellence in service.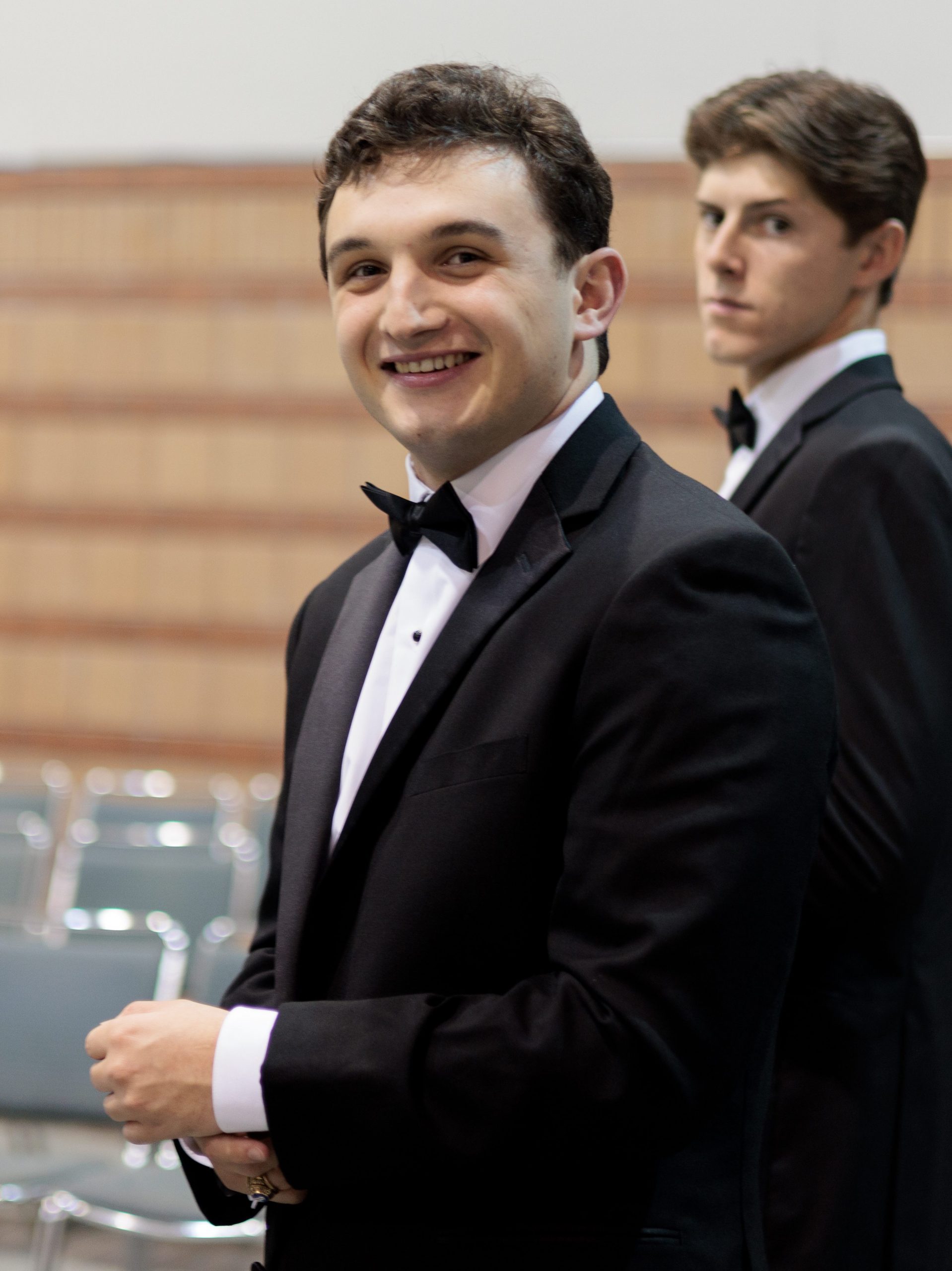 Vincent J. Liberto II
Vincent J. Liberto II received The Julia Ferguson McEnerny Memorial Trophy, honors the senior who has a good scholastic record, actively participated in co-curricular activities, and possesses those qualities which symbolize "the most representative student of Jesuit High School."
Loading…
Conferral of Diplomas
Receiving the Accelerated Program Diploma with the special commendation of summa cum laude & The Blue Jay Parents' Club Award Recipients (Highest GPA) were Louis Matthew Bercaw, Dylan Daves Bracey, Matthew John Busenlener, Luc Odem Carriere, Nicholas Michael Nobile, and Matthew Anh-Khoa Vuong.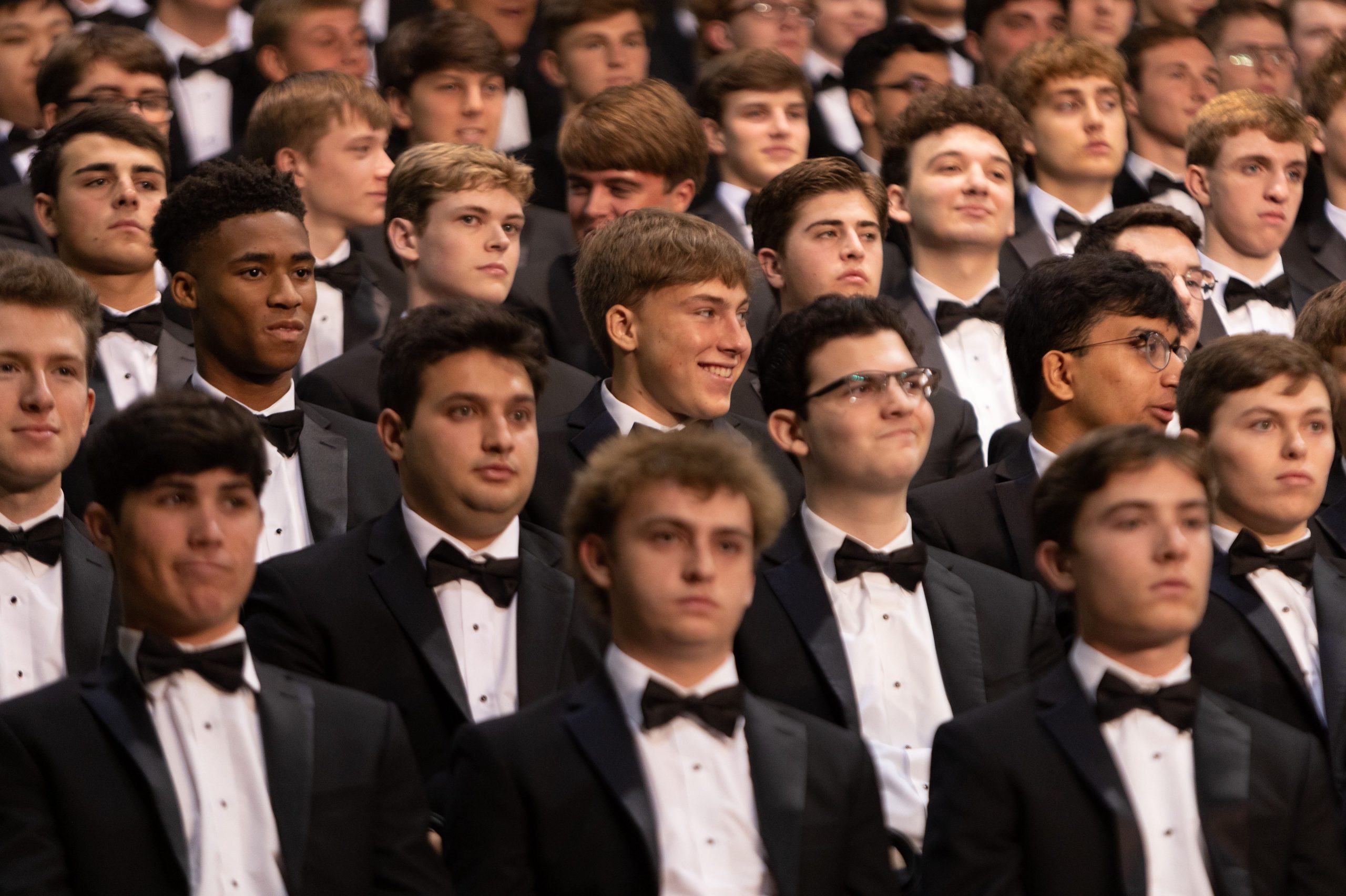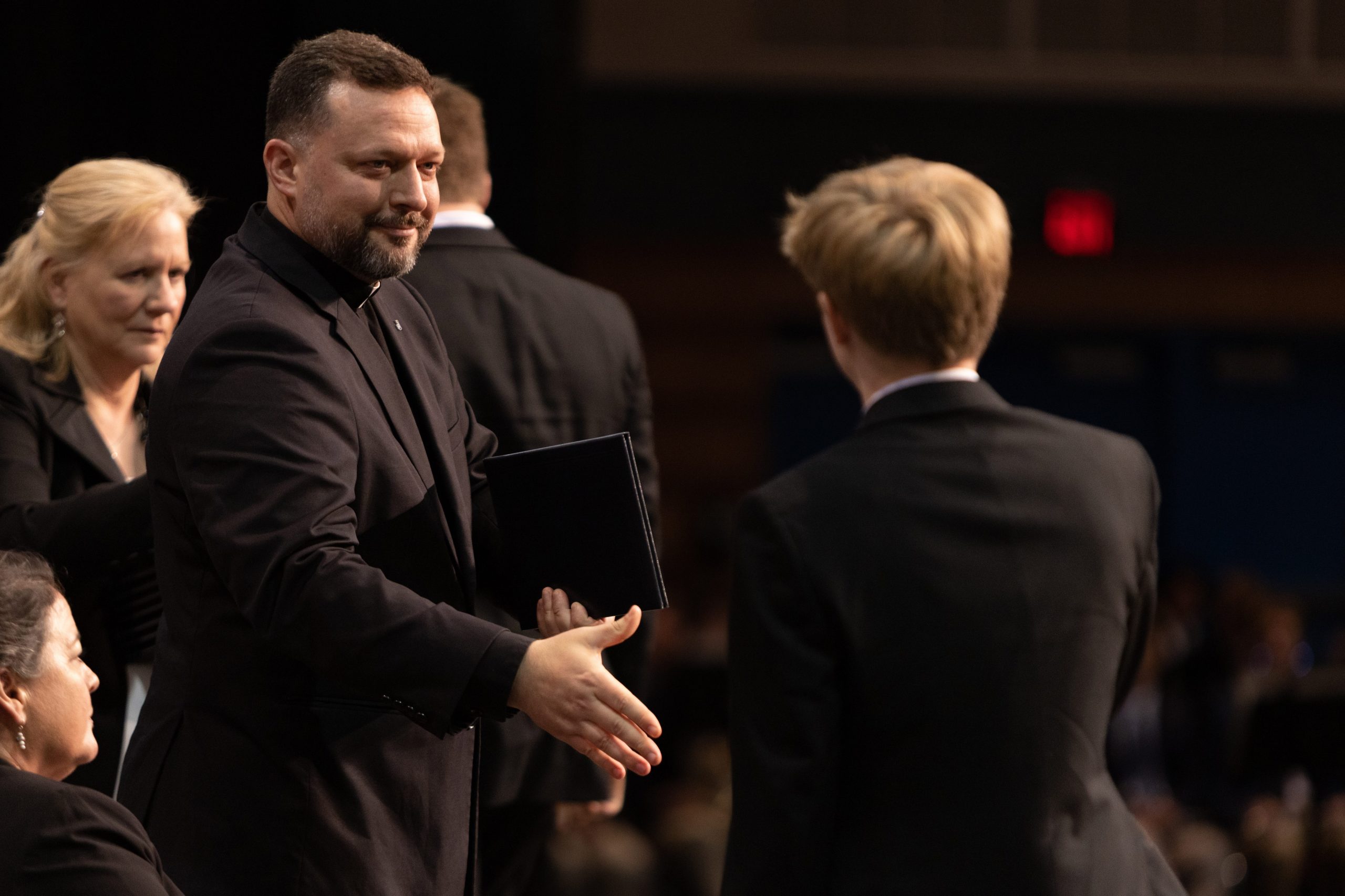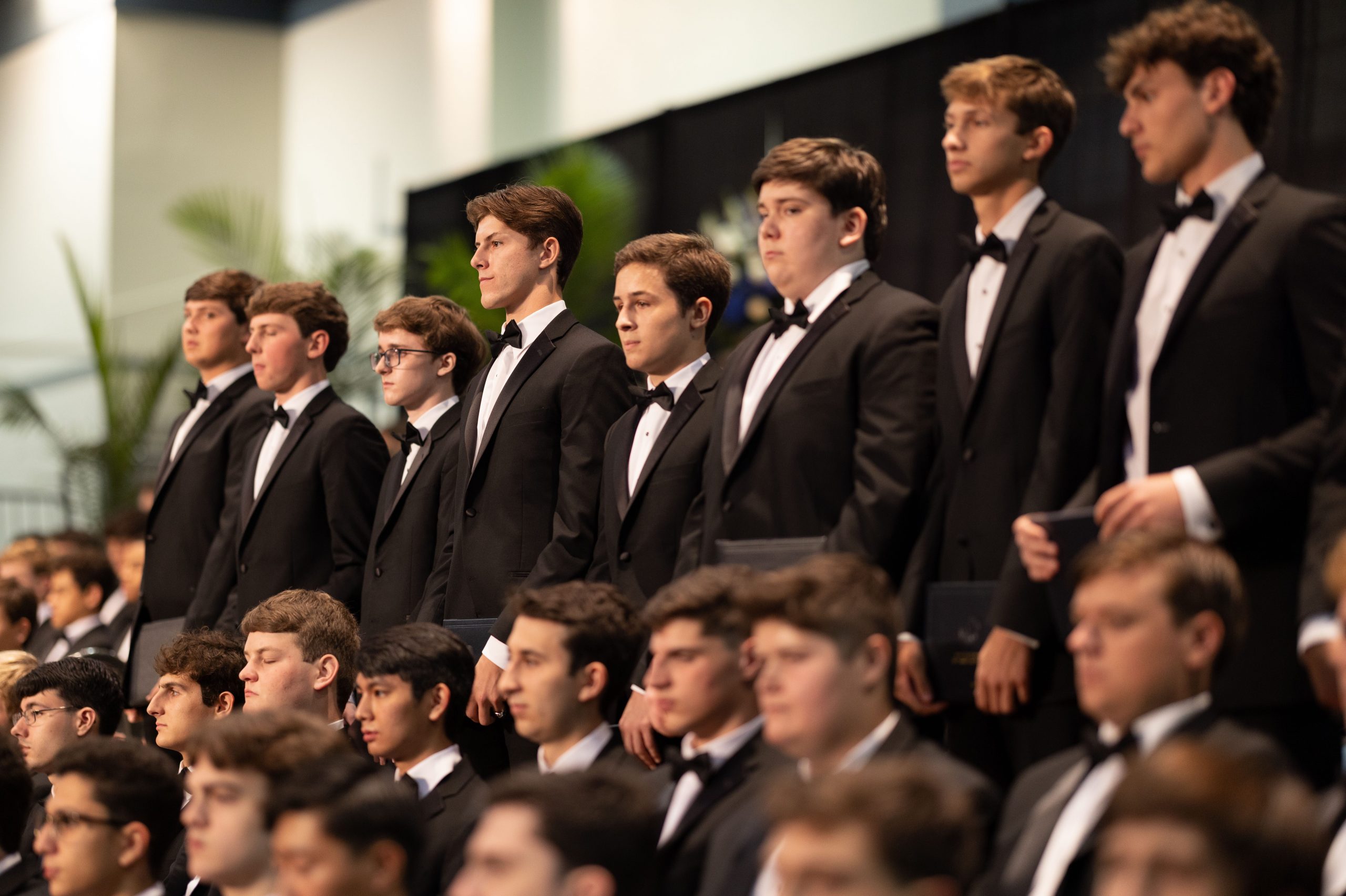 Receiving the Accelerated Program Diploma with the special commendation of summa cum laude were James Michael Alvarez, Jake Ryan Arcement, Dean Michael Arruebarrena, Jr., Logan Michael Aucoin, Jackson Paul Ballay, Michael DeLuca Barnes, Ryan Ellis Beasley II, Ian Lee Bohn, Luke Guiseppe Brandau, William Andrew Bruce, Brandon Edward Burow, Connor Francisco Campbell, Joseph John Cannizzaro III, Jason Andrew Cavignac, Jr., Thomas Connor Cecola, Jacob Thomas Cibilich, Jacob Vincent Cohn, Christian Joseph Collins, Connor Christopher Cuccia, Zachary Martin Davis, Michael Paul Fine, Brian James Fish, Jr., Jackson Numa Gasquet, Dominic Joseph Gennaro, Henry Michael Hartman, Austin Edward Fitzwilliam Hebert, Max Van Howenstine, Matthew Reagan Joubert, Jackson Vincent Junius, Hayden James Lapeze, Vincent Joseph Liberto II, Zane Madi, Ian Robert Mercer, Alexander Wayne Nguyen, Kaden Nema Oquelí-White, Conlan Baldo Pausina, Collin Matthew Pelitere, Ryan Robert Porche, William Jude Pouyadou, Daniel Kenneth Ralph, Gabriel Joseph Sacasa, Aidan Myles Alexander Schwarz, Jack Ryan Scott, Jackson Lavie Sevin, Shreyash Singh, Trey Thomas Theriot, Caleb Paul Tolbert, Richard Alvin Tonry III, Egan Michael Trahant, Taylor Gerard Trepagnier, Hugo Alexander Valdes, Nathan Thomas Vatter, Khoi Minh Vu, Ethan Charles Waugaman, and Nathan Thomas Williams.
Receiving the Accelerated Program Diploma with the special commendation of magna cum laude were Brock Michael Aron, Benjamin Emile Babin, Joseph Drez Barnett, Joshua Michael Berault, Luc Henri Colomb, Matthew Domingo Correa, William David Coy, Logan Anthony Daigle, Kelton Hall DuMont, Gavin Blake Fernandes, Joseph William Finger, Reed Jude-Ronald Gaines, Jack Arthur Garitty, Bronson Belsom Goebel, Logan Christopher Hargrave, Holden Christopher Hess, Matthew Gerard Knight, Alexander Pearce Koenig, Jack René Larriviere, Edward Fernand Laudumiey, James Leathem, Tanner Michael LeBlanc, Alexander Armando Lissarrague, Joseph Emile Lonero III, Carter Jude Marino, David Joseph Martin III, Roberto Santos Matthews, Jr., Harrison Housey Menszer, Paz Michael Nair, Keith Michael Pittman, Cross Rouchell, Parker John Shaffer, Harrison Joseph Simeon, Brady Michael Smith, Evan William Stephenson, Cooper Louis Sudderth, Conor Michael Sullivan, and Christopher David Webre, Jr.
Receiving the Accelerated Program Diploma with the special commendation of cum laude were Declan Sirri Altikriti, Michael Louis Britsch, Joshua Robert Burk, Dennis Heath Dougherty, Matthew Gambel Ellis, Richard Springer Favor, Jr., Henry Cai Gegenheimer, Luke McDonough Giroir, Morgan Edward Hebert, Tanner James Hebert, Christopher James Jeansonne, Connor Matthew Kulivan, Jeffrey Vincent Marsiglia, Liam Sebastián McAlear, Matthew John Reeder, John Carter Scott, and William Barclay Townsend.
Earning the Accelerated Program Diploma for having successfully completed a five-year program above and beyond the school's ordinary requirements were William Craig Ehrensing, Charles Nathaniel Frost, Kieran John Hendricks, Christian Joseph Jackson, Nathan James Jackson, Carlton Matthew Larrieu, Jr., Daniel Paul Poulin, Jr., Luke August Ryan, Christopher Earl Smith III, Owen Michael Thibodaux, and Hardy Michael Wells.
Completing the College Preparatory Course with the special commendation of summa cum laude were Luke Austin Barbara, Caleb David Keister, Davin Minh Le, Tyson Christopher Oliver, Parker Henry Peyronnin, Merrick Thomas Rotolo, and Mitchell Jerome Stevens II.
Completing the College Preparatory Course with the special commendation of magna cum laude were Wesley Duane Adams, Lorenzo Anthony Arroyo, Yaqoub Abrahim Askar, Mason Alexander Baglio, William Connor Cain, Andrew Cheung, Jake Michael Compton, Andrew James Dinwiddie, James Randolph Dugan III, Zachary John Flores, Matthew Augustine LaForge, Sam Xuan Le, Colson Patrick Lonergan, Fintan Paul Maloney, Jonathan Patrick Marrero, George Gardiner Martin, Winters Mitchell McConnell, Alexander Angel Moya, Kody Hoang Huy Nguy, Paul Thong Nguyen, Liam Kelly Parenton, Joseph Stephen Rosales, and Michael Joseph Theriot.
Completing the College Preparatory Course with the special commendation of cum laude were Jonah Anthony Anderson, John Luke Arbour, Joshua Alejandro Barraza, Andrew Theodore Besh, Robert Taylor Boasberg, Jacob Carlos Jude Caldarera, Dominic David Carbo, Damien Alexander Ceasar, Ryan Michael Dimitri, William Patrick Faucheux, Charles True Giordano, Miles Edward Kehoe, Jonathan Jonah Martinez, Christopher Logan Massey, James DeReuil Matthews, Charles David McMath, Cole Mark Mjehovich, Collin Ryan Pearce, Roberto Pablo Rodriguez, Charlton Peter Rozands IV, Patrick Edmond Schellhaas, Gary Wayne Sims II, Benjamin Michael Sinor, Samuel Reece Sisk, Christopher Henry Tebbe, Clay Elliott Thomas III, Yvar Maximilliano Torrealba, William Joseph Wegmann, John Raney Wimberly, and Luke Conner Wood.
Completing the College Preparatory Course were José Luis Acevedo III, Hussain Hamza Ali, Jalen Kobe Anthony, Zackary Lawler Arroyo, Bryce Kaleb Autin, James Patrick Bendeck, Jeremy Dilan Bertoniere, Solomon Trent Bordelon, Thomas Austin Chempakasseril, Canaan Isaiah Clayton, Kaleb Cole delaGardelle, Holden Nicholas Desroche, Jackson Hodapp Dunn Eustis, Nicholas Frank Ferina II, Trino Dominy Fortin, Jr., George Shelby Friedrichs IV, Greyson Phoenix Goddard, William Hunter Graham II, Peter Nicholas Gravolet, Ryan Mitchell Griffin, Aidan Connor Hatch, Floyd Frederick Herrington, Rudolph Michael Horvath, Jesuogie Jason Ituah, Vladimir Lucius Jones, David Steele Kessler, Terrence Anthony Langlois, Jr., Dennis Patrick Lauscha, Jr., Michael Stephen Manale, Chris José Martinez, Daniel Malcolm Matthews, Hunter Robert Mayfield, Jonah Gabriel Vorbeck McCaffery, Santiago Mencos-Gómez, Samuel David Mermilliod, Braden Michael Moncrief, James Clarence Nelson, Jr., Sully Michael Parent, Jacob Alexander Schorr, Nicholas Joseph Serio, Luke Michael Timphony, Jason Maverick Torres, Anthony James Veillon, Benjamin Gerard Waguespack, Chancelor David Whitfield, and Luke Allen Wills .
More photos to follow soon.