Jesuit Track & Field Claims Third, Larriviere & Vocke State Champions
The Blue Jays did not disappoint at the 2022 LHSAA 5A State Championship on May 7 at LSU's Bernie Moore Track Stadium in Baton Rouge, La. With several standout performers, Jesuit (46 points) was able to cinch a third-place team finish, behind first-place Catholic-Baton Rouge (90) and runner-up Ruston (75).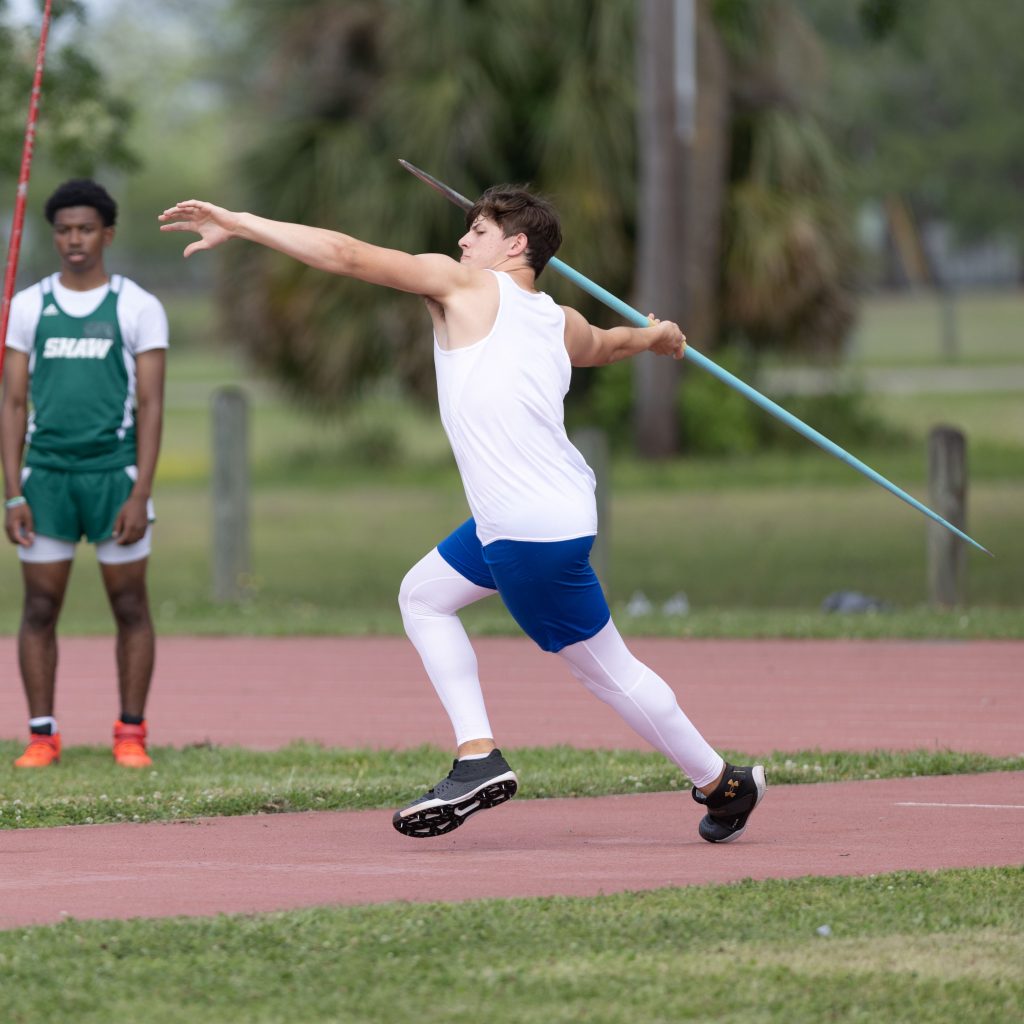 One of these standout performances was by senior Jack Larriviere. With only three months of throwing experience under his belt, Larriviere not only secured the state title with his javelin throw of 228-10, he bested the composite state record by a whooping 16 feet 3 inches and claimed the best throw registered nationwide at the high school level. When asked how he felt about his final throw, "I knew I had already been the state champion because I was the last throw in the group. I had a good mark at 210 and I figure why not just take the cape off and see what I can do, just let it rip. I got some good speed on the runway, had a pretty good release. I had a pretty good aiming point above the top of the trees and the throw just happened itself." Larrivierre looks to continue his success at LSU having recently accepted a track and field scholarship for the upcoming fall.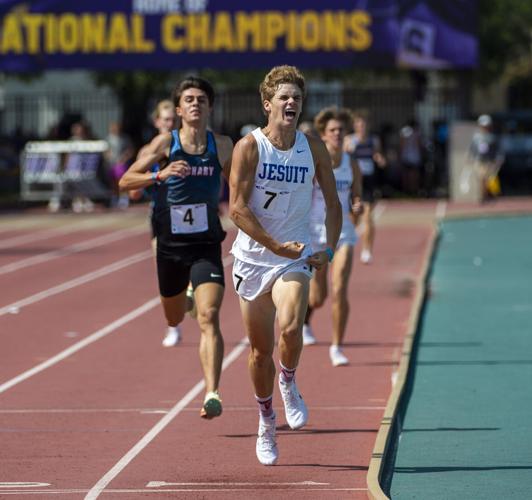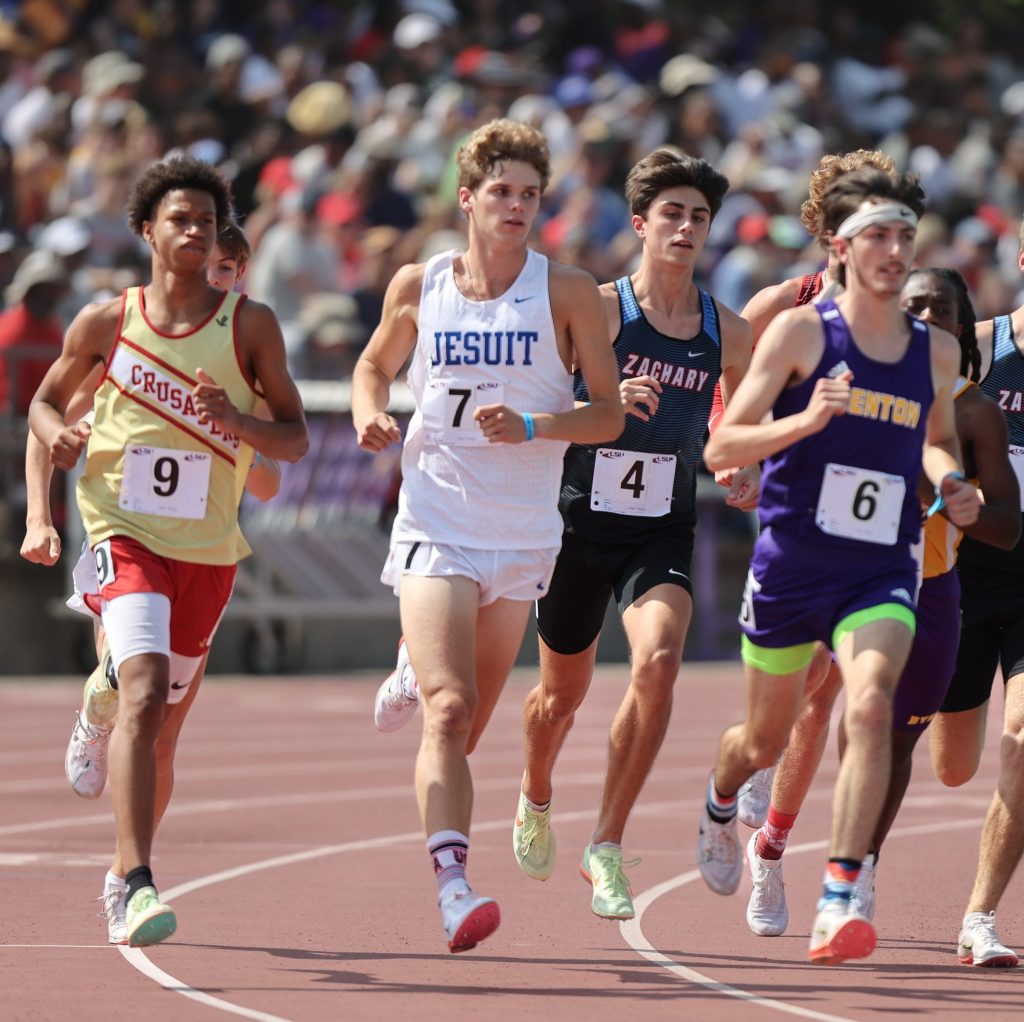 The other state champion of the day, for a second time in a row, was sophomore Michael Vocke in the 1600m. Even after experiencing a challenging season—Vocke was forced to take multiple breaks due to injuries—he claimed first-place with a time of 4:20.28. When asked how he felt about being part of a such a talented team, "It's just awesome. We go to practice everyday with the attitude of 'let's get better today.' We have a great culture and a great coach, everything is going well right now."
Right behind Vocke in the 1600m, with a time of 4:22.74, was freshman Leland Crawford, who placed third. Crawford is one to watch next season. He is currently ranked in the top 4 for freshman in the nation for his previous time of 4:15.00.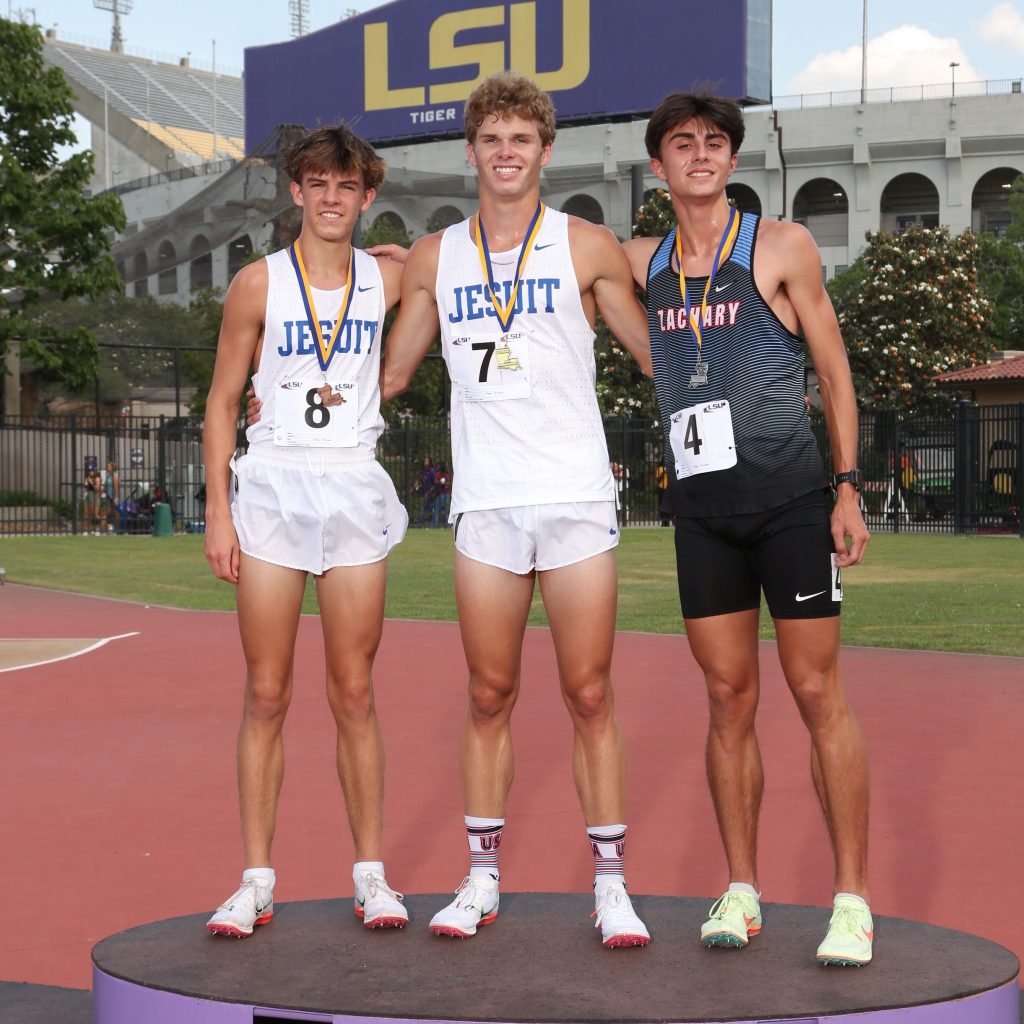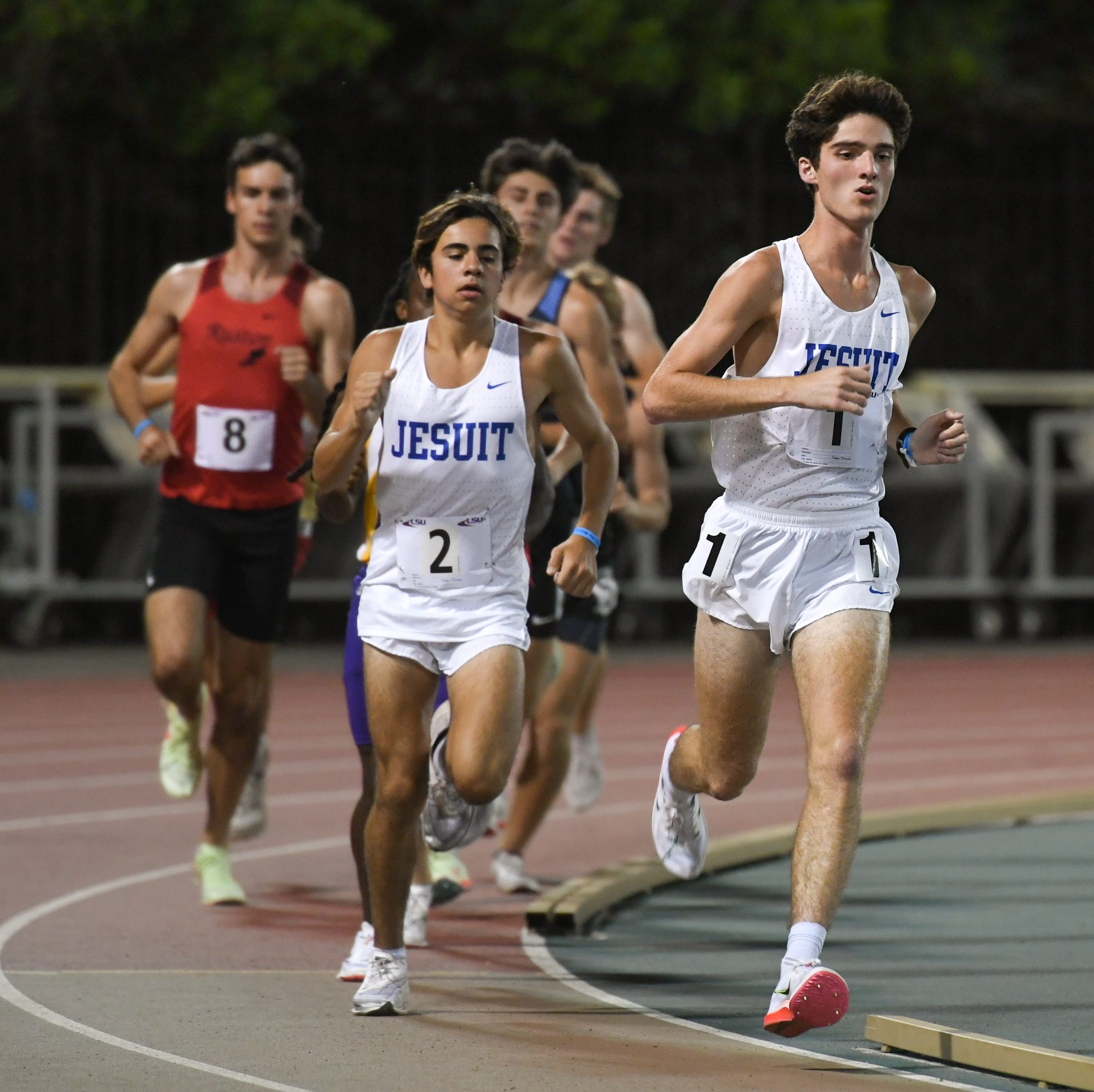 Two podium-placers for Jesuit were speedsters junior Jack DesRoches (9:21.59) and sophomore Lucas Sampedro (9:31.07) in the 3200m. They made bold moves by setting a faster-than-normal pace at the beginning of the race, which set the tone for the rest of the runners. Going hard early on paid off with DesRoches earning second and Sampedro earning third. Both runners hold season records for the state—Desroches at No. 2 with a 9:07.37 and Sampedro at No. 3 with a 9:11.87.
Breaking the school record and earning a third-place podium spot with a time of 8:04.15 was the 4×800 relay team—juniors Aeric Wender, Patrick Dowd, Robert Buisson, and freshman Brady Mullen.
Also representing Jesuit at the state meet was long-jumper, junior August Berner and discus-thrower, senior Logan Daigle. They both placed 8th in their respective events.
With the close of the season Jesuit looks forward to the next school year and to see how the returning Blue Jays will grow in skill and speed.
State Results
Individual Results
| | | | | |
| --- | --- | --- | --- | --- |
| Event | Place | Athlete | Time or Distance | Points Earned |
| Javelin | 1 | Jack Larriviere (Sr.) | 228-10 (PR) | 10 |
| 1600 Meter Run | 1 | Michael Vocke (So.) | 4:20.28 | 10 |
| 3200 Meter Run | 2 | Jack DesRoches (Jr.) | 9:21.59 | 8 |
| 1600 Meter Run | 3 | Leland Crawford (Fr.) | 4:22.74 | 6 |
| 3200 Meter Run | 3 | Lucas Sampedro (So.) | 9:31.07 | 6 |
| 4×800 Meter Relay | 3 | Aeric Wender (Jr.), Patrick Dowd (Jr.), Robert Buisson(Jr.), and Brady Mullen (Fr.) | 8:04.15 (PR) | 6 |
| Long Jump | 8 | August Berner (Jr.) | 19-11.25 | – |
| Discus | 8 | Logan Daigle (Sr.) | 113-9 | – |
Team Results
1. Catholic High 90, 2. Ruston 75, 3. Jesuit 46, 4. Woodlawn BR 36, 5. Zachary 30, 5. Holy Cross 30, 7. Dutchtown 27, 8. John Curtis 20, 8. Scotlandville 20, 10. Captain Shreve 18, 10. Brother Martin 18, 12. Bourgeois, H.L. 14, 12. Denham Springs 14, 12. Byrd, C.E. 14, 12. St. Augustine 14, 16. Ouachita Parish 12, 16. Thibodaux 12, 18. Hammond 10, 18. Slidell 10, 20. West Ouachita 9, 21. Ponchatoula 6, 21. Natchitoches Central 6, 21. West Monroe 6, 24. Southwood 5, 24. Parkway 5, 26. Central Lafourche 4, 26. East Ascension 4, 26. Hahnville 4, 26. Destrehan 4, 30. St. Amant 3, 30. Barbe 3, 32. Ovey Comeaux 2, 32. Pineville 2, 32. Benton 2, 32. Mandeville 2, 36. Haughton 1, 36. West Jefferson 1