RUGBY TAKES UNDEFEATED STATE TITLE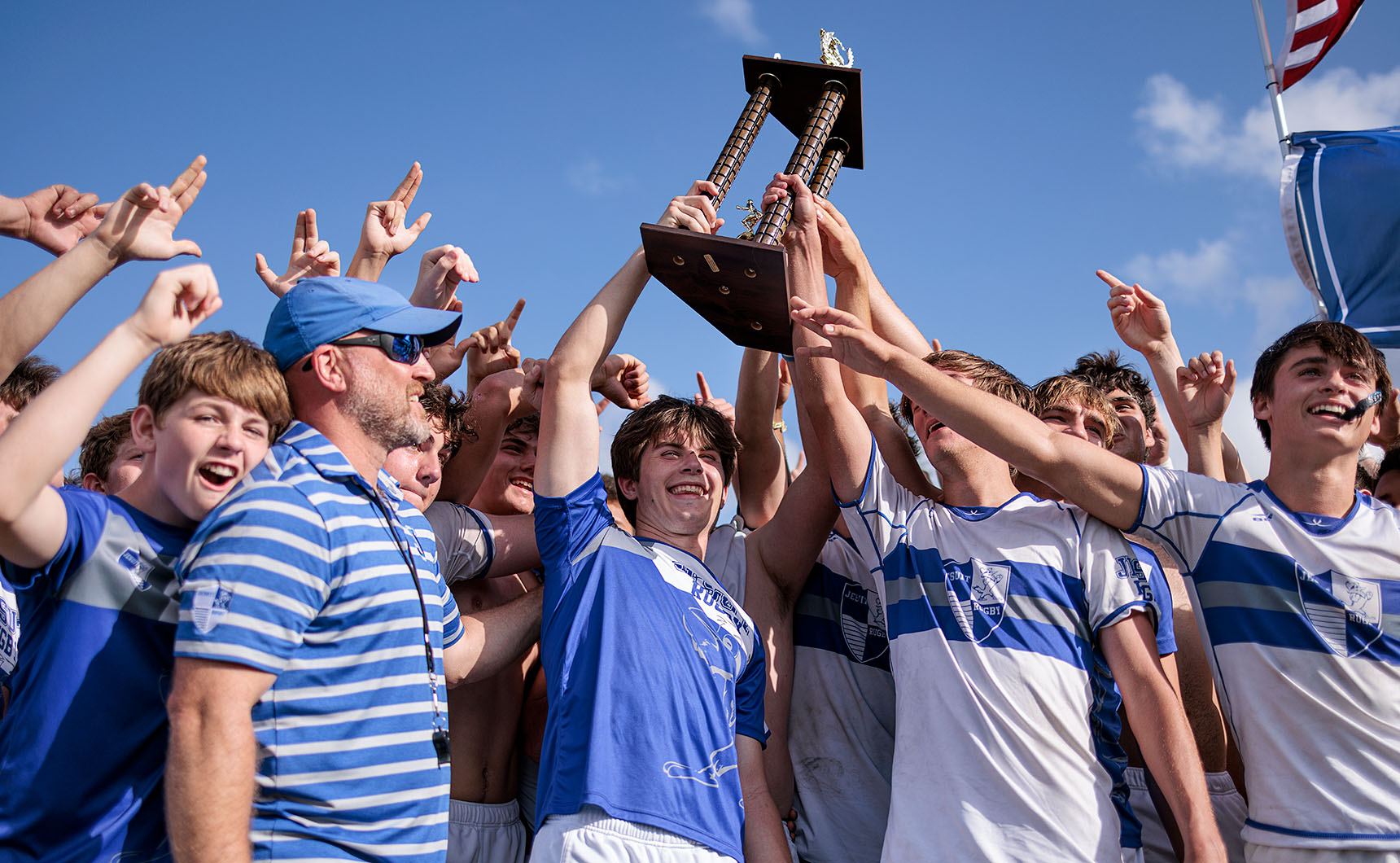 By Adam Massey
On Saturday, April 23, the Jesuit rugby team (9-0-1) met their cross-town rival Brother Martin in the Louisiana high school rugby championship. Brother Martin, the defending state champion, came to the match determined to retain the trophy and to avenge their loss to the Jays in the 2018 state title. But it was not to be. When the final horn sounded, the Blue Jays had scored 33 points and given up only 17.
There was nothing easy about victory, which remained in doubt until the match's final minutes. Jesuit scored early when a series of penalties against Brother Martin allowed the Jays to kick repeatedly for touch and enjoy the acquired territory. Having advanced to Brother Martin's 10-meter line, Jesuit attacked the midfield and slowly worked a grinding ground and pound attack, which Brother Martin could not stop. Senior 8-man Conlan Pausina reminded everyone watching that he is a pick'n'go master when he scored the first try of the match.
Loading…
The next 15 minutes of play saw a pitched back-and-forth, with each squad working to test the other's defense. Brother Martin elected to flood its defensive line and challenged Jesuit to try and kick over—which it did. Jesuit junior flyhalf Andrew Newel recognized the deep space and elected to launch a deep cross-field kick that Brother Martin recovered at its 1-meter line. Jesuit was on the spot immediately and tackled the Crusader, who refused to release the ball, which drew a penalty from the Sir. A very quick-thinking Nick Farina (senior, outside center) elected to quick-tap off the penalty before Brother Martin was ready and scored Jesuit's second try of the day.
Brother Martin soon regained possession and was able to work its way through Jesuit's defense, eventually findings its first try of the match. The ensuing restart was a deep, booming kick from Newel that pinned Brother Martin just outside its tryzone. Jesuit rushed to hit Brother Martin with a blitz defense that caused Brother Martin to knock-on (drop the ball). Jesuit recovered and quick-executed a series of pick'n'gos, which saw junior blind-flanker Quinn Amedee dot down for another Jesuit try. Score at this point: Jesuit 19, Brother Martin 5.
Brother Martin found its form and scored two more tries, which closed the gap to 19-17. The Jays, however, had more in store. Senior reserve prop Joe Barnett returned to action after a toe injury to use his imposing size to shatter the Brother Martin defense for a try that extended Jesuit's lead to 26-17. The match remained close, however, until the final five minutes, when exceptionally fast service from junior halfback Matt Cashio and a well-shaped platoon of supporting backs combined to create a shimmering instance of Kairos for junior flyhalf Newell: With ample support wide and Brother Martin on the back-foot, Newell received Cashio's rocket ball at full gallop and then executed the triple-lie: he looked left, stepped left, dummied left, and then cut back to the right into the hole he had just created and across Brother Martin's try-line for the final (and match-sealing) score of the day. Jesuit 33, Brother Martin 17.
In a tradition in which teams recognize the outstanding performance of a member of the opposing team, Andrew Newell was awarded man-of-the-match by Brother Martin.
Next Saturday, the Jays play their final match of the season against their toughest and most feared opponent—their dads. On Saturday, April 30, the Jays will play the fourth annual "Dads v. Lads" match. The Dads' squad has never lost. The Dads' motto is "We may be old, but we're also slow." Kickoff is for 10 a.m. at Marconi.