Blue Jays Sweep State Rally With Most Placements in Louisiana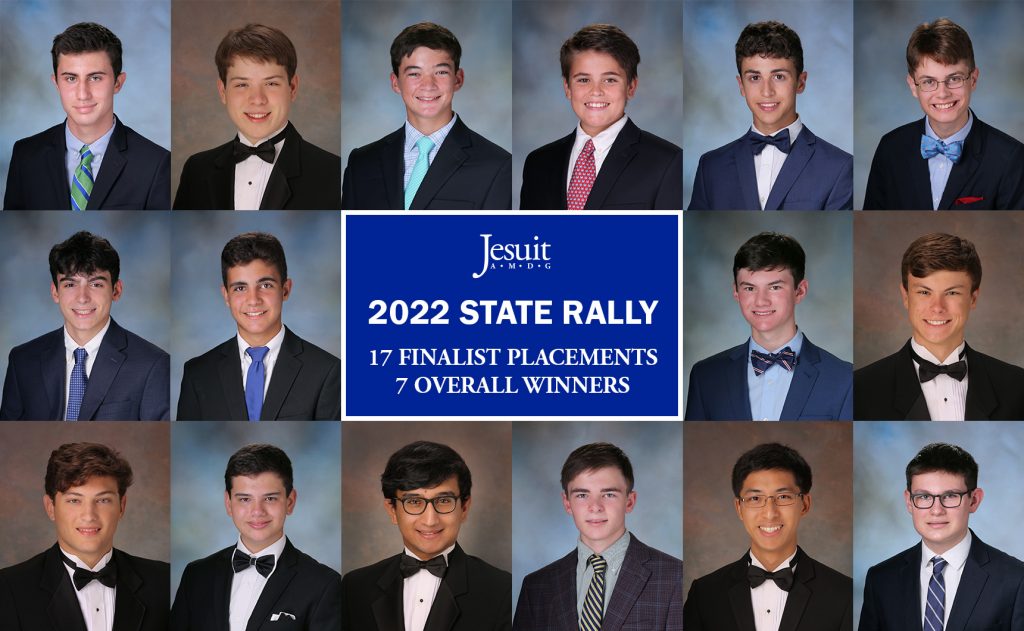 With results in from the 2022 State Rally held by the the Louisiana High School Rally Association (LHSRA), Jesuit came away with 17 finalist placements, the most of any school Lousiana. Seven Blue Jays put up especially formidable performances to take the #1 overall spot in the state in their subject.
Jesuit's district and state rally coordinator, John Webre, lauded Jesuit students for putting up an "outstanding showing."
Students are chosen for State Rally from each school in Louisiana through various rounds of subject tests. High performing students compete at District Rally to qualify for State Rally, which has been hosted by Louisiana State University for over a century.
All 2022 State Rally placements for Jesuit can be found below, and complete results for the entire state can be found here.
| First | Last | Placement | Subject |
| --- | --- | --- | --- |
| William | Bellott | 1 | English III |
| Dylan | Bracey | 1 | Computer Science I |
| Andrew | Duncan | 2 | Latin II |
| Andrew | Duncan | 4 | Geometry |
| Andrew | Frey | 3 | Latin I |
| Charles | Garitty | 2 | U.S. History |
| Harrison | Harley | 1 | Environmental Science |
| Kyle | Jackson | 4 | Advanced Math – Pre-Calculus |
| Nicolas | Kapusta | 2 | Spanish IV |
| Brayden | Laurent | 1 | Latin II |
| Nicholas | Nobile | 1 | Calculus I |
| Conlan | Pausina | 1 | Civics |
| Daniel | Ralph | 2 | Psychology |
| Shreyash | Singh | 3 | Biology II |
| Corbyn | Thonn | 2 | French III |
| Matthew | Vuong | 1 | Physics |
| Frank | Young | 1 | French II |