Jesuit Baseball Loses Thriller to Brother Martin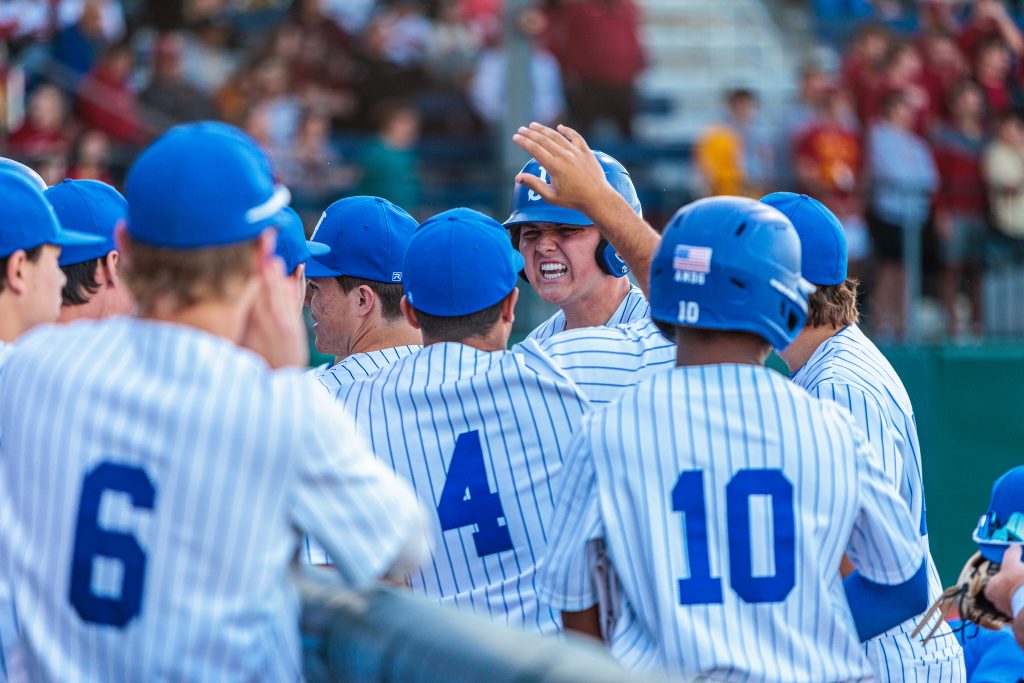 Any matchup between the Blue Jays and Crusaders is must watch baseball, and March 23, 2022, was no different. The packed crowd at John Ryan Stadium enjoyed perfect weather for America's Pastime and a game that matched the conditions.
In the end, both sides gave all they had in their first district matchup of the season with Brother Martin edging out Jesuit (11-6, 0-1) by a score of 5-4.
Senior pitcher Ryan Porche started the game off with a strikeout, and the momentum instantly belonged to the blue and white. In the bottom of the frame, senior Oddie Aucoin led off with a hit-by-pitch and scored off a Holden Hess single to get the scoring started for the home side.
The scoring would not stop there. Senior outfielder Bronson Goebel singled to score two more and gave an emphatic fist pump as returned to first base. At the end of the first inning, Jesuit held a comfortable 3-0 lead. Another run would not score until the third, and the Jays would be on the wrong side of the attack.
The Crusaders came to bat in the bottom of the third and found a way to string together quality at-bats. Thanks to a single and a RBI double, Brother Martin only trailed 3-2 going into the fourth inning.
In top of the fourth, Brother Martin tagged on two more to grab their first lead of the contest—a lead they would never relinquish.
Even facing a deficit, the Jesuit batters kept attacking. Going into the bottom of the sixth with the Jays trailing 5-3, senior outfielder Keith Pittman ignited the crowd once again by pushing a fastball down the first base line for a triple to bring his team within one. While the score ended 5-4 in favor of Brother Martin, Jesuit battled until the last at-bat.
The Jays will not have to wait long for redemption as Jesuit is scheduled to square off against Brother Martin on March 24, 2022, at Kirsch Rooney Stadium with first pitch set for 7 p.m.
Loading…