Jesuit Athletics 4th in Nation, Top of State Division I in MaxPreps Rankings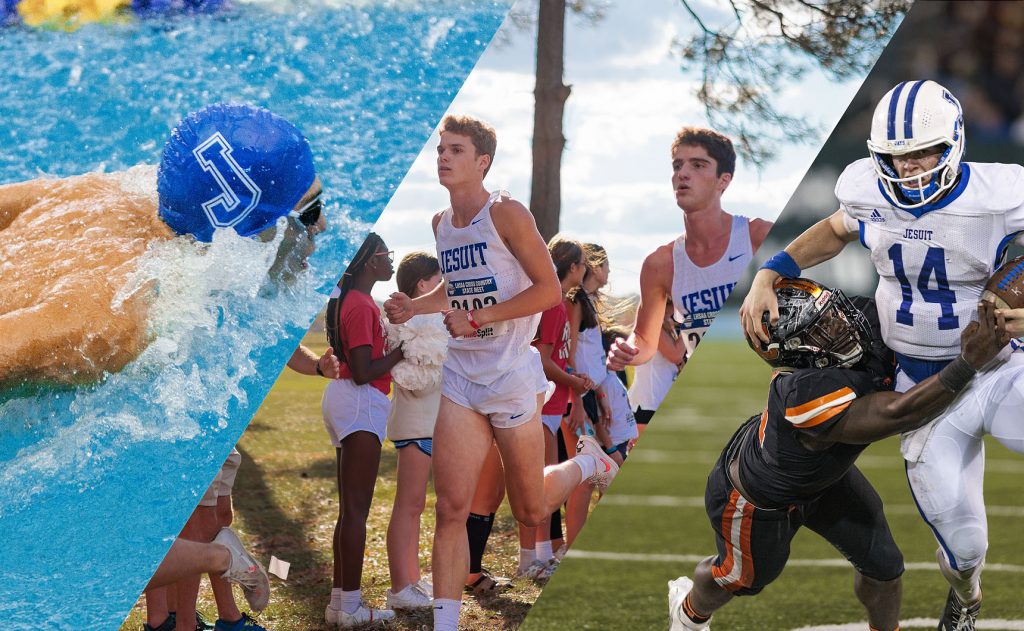 Combining the performance of the major fall sports in all 50 states in the nation, popular athletic outlet MaxPreps publishes a list of the top 100 fall athletic programs each year. Accounting for the combined performance of this year's football, swimming, and cross country teams, Jesuit was ranked the 4th boys athletic program in the United States and the top Division I fall athletic program in Louisiana for the 2021-22 school year.
"The 2021 fall sports season was certainly an exciting one that added to the rich tradition of the Jesuit High School athletic program," reflected David Moreau, Jesuit's athletic director. "There is little doubt that the achievements of our fall sports teams stemmed from the talents, efforts, and dedication of student-athletes combined with the organizational, technical, and tactical expertise of our coaches."
Moreau added, "What was most apparent in watching our teams in both practices and competitions was the collective desire of each squad to maximize its potential in the pursuit of becoming a 'real team.' For that alone, we are most proud and grateful—the national notoriety is just icing on the cake."
According to MaxPreps, the point system used to rank teams is "designed to determine the top overall high school athletic programs in the nation. Points are awarded for state championships, runner-up finishes, and placement in national rankings." Other adjustments are made to account for factors such as relative popularity of each sport in terms of participation and average team size.
Among boys schools in the entire country, the top 4 programs were all Jesuit schools, and the Blue Jays came in 4th in the nation behind Jesuit High School Tampa, St. Ignatius High School (Cleveland), and Brebeuf Jesuit Prep (Indianapolis).
In Louisiana, with 605 points in MaxPrep's proprietary power ranking system, Jesuit finished just ahead of St. Joseph's Academy in Baton Rouge (501 points) and Catholic High School in Baton Rouge (478 points). E.D. White, which competes in a different division than Jesuit in all three fall sports and whose girl sports are also accounted for, was awarded 849 points, the most in the state.
MaxPreps: Fall Leaders in All 50 States
MaxPreps: Top boys, girls high school athletic programs after fall season