Jesuit Basketball Suffers Final Loss of 2021-2022 Season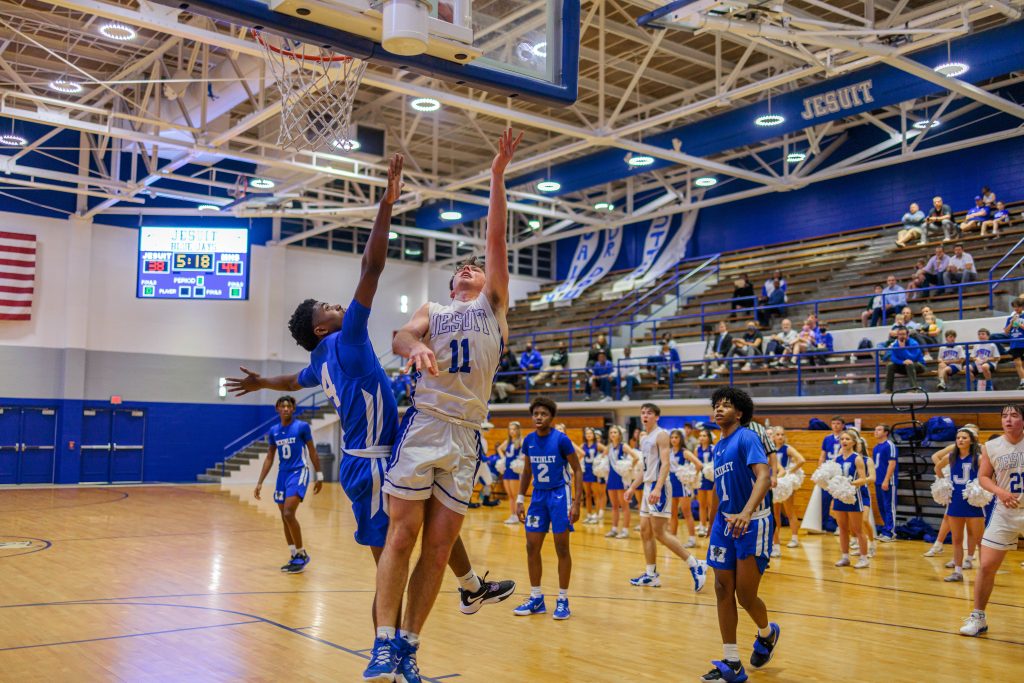 After battling on the hard-court for over three months, the Jesuit basketball season came to an end on Feb. 22, 2022 at the hands of McKinley High School. The Panthers pulled away late to cap a 80-64 victory inside the Gayle and Tom Benson Arena.
While the season ended sooner than most Jesuit fans would have liked, the determination and chemistry could be seen until the final whistle as seniors Matthew Knight and Michael Britsch were subbed off to a standing ovation with mere seconds left.
The Jays never quit. Even when junior standout Josh Washington went down with an injury before the season began, Jesuit practiced even harder and won close contests to open the season.
Even when junior guard Jack Lo suffered a season ending injury midway through the year, the Blue and White continued to show up and won enough games to finish as the No. 6 seed and host a first-round playoff matchup against No. 11 McKinley High School.
The Panthers controlled the tempo from the opening tip with its suffocating full-court pressure. The length of McKinley added a dimension that Jesuit has not been accustomed to, yet freshman Jasper Parker, Britsch, and sophomore Jude LaForge led the scoring effort to keep the game manageable going into halftime.
The Jays never led in the second half but cut the deficit to 55-48 going into the fourth behind superior passing by junior Will Sheridan and diligent defense by junior Kole White. While the battle continued into the final period, the Panthers closed out the win by taking care of the basketball and hitting from the charity stripe.
The 2021-2022 basketball season provided heart-stopping wins, legendary milestones, and impressive basketball. Whatever the task was, this team handled any situation with unstoppable-grit. Whether it was the last minute win against rival Brother Martin or Knight scoring his historic 1,000 point, this team provided moments that will be remembered by more than the players and fans that witnessed them.
Nola.com: Jesuit seniors get one last round of applause in home playoff loss. 'We just keep competing.'
Loading…