Jesuit Opens Lacrosse Season with Tight Victory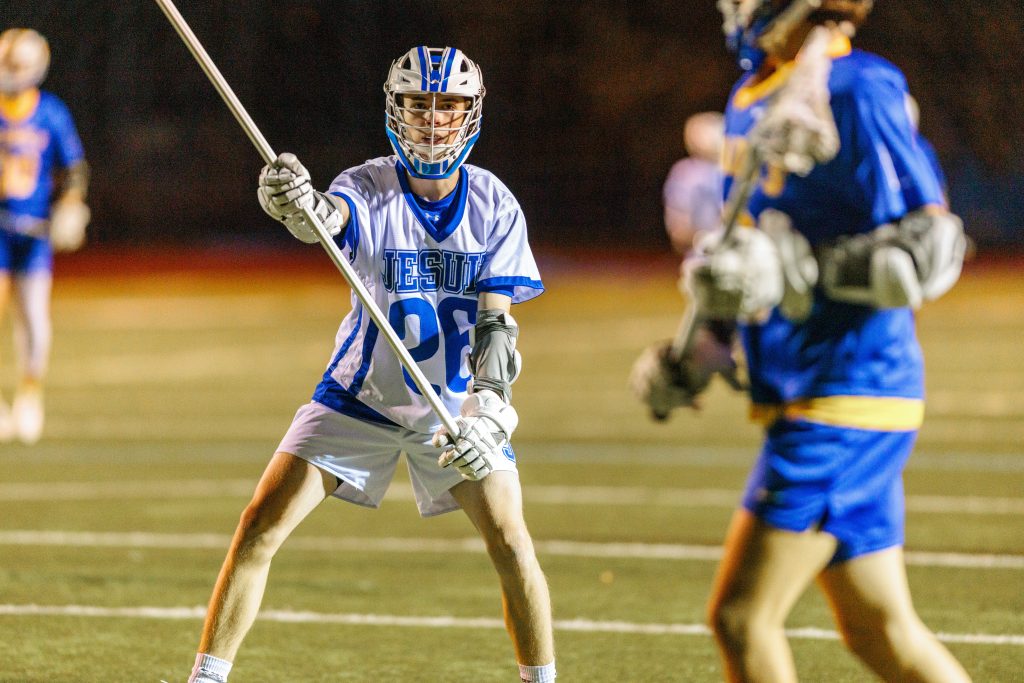 In the opening game of the regular season, the defending state champions took on rival St. Paul's at Joe Yenni Stadium Saturday night. The Jays (1-0) started the 2022 campaign without the fourteen seniors who led the 2021 championship team, including three starting attackmen and the two highest scoring midfielders.
The Wolves started the game with two quick goals, but the Blue Jays bounced back with six unanswered goals to close out the first half to give Jesuit a 6-2 lead going into the break. St. Paul's came out of halftime with a vengeance, scoring seven goals to Jesuit's five thus closing the lead to 11-9 for the Jays going into the fourth period. The final frame saw each team trading blows with three goals apiece, and the Blue Jays held on to secure its first win of the season by a score of 14-12.
In his first game as a starting attackman, junior Nick Frischhertz led all players with five goals and added added one assist. In his first varsity game, sophomore Jack Sutherlin led all players with seven total points, four goals and three assists. Junior Tyler Autin finished with four points, three goals and one assist, and the team lead in ground balls with six. Sophomore John Calhoun finished with three assists, junior Masen Mannina had two assists, and preseason All-State Midfielder senior David Martin scored two goals.
Loading…