Wrestling Senior Night Produces Electric Atmosphere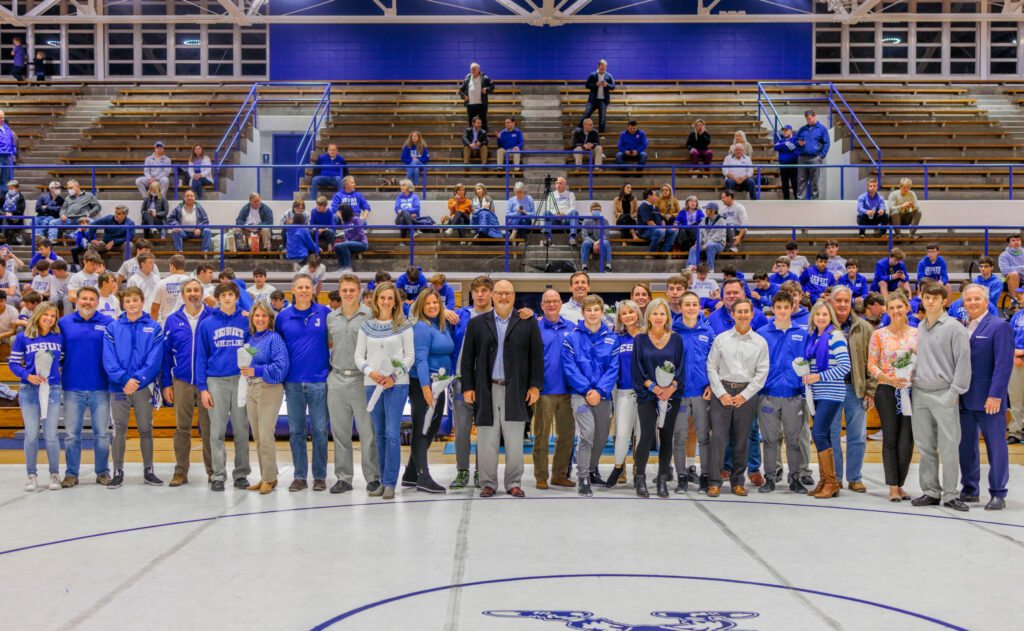 In there third district dual meet of the year, the Blue Jays took on the Brother Martin Crusaders in a No. 1 vs No. 2 matchup in the Gayle and Tom Benson arena on Wednesday, Jan. 26.
The dual meet played out with Jesuit winning the opening match—four in total—but ultimately fell to the Crusaders 38-19. Before the matches, the night started with the team honoring its ten seniors. Seniors Joe Barnett, Jackson Ballay, Ian Bohn, Luc Colomb, Dennis Dougherty, Ferdie Laudumiey, Nate Jackson, Collin Pelitere, Winn McConnell, and Luke Ryan were all acknowledged along with their parents.
When the wrestling started, freshman Bodi Harris started the night off with a win for the Blue Jays. After a few hard fought losses, Winn McConnell and Dennis Dougherty would pick up big wins. To end the night, sophomore heavyweight Spencer Lanosga illustrated superior strength by pinning his opponent and leaving the Jesuit faithful with a solid victory.
The Blue Jay wrestlers would follow up the Wednesday dual with a Runner-Up finish in the District Tournament on Saturday, Jan 29. Next up for the Jays will be their final district dual at Archbishop Shaw on Wednesday, Feb. 2.
Loading…