Pro-Life Trip Marches On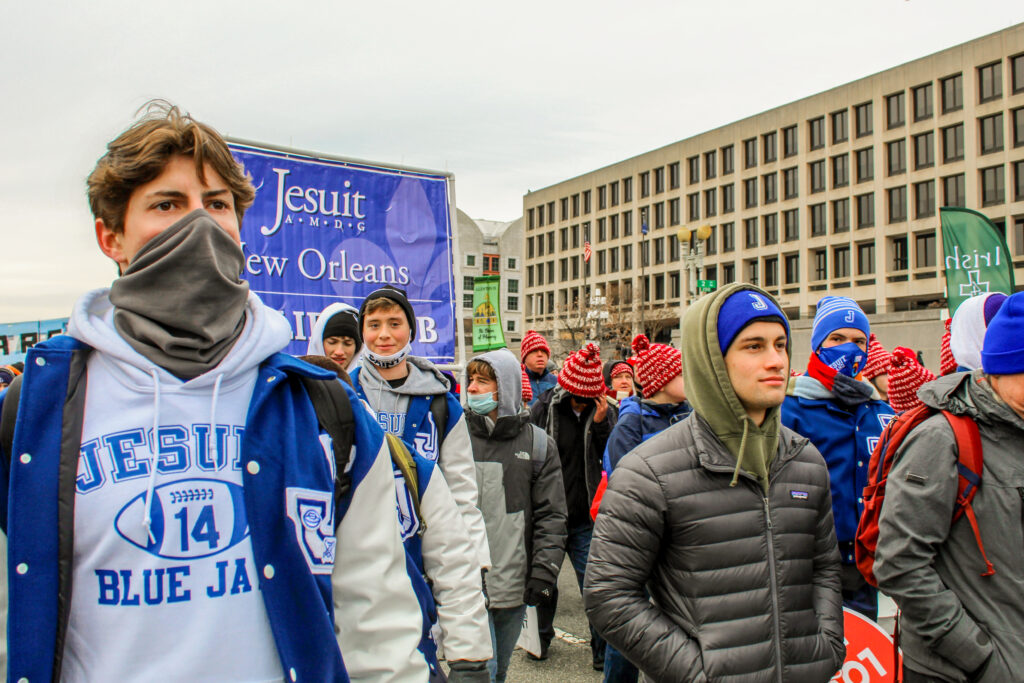 This past week, 31 Blue Jays made their way to Washington D.C. to participate in the annual March for Life. The march is held annually every January to protest the landmark Supreme Court decision Roe vs. Wade. The pilgrimage represents the premiere event for the Pro-Life Club each year.
This year's pilgrimage was led by Pro-Life Club moderators Scott Delatte '06 and Susan deBoisblanc, as well as alumni director Michael Prados '83, theology teacher Roger Bacon '10, and Jesuit vocation promoter Fr. Robert Murphy, S.J., '95.
This trip was particularly exciting, as currently the Supreme Court is considering Dobbs vs. Jackson, a case which marks the clearest challenge to Roe in nearly 30 years. Students embraced this trip not as a vacation, but rather as a pilgrimage in which they were invited to prayerfully witness to the goodness of life. To that end, students went to Mass each day and concluded each day with prayer and small group discussions every evening.
While in D.C., students were able to visit Smithsonian museums and tour the monuments on the National Mall. The group was fortunate to listen presentations by Pro-Life leaders from the Ethics and Public Policy Center, where they were able to learn more about the political and legal framework surrounding abortion. Students toured the Holocaust Museum, where they were invited to consider the consequence of arbitrary declarations of what constitutes a person with rights.
The march itself begins on the National Mall, where students gathered with tens of thousands of other young pro-lifers to hear speeches from various politicians and public figures. From there, students marched prayerfully up Constitution Avenue past the Capitol Building, where the March concluded in front of the Supreme Court Building, where the students prayed in hopes that soon Roe vs. Wade would be overturned.