2022 Father-Son Mass Promotes Special Impact of Fathers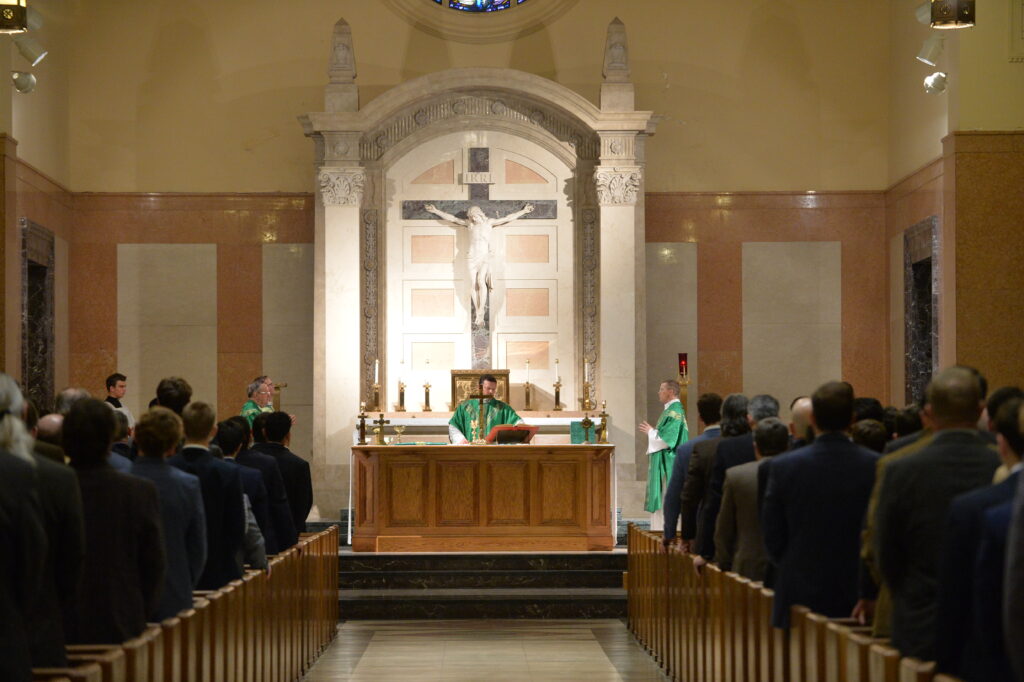 Jesuit's Father-Son Mass & Dinner on Saturday, Jan. 15, 2022, brought fathers and sons to campus for a night of prayer, reflection, and socializing. The relationship between father and son is a treasured gift, and the event gave all in attendance the opportunity to celebrate that special bond. Throughout the year, Family Masses give students and their family members opportunities to celebrate Mass and enjoy fellowship among their friends, family, and members of the Jesuit community.
The evening began at 6 p.m. with Mass in the Chapel of the North American Martyrs celebrated by Jesuit president Fr. John Brown, S.J. Concelebrating were Fr. Kevin Dyer, S.J., Fr. William Farge, S.J., and Fr. Stephen Kramer, S.J.
Following Mass, three seniors paid tribute to their fathers. Wesley Adams honored his father Ryan Adams '95, Mitchell Stevens honored his father Mitchell Stevens, and Joseph Liberto honored his father Vince Liberto '83
After the touching words, the attendees made their way to the Student Commons for a delicious dinner that included hearty servings of steak or chicken, green beans, garlic smashed potatoes, a roll, and desserts. Jim McCormick '86 also performed in the Commons while everyone enjoyed their meals. McCormick performed all three number one hits that he wrote and talked about the perseverance it takes to be successful in following your life's passion. 
Dinner was prepared on-site by young alumnus Max Gruenig '06 and his team of talented cooks.