Jesuit Wins Wild District Opener Against Brother Martin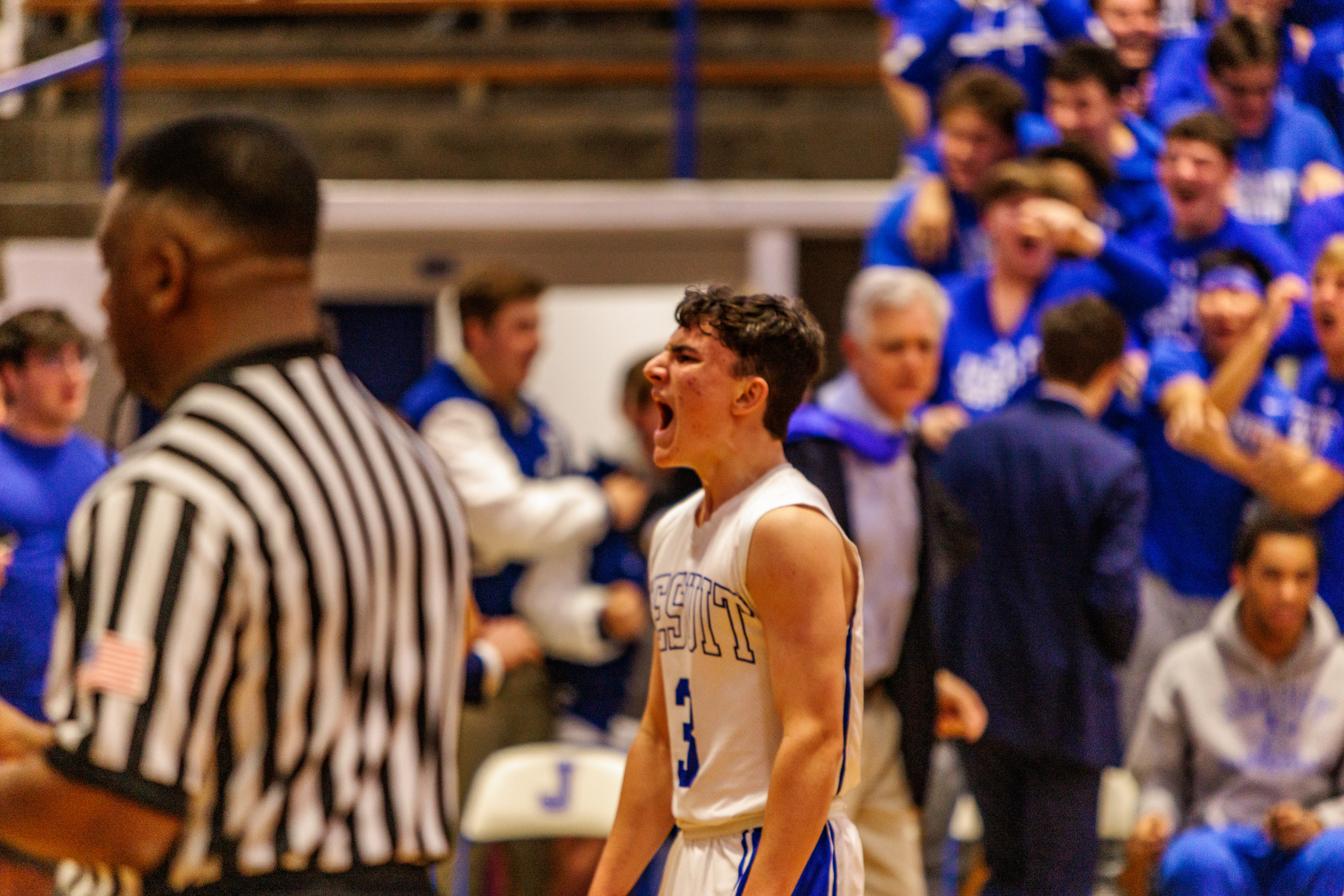 With 33 seconds left, Brother Martin brought the ball down for the likely last possession of the game as high school does not limit each possession with a shot clock. The swarming Jesuit defense had other plans.
After dribbling under his own goal, a Crusader guard turned the ball over with an errant pass. Senior Matthew Knight knew exactly what to do with it. Taking it the length of the court after a deflection by freshman Jasper Parker, Knight layed the ball off the glass and, as the ball fell through the net, the official blew the whistle indicating a three point play.
With 12.9 second remaining, the score read 56-56 with Knight going to the line to put the Jays up by one. He sunk the free throw and received a roaring applause from the packed Gayle and Tom Benson Arena, but the game was far from over. The talented Brother Martin side had the last shot and went to their best player; Corey Skillman, who already had 22 points in the contest.
The Crusaders (17-3) found the open shot, but missed three put-backs within two feet that led to the Jesuit (9-1, 1-0) one-point win.
While the ending moved everyone to the edge of their seats, the game started with both teams struggling to find open shots going into the second period. Jesuit came alive in the second quarter with Knight scoring nine points in the quarter and the Blue Jay defense holding the Crusader attack to only 10 points to even the score at 25 going into the half.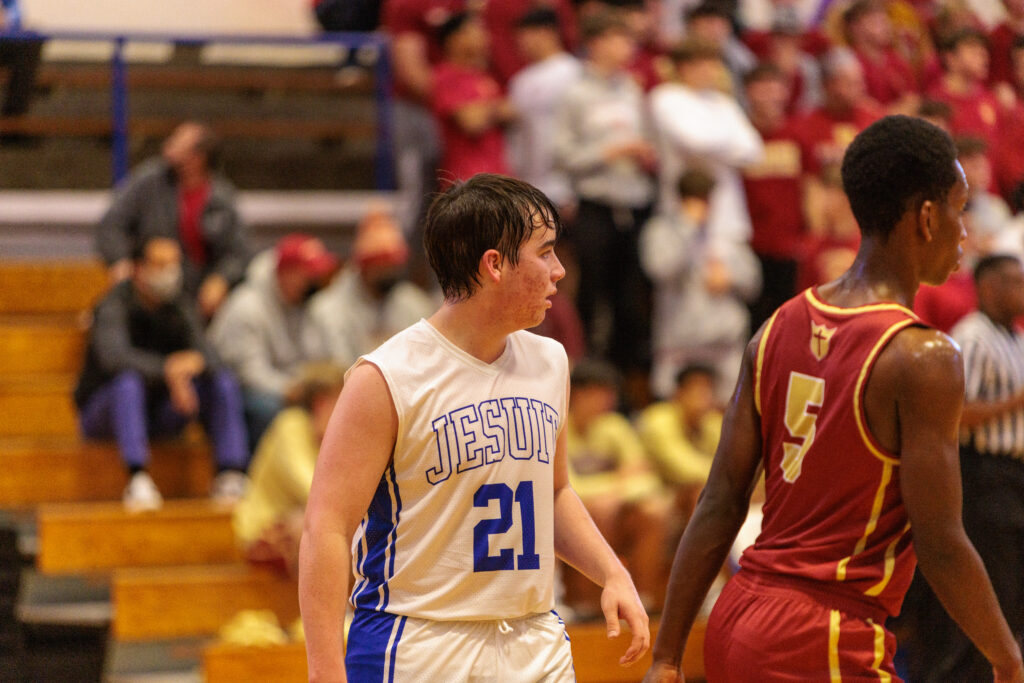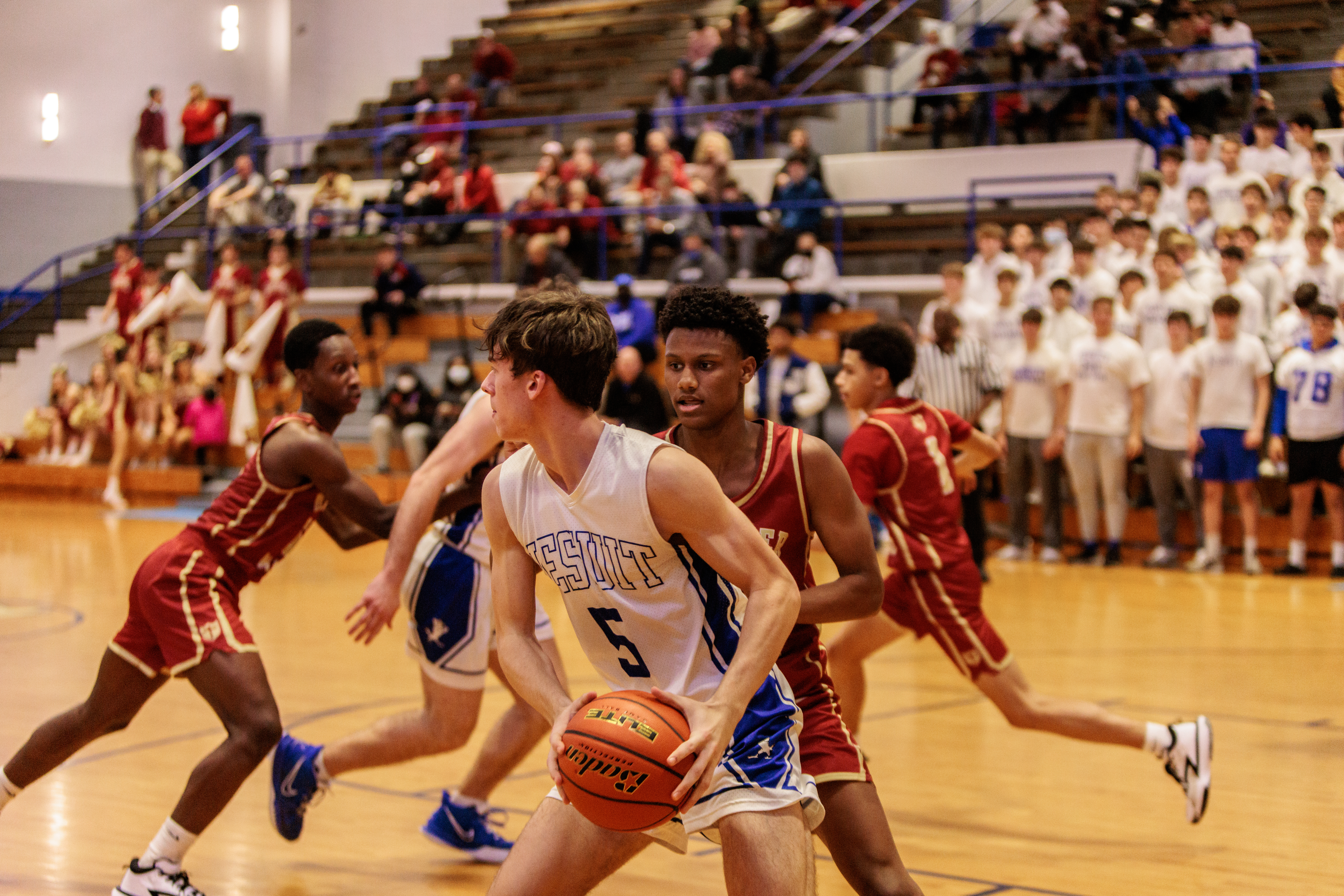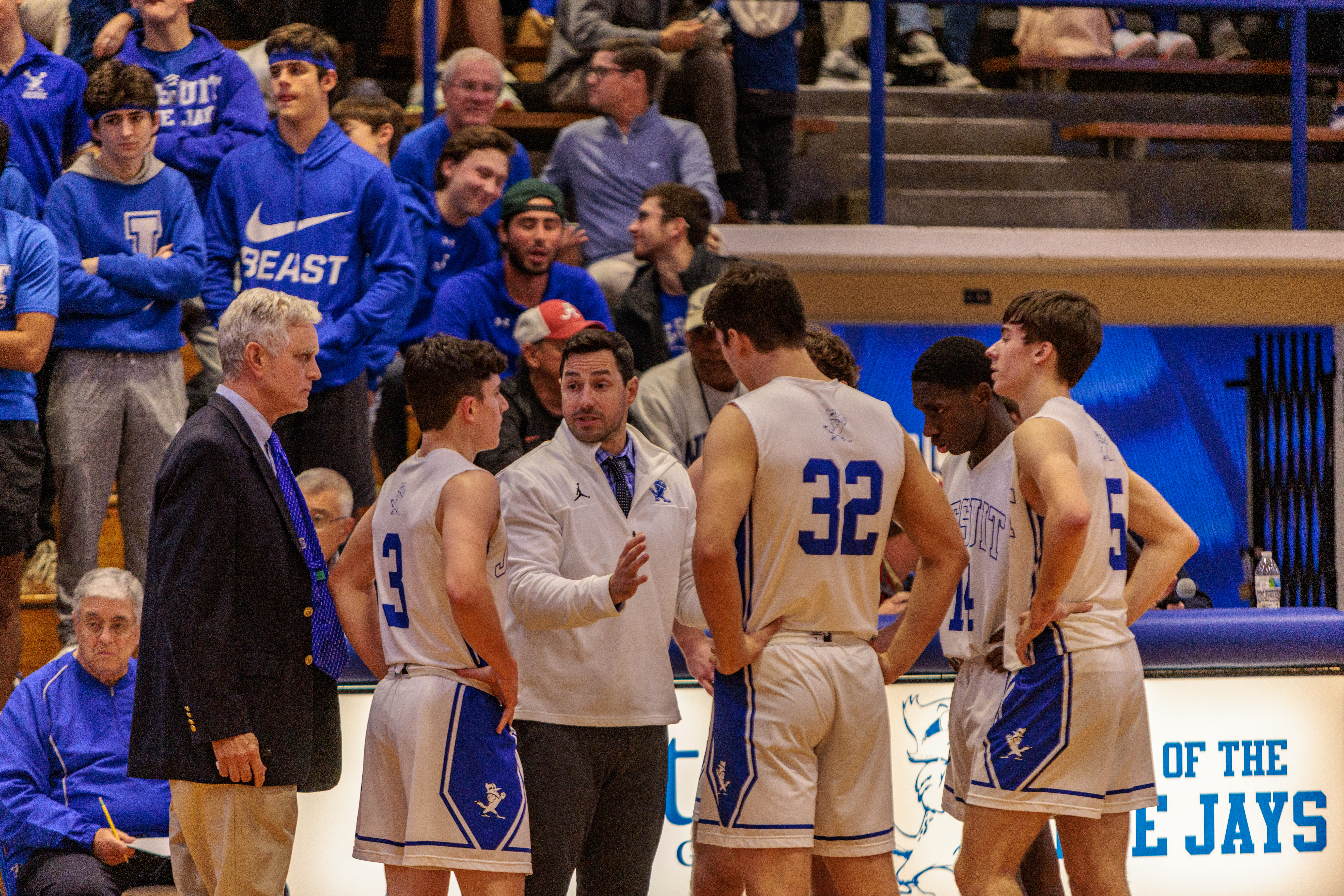 The second half saw more scoring from the Jays, including timely outside shooting from senior Michael Britsch and junior Jack Lo. Going into the fourth, Jesuit possessed a 41-39 lead.
Brother Martin would continue to fight. Even when Jesuit held a five point lead with 7:07 remaining, the Crusaders went on a 10-0 run to take a 49-44 advantage with under five minutes to play. Junior Brock Guillot was substituted into the game and was an instant spark plug by adding seven fourth quarter points.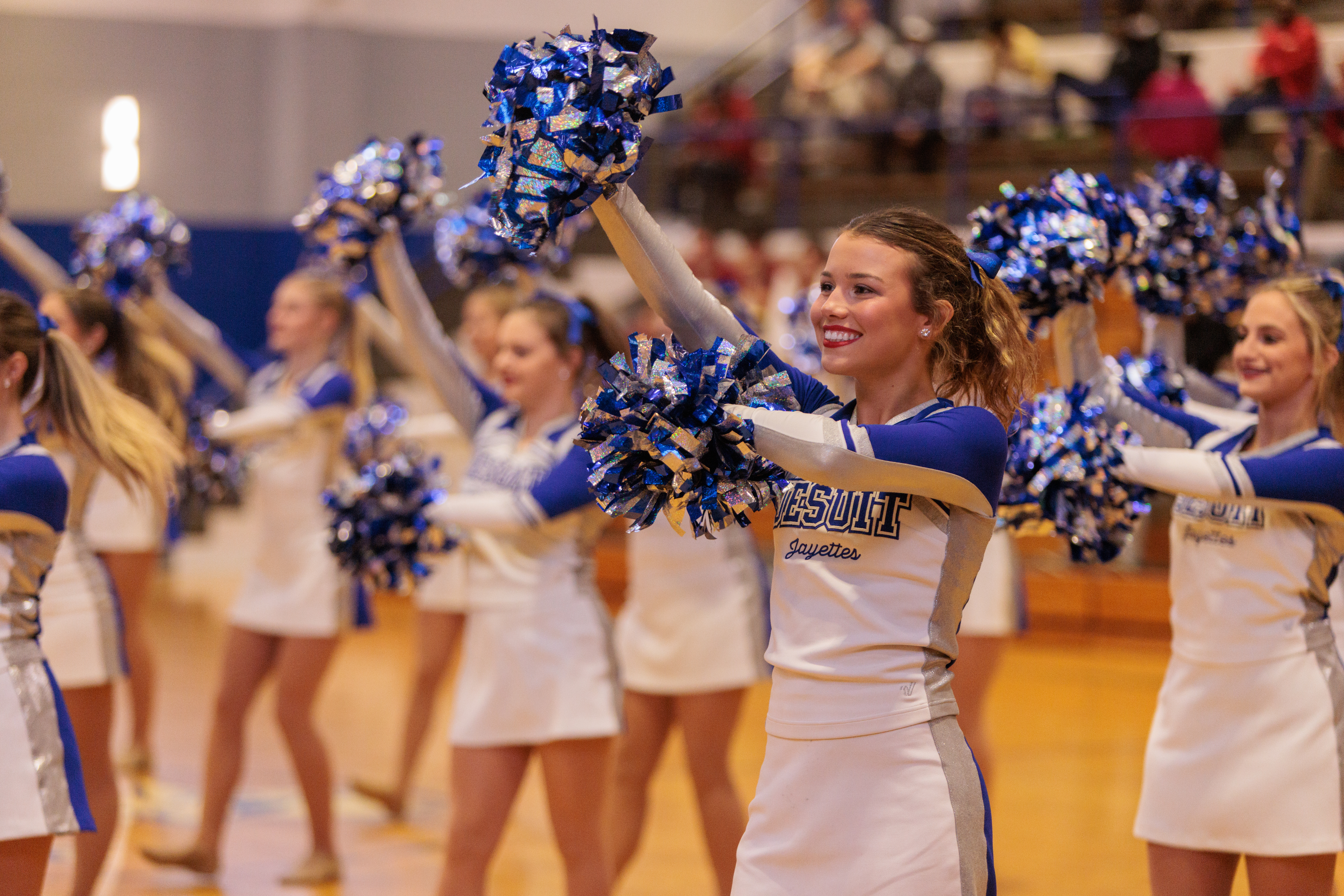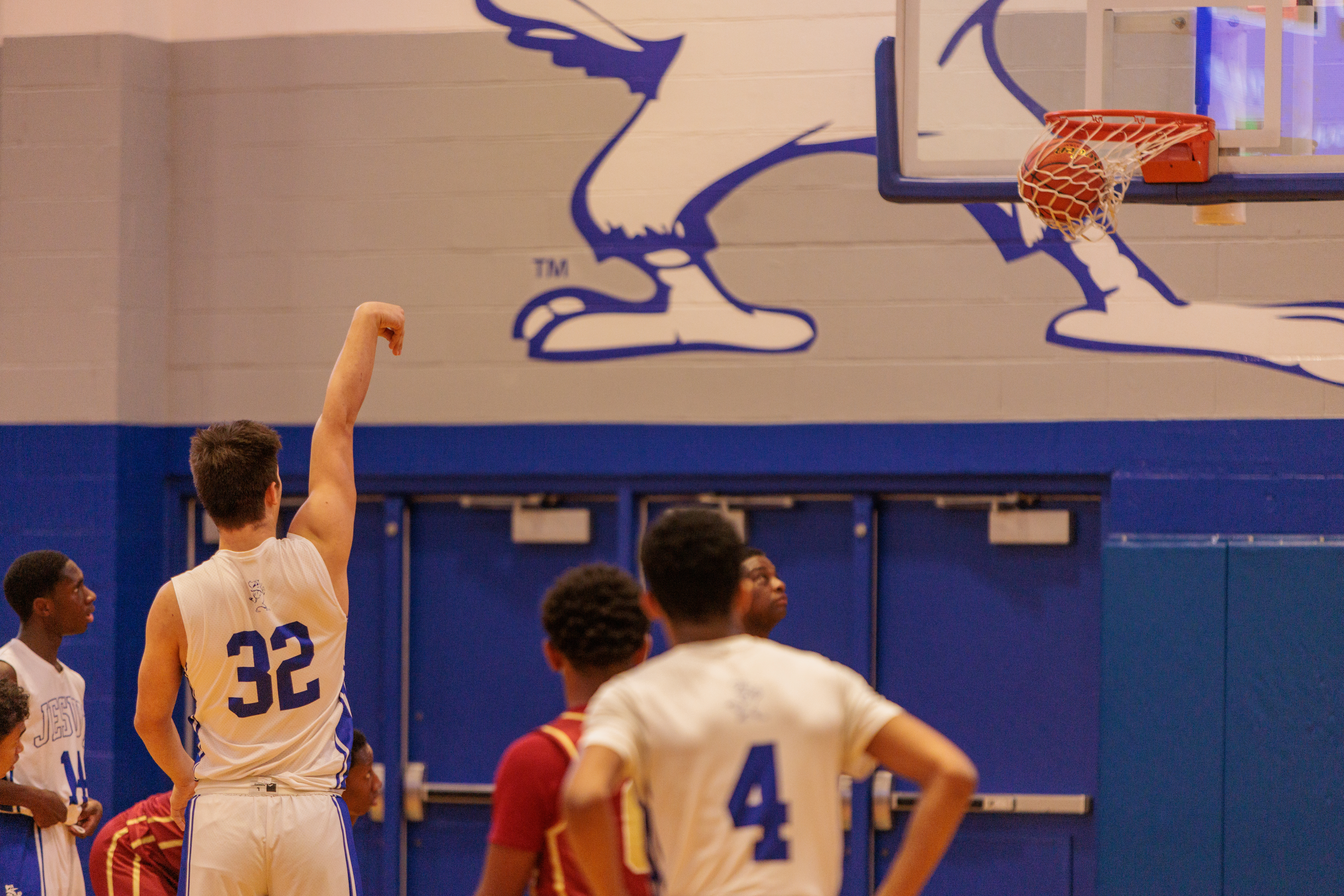 Knight had a game-high 23 points, but it took contributions from everyone to win this close contest. Junior Will Sheridan handled the ball and attacked the boards, senior William Pouyadou hit a clutch free throw in the fourth, and junior Vincent Smith added superior defense and early scoring.
If Jesuit shows this tremendous depth for the rest of the 2022 campaign, more positive results should follow.
The Jesuit cagers continue regular season play against non-district foe Morris Jeff on Jan. 7 at Morris Jeff with tip-off scheduled for 6 p.m.
Nola.com: Jesuit edges Brother Martin on Matt Knight's three-point play with 12.9 seconds left