Football Team Battles Hard, Finishes Season as State Runner-Up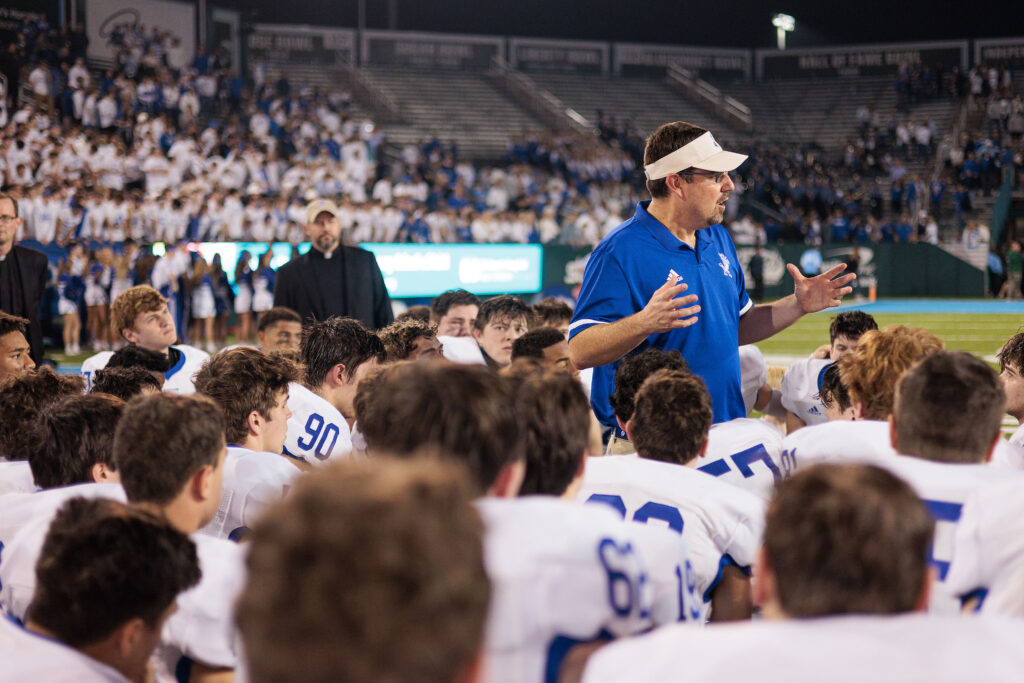 After traversing the long road to Yulman Stadium for the chance to face down the Catholic High School Bears, the Jesuit football team came up four points short of Catholic to finish the season as state runner up. In head coach Ryan Manale's first year, the Jays captured their first district championship and finals appearance since 2014, ending the season with a 10-14 game on Tulane's campus.
The first quarter started off strong for the Jays. Caleb Tolbert returned the opening kickoff past the thirty and got up from the tackle with a roar to ignite the crowd. Unfortunately, senior quarterback Jack Larriviere and the Jesuit offense could not sustain a solid drive. Jesuit was forced to punt, but the snap went over junior punter William Hudlow's head, and the Bears recovered to secure the first score of the contest.
When the deficit reached 14, Manale knew the offense needed a boost. The Jays went to junior receiver Jace Larsen for a huge gain to get on the scoreboard after a field goal by junior kicker Aidan Corbello.
Jesuit did not reach this point without facing obstacles along the way. Instead of folding, the Jays hung tough and buckled down on both sides of the ball. Led by defensive lineman Joseph Barnett and senior linebacker Jake Cannizzaro, the defense held the explosive Catholic offense to multiple punts and zero points in the second quarter.
The offense finally took advantage of the defense's performance in the middle of the second quarter when Larsen completed a pass to Larriviere and Larriviere himself completed a long seam route to senior tight end Chance Whitfield. Larriviere finished the drive with a rushing touchdown.
In the span of sixteen minutes, Jesuit reduced the deficit from 14 to four and showed no signs of slowing down heading into the locker room.
Despite the momentum at the end of the first half, Jesuit ran under 10 plays in the third quarter but battled on defense to hold the Bears scoreless. While the Jays made a valiant effort in the trenches, Catholic closed the game with a nine-minute drive to seal the victory.
Larriviere finished with 112 yards passing and led rushing attack with 33 yards and a touchdown. Larsen finished with 109 yards receiving.
Junior cornerback Nick Jacobs led the team with seven solo tackles, and junior linebacker Dominic Loiudice added five solo tackles in addition to his constant presence around the ball.
After the loss was tough, the team bussed back to Carrollton & Banks and kneeled in the Chapel of the North American Martyrs, thanking God for a successful and unforgettable season.
This is a developing story with more coverage to come.