Thanksgiving Tradition Turns Focus to Others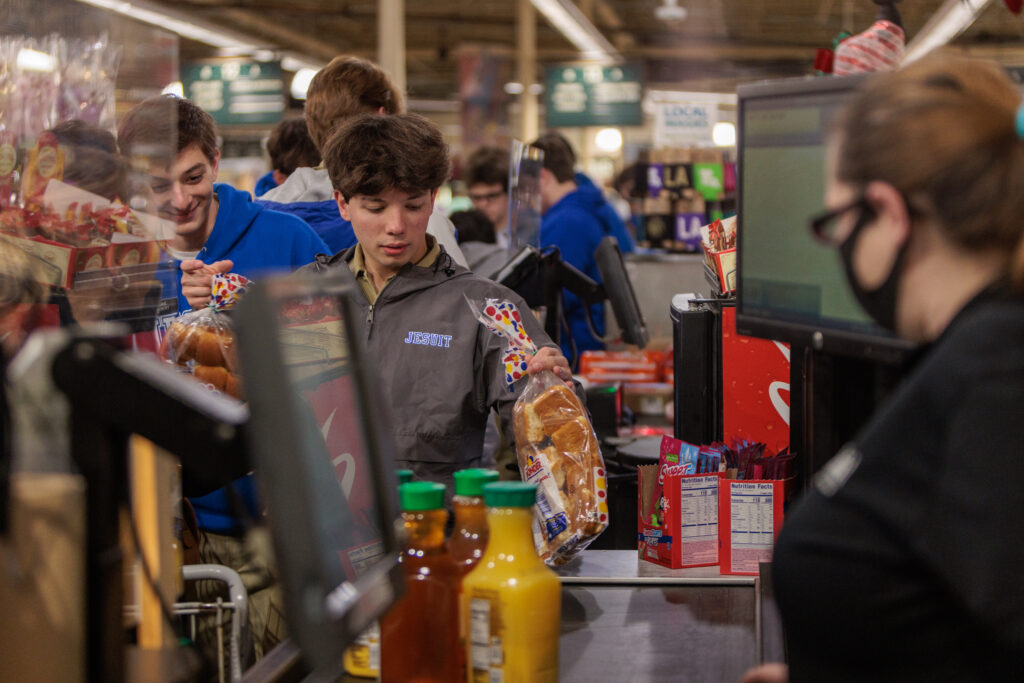 As the sun rose on the Crescent City on the morning before Thanksgiving, the Jesuit community was already in high gear shopping for groceries at Robért Fresh Market on Robert E. Lee Boulevard. Students and faculty arrived around 5 a.m. to purchase perishable food items as part of Jesuit's annual Thanksgiving Drive. In the preceding weeks, homerooms, clubs, honor societies, and other student organizations collected non-perishable items that were combined together in baskets with turkeys donated by the Class of 1983.
The year's drive, the latest in a decades-long Jesuit High School tradition, fed 576 families throughout the greater New Orleans metropolitan area.
After shopping at Robért's and arriving back on campus to assemble food into deliverable boxes, students and faculty met in the Chapel of the North American Martyrs for prayer and reflection. The service was led by Fr. Kevin Dyer, S.J., Jesuit's chaplain, and music was provided by Jesuit's choir under the leadership of scholastic Jeff Miraflor, S.J.
Senior Caleb Tolbert delivered an address that recalled the importance of his own service project at the Good Shepherd School, which was founded by former Jesuit High School president Fr. Harry Thompson, S.J., in 2001.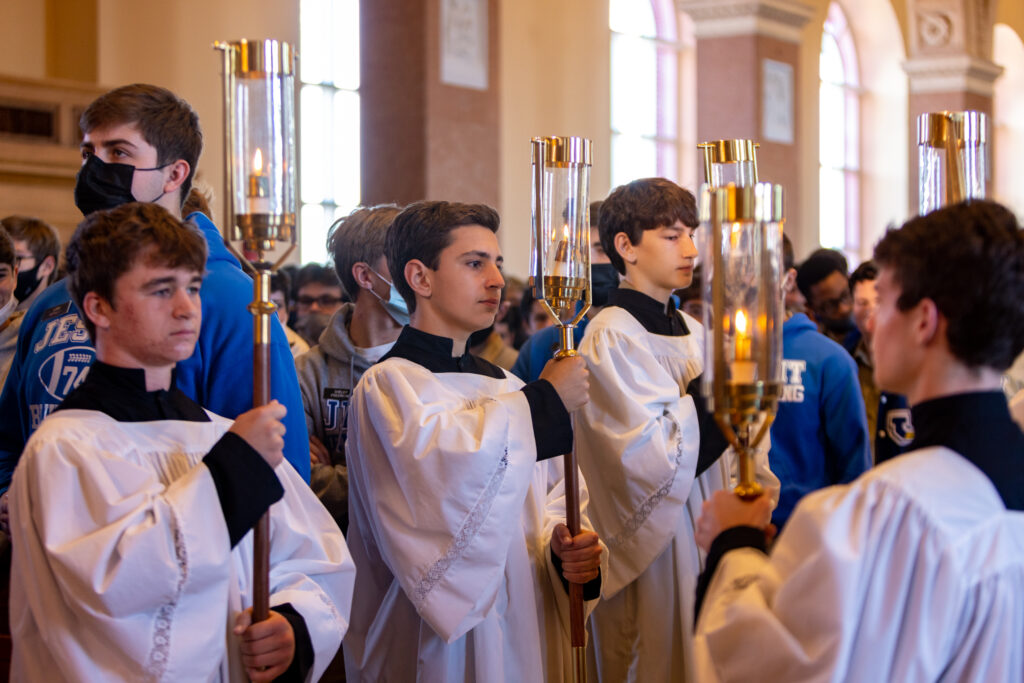 "Last summer, I found myself at the Good Shepherd School with close friends from Jesuit," said Tolbert. "I really saw the value of fulfillment that can come from service. I relate this experience at Good Shepherd because, as Blue Jays, it should be our goal today on the Thanksgiving Drive and throughout our lives to have a positive impact on others no matter where or how we encounter them."
"It also reminds me of something that Coach Manale tells the football team: do more," Tolbert added. This phrase, referred to as the magis principle by the Jesuits, is a common watchword in Jesuit schools.
Longtime faculty member Stephen Hayes also addressed the school community, recalling his decades of participation in the Thanksgiving Drive.
"I remember one family's response one year was to ask those of us who were delivering the basket if we would stay around and pray with them," he said. "In that prayer, they prayed for all of us and all Jesuit students and faculty and staff. In another case, I remember a grateful mother wanting to hug all of us."
"It can open our hearts and minds to other people," Hayes continued. "For a moment in time, our focus is away from us and towards others. In a beautiful way, we are also beneficiaries of our work for others: as we give of ourselves, we are blessed."
"God's work on earth must truly be our own," he concluded.
"This is year is noteworthy for the level of young alumni participation," said Service Project Coordinator Kevin Murphy '00. "The Classes of '13, '14, '15, and '20 are all visiting a large numbers of families on top of the 192 that Mike Prados [Class of 1983] and the general alumni base are feeding." Members of these as well as other alumni also helped package boxes and manage logistics on Carrollton & Banks throughout the morning.
Murphy also highlighted this year's great co-curricular participation from groups including the Blue Jay Band, Cheerleaders, Jayettes, Sodality, Pro-Life Club, National Honor Society, Robotics Team, Philelectic Society, swim team, and student council.
After baskets were assembled on campus, homerooms, alumni, and other groups distributed them to nearly 600 homes in the New Orleans area.