Football Clinches 14–13 Round 2 Victory Against John Curtis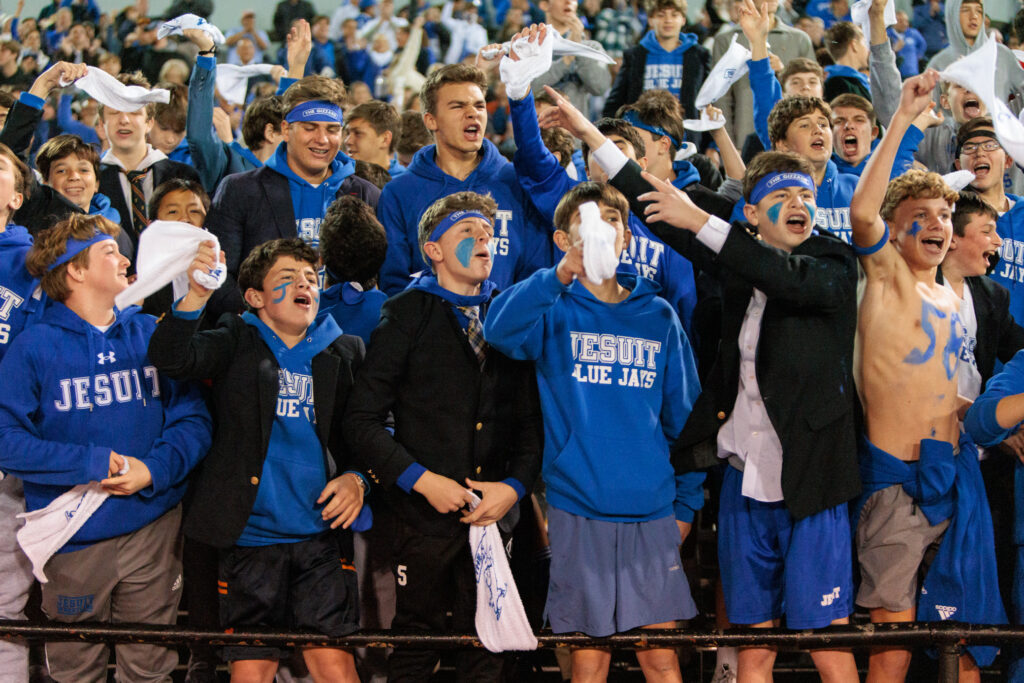 Going into the LHSAA football quarterfinal matchup between Jesuit (9-0) and John Curtis, fans and players alike knew it would be a battle for every inch. The game was certainly a war of two superior football programs, but no one could have guessed how the contest would end. With a thrilling last-minute PAT block with 40 seconds left, the Jesuit football team advanced to the LHSAA Division I semifinal game by beating the Patriots 14–13 at Tad Gormley Stadium.
The Jays came out of the gate firing on offense. In the first half, senior quarterback Jack Larriviere used his legs to score two rushing touchdowns that led to an early 14-0 lead. Before the Jays could pull away, John Curtis cut the deficit in half with a rushing score of their own.
The second half showed the prowess of both defenses. Jesuit forced two fumbles in the second half and the Patriots kept Jesuit off the board for the entirety of the half. The only offense came late in the fourth quarter. With less than a minute to go, John Curtis's running back found a hole and went through it for a 26-yard touchdown. The game seemed destined for overtime.
Senior defensive end Joseph Barnett decided that he wanted start the celebrations early. Barnett rushed up the middle during the extra-point attempt and blocked the kick. After recovering the on-side kick, Jesuit punched their ticket to the semifinal round against a familiar foe: Brother Martin.
The two teams met earlier in the year and gave the fans a game to remember. After the third overtime, Brother Martin scrapped out a win that was later removed by the LHSAA.
Jesuit will host Brother Martin in the semifinal round of the state playoffs on Friday night at Tad Gormley Stadium with kickoff set for 6:00 p.m. Tickets will be on sale at the switchboard on Monday and Tuesday from 7:30-3:30, and on Wednesday until 12:00 and on Friday from 10:00-12:00. Both the pre-sale and at the gate ticket price is $10.00 each for adults, students, and children. Note that season passes and student id's will not be accepted at the gate. Gates open at 4:30 p.m. Parking for $10.00 will be available at Delgado.
Nola.com: A blocked extra point decides the outcome between Jesuit and John Curtis