MCJROTC Celebrates Birthday of Marines Corps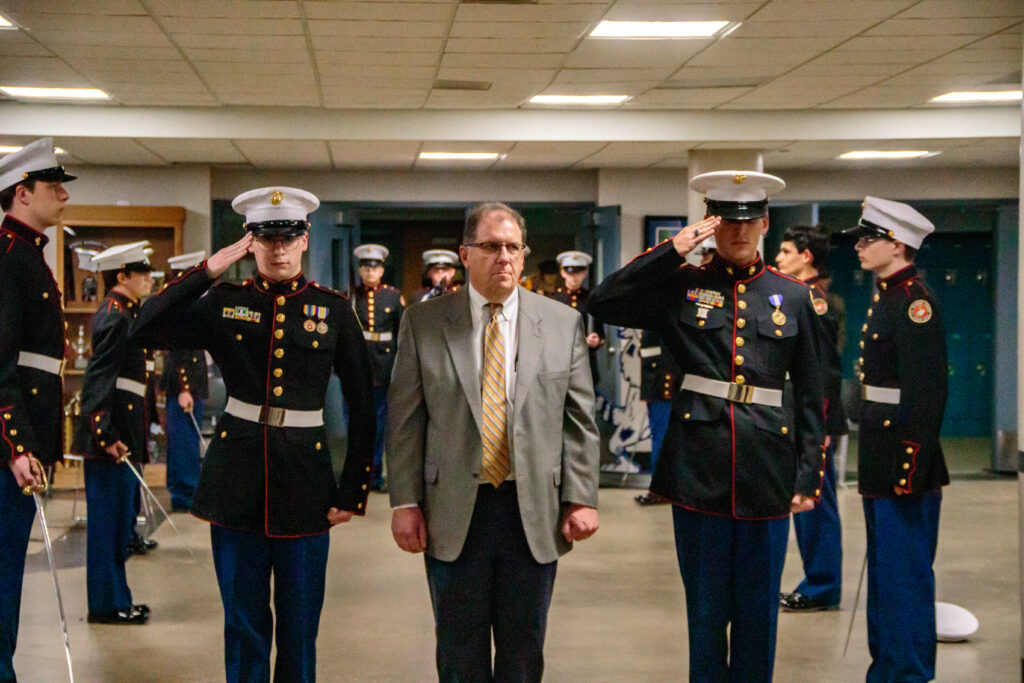 On November 16, 2021, the Jesuit MCJROTC ,their families, and guests gathered in the Student Commons to commemorate a special tradition: the birthday of the United States Marine Corps. The 246th Birthday celebration included a performance by the MCJROTC Band (the oldest of its kind in the nation); a traditional cake cutting ceremony with special recognition of the program's youngest and oldest cadets; and recognition of the guest of honor.
Since Nov. 1, 1921, the Marine Corps birthday celebration has served, by the order of then-Commandant Gen. John A. LeJuene, as a reminder of the accomplishments of the Corps' service. Each year, Marines across the globe gather to commemorate the Corps' founding with a traditional birthday cake-cutting celebration. Jesuit's MCJROTC acknowledges this tradition with its own ceremony for friends and family of cadets.
Prefect of discipline Mark Songy was this year's distinguished military guest of honor. Songy served in the United States Army Reserve from 1985-1992 and achieved the rank of sergeant during his tenure. He served as a platoon sergeant with combat engineers, specializing in demolition, and served as a bayonet training instructor until was honorably discharged in 1992. Coach is a graduate of Louisiana State University and went on to teach English and coach football at Archbishop Shaw, Jesuit, and Brother Martin High Schools. While Serving as head football coach at Jesuit High School in 2014, his team won the LHSAA State Championship. During his football coaching career, Coach Songy was awarded Louisiana State Coach of the Year in 1994, 1996, and 2014.
After Songy's speech, the cake cutting part of the program took center stage. Tradition holds that the guest of honor receives the first piece of cake followed by the oldest cadet present and the youngest cadet. For the 2021 school year, Cadet Lieutenant Colonel Joseph Finger, who was born on July 18, 2003, received the second piece of cake while Cadet Private First Class James Breaux, who was born on August 7, 2008, took the third piece.
Thank you to all those who attended the ceremony and all those veterans who have served, currently serve, and will serve the United States.