CROSS COUNTRY CLAIMS STATE TITLE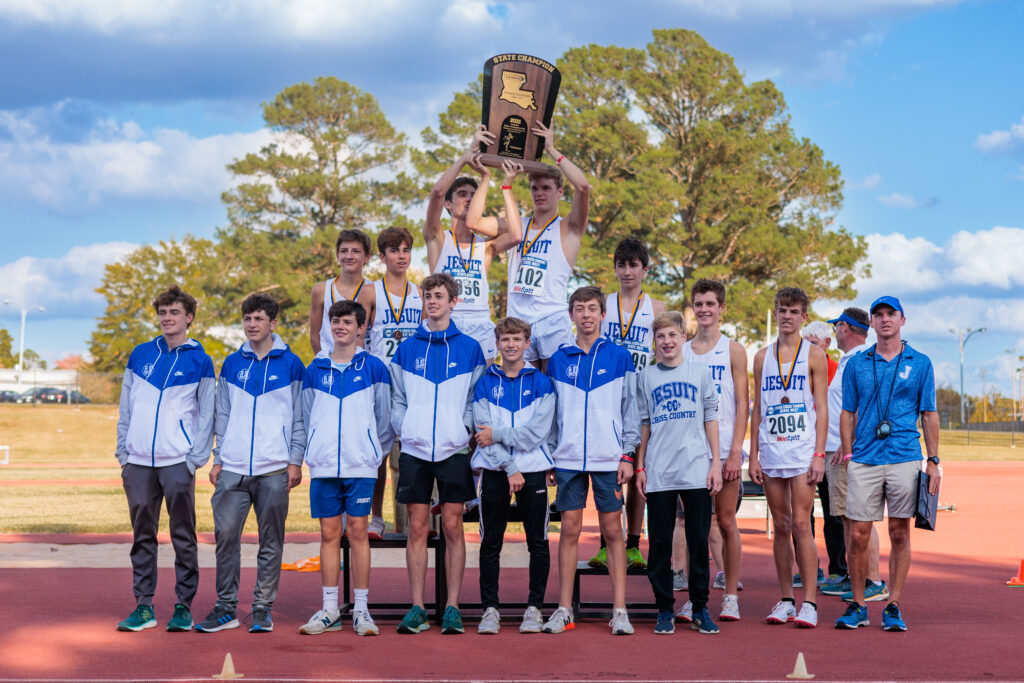 The 2021 cross country team made the journey home under a golden sunset, and in a city known for its lights, Blue Jay runners were lights out. Sophomore Michael Vocke took home the gold medal and junior Jack DesRoches earned the silver to pace the Jesuit cross country team to the 2021 LHSAA 5A state championship. The event took place on Tuesday, Nov. 16, on the campus of Northwestern University in Natchitoches.
With six Blue Jay runners finishing in the top 10 for the day, the team commanded the course with a record-breaking 22-point performance. Jesuit's score was the lowest (i.e., the best) since 5A became the LHSAA's top class three decades ago.
View a full photo gallery of the state meet
Catholic High of Baton Rouge, the reigning four-time champ, was a distant second with 81. Ruston was third with 109. The team score is determined by adding up points earned by each school's top five finishers. Vocke earned one point, DesRoches got two, and so on.
Behind Vocke and DesRoches were sophomore Lucas Sampedro who took 4th and junior Robert Buisson who was 6th. Freshman Brady Mullen was 9th, and Leland Crawford, another freshman, was 10th. Junior Aeric Wender finished a more than respectable 15th.
"I was nervous and the team was nervous, but we stuck with the game plan of pacing ourselves, and the results were phenomenal," said head coach Rudy Horvath. "I am so proud of this team and our school. And I believe we're going to get better and better as they continue to keep working and continue to grow."
Horvath is assisted by 2008 alumnus Cullen Doody, who thanked his runners for the work they've put in but challenged them to stay hungry and to remain committed to improvement.
"That was probably the most nervous I've been since last year's state meet because the lead pack was pretty far ahead of us, but we were able to catch up, make our move and win the race." said Vocke. "And I'm really happy for Jack [DesRoches], too, because he missed a couple days of practice but was still able to get second which really helped the team."
But Horvath remains focused on an even bigger picture.
"The lessons our student athletes are learning about hard work and commitment will follow them in their relationships, careers, and service for the rest of their lives."
Next up for the Jays is the National Meet in Huntsville, Alabama on December 4.
| | | | | | |
| --- | --- | --- | --- | --- | --- |
| EVENT | PLACE | PTS. | BLUE JAY | GRADE | TIME |
| 3-Mile | 1 | 1 | Michael Vocke | 10 | 15:26:08 |
| 3-Mile | 2 | 2 | Jack DesRoches | 11 | 15:27:09 |
| 3-Mile | 4 | 4 | Lucas Sampedro | 10 | 15:46:06 |
| 3-Mile | 6 | 6 | Robert Buisson | 11 | 15:50:00 |
| 3-Mile | 9 | 9 | Brady Mullen | 9 | 15:55:04 |
| 3-Mile | 10 | 10 | Leland Crawford | 9 | 15:58:06 |
| 3-Mile | 15 | 15 | Aeric Wender | 11 | 16:20:07 |