Wrestling Returns to Gayle and Tom Benson Arena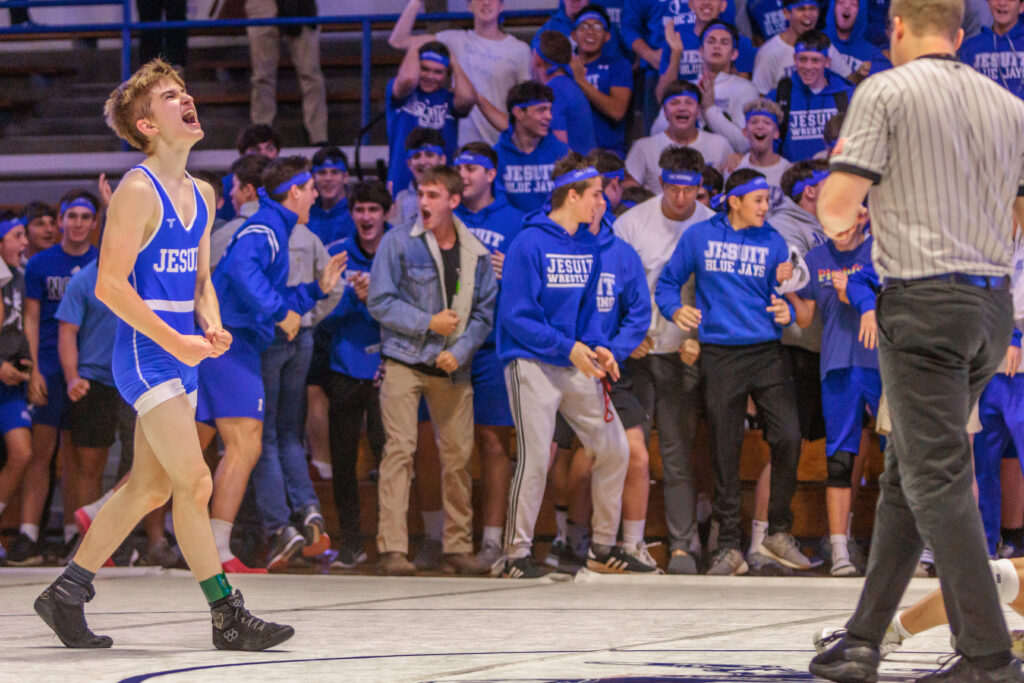 As the weather begins to cool, Jesuit wrestling competition starts to heat up. While the Blue Jays have been preparing since the end of last year, Jesuit officially started their 2021 campaign on November 13, 2021, in the Gayle and Tom Benson Arena against defending state champion St. Paul's.
After a slow beginning to the matches that resulted in a 32-0 deficit, Jesuit climbed all the way back to only trail 37-31. In the second to last match, junior John Michael Bourgeois picked up a massive win over a wrestler he had lost to only a year before to give Jesuit a chance to win going into the final match.
After the exciting matches were over, St. Paul's pulled out the victory by a score of 43-31. The Jesuit grapplers proved that they will be in the hunt throughout the year under the new guidance of head coach Jon Orillion '01.
Results
Collin Cusimano (St. Pauls) over Aidan Steffens
Jacob Houser (St. Pauls) over Grant Herbert
Ethan Viator (St. Pauls) over Jack Seidell
Grant Nastasi (St. Pauls) over Jackson Ballay
Landry Barker (St. Pauls) over Holden Desroche
lan Bohn (Jesuit) over Jared Paulino
Winn McConnell (Jesuit) over Jackson Peak
Jackson Calderero (Jesuit) over Nathaniel Thiess
Larry Larmann (Jesuit) wins by Forfeit
Bodi Harris (Jesuit) over Cole Mire
John Michael Bourgeois (Jesuit) over Conlan Enk
Trey Faherty (St. Pauls) over Chase Haydel