Cross Country Sweeps Top Seven & Claims District Title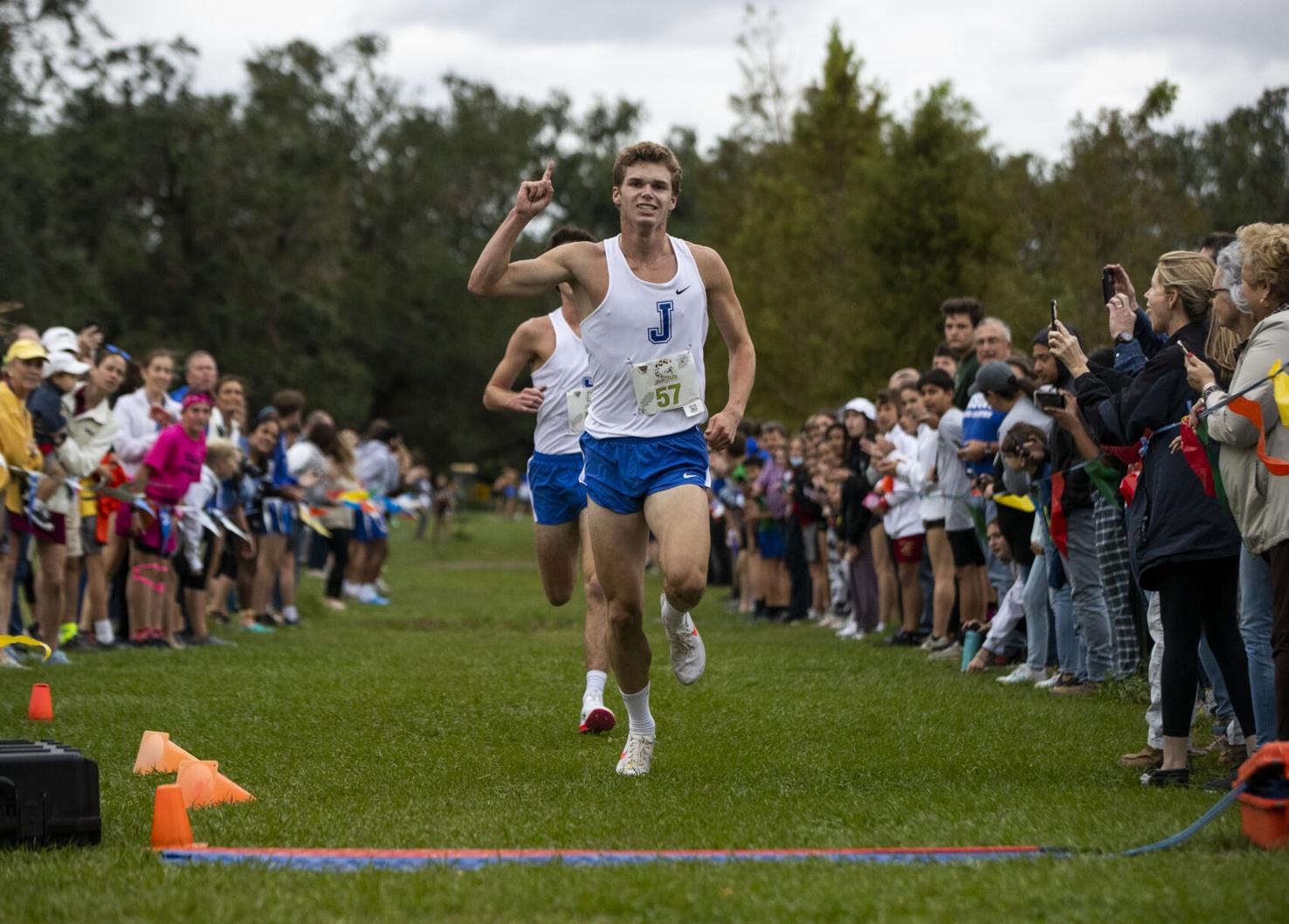 Jesuit not only won the District 9-5A District Championship, but also, for the first time anyone can remember, had all of its seven runners cross the finish line ahead of their competitors. On top of that every Blue Jay runner beat their own personal record (PR), all finishing under 16 minutes.
Junior Michael Vocke finished first with a blistering time of 15:06:44. Junior Jack DesRoches took second place less than a second behind Vocke (15:07:09). Sophomore Lucas Sampedro was third with a time of 15:26:79. Other runners scoring for the Blue Jays were freshman Leland Crawford (15:29:62) in fourth and junior Robert Buisson (15:29:93) in fifth. Not contributing to the team total but helping make history was freshman Brady Mullen who finished sixth (15:36:92), and junior Aeric Wender who finished seventh (15:44:15). Wender was 14 seconds ahead of the eighth place runner.
Each team ran its top seven runners. The first five runners from each team to cross the finish line receive the points that correspond to their place. The first place runner receives one point, the second place runner two, and so on. The team receiving the lowest score wins. The sixth and seventh runners on a team, although they don't receive a score, can also be important, in that they can "displace" scoring runners from the other team. The combined Jesuit team score was a perfect 15, followed by Brother Martin (55) in second and Holy Cross (84) in third. The meet took place in windy, cool conditions on Thursday, Oct. 28, at City Park.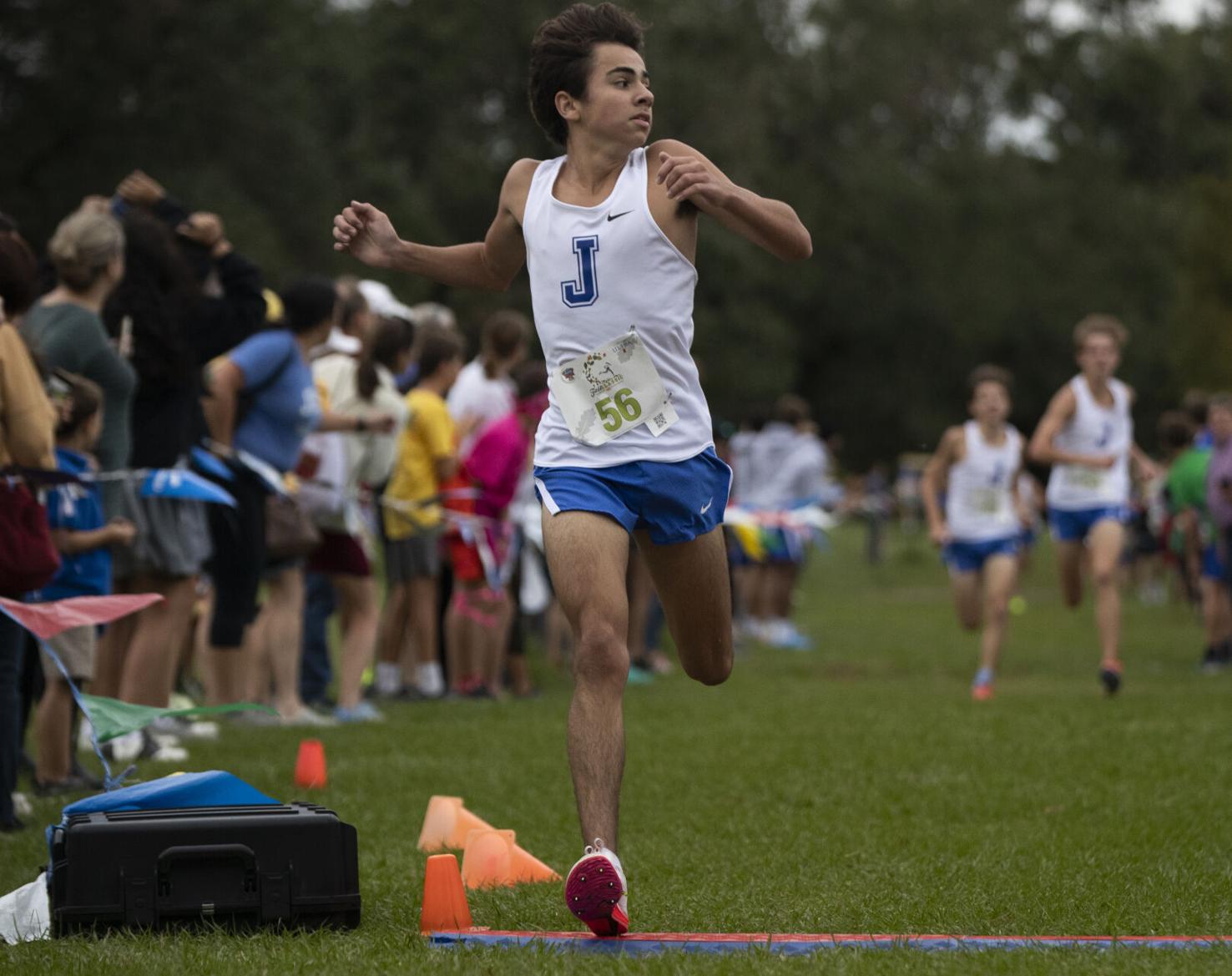 "As excited as I am about the results, and I am super excited, I am equally pleased with the work all of our runners are putting in and the sacrifices they are making that leads to the program's level of success," said head coach Rudy Horvath '86.
They're beginning to get recognized on a regional and national level and that's exciting for them and for Jesuit."
"These young men have something in them that they're looking forward to that is much bigger than a district, or even state-level competition. They're beginning to get recognized on a regional and national level and that's exciting for them and for Jesuit," Horvath added.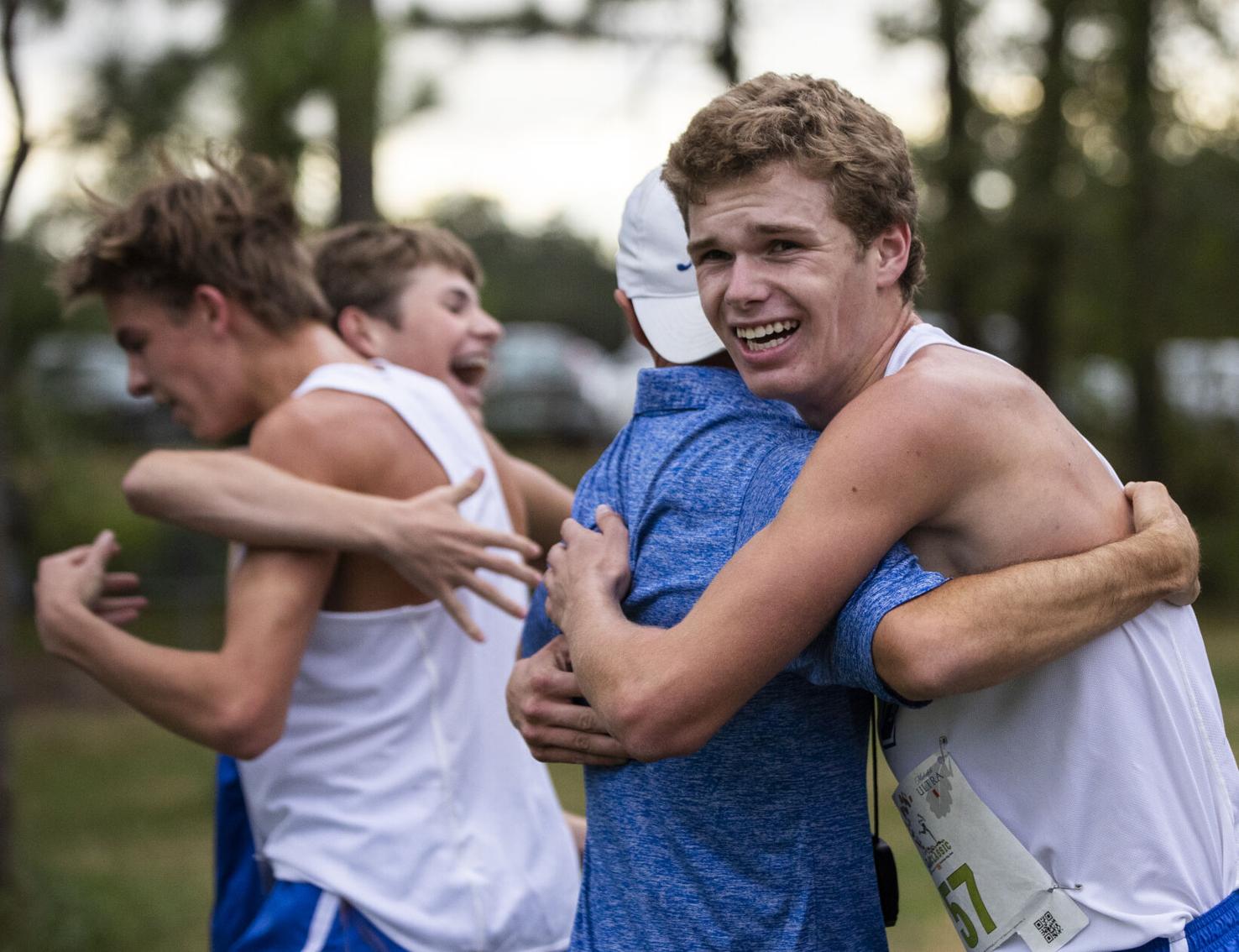 Next up for the Blue Jays is the 5A Region 3 Meet, often referred to as the Metro Meet. However, Jesuit traditionally rests its top runners in that race, giving the rest of its team an opportunity to compete and shine on a larger stage. Soon, the team will turn its attention to preparing for the LHSAA State Championships in Natchitoches on Tuesday, Nov. 16.
Individual Results
| | | | | | |
| --- | --- | --- | --- | --- | --- |
| EVENT | PLACE | PTS. | BLUE JAY | GRADE | TIME |
| 3 Mile | 1 | 1 | Michael Vocke | 10 | 15:06.44 (PR) |
| 3 Mile | 2 | 2 | Jack DesRoches | 11 | 15:07.09 (PR) |
| 3 Mile | 3 | 3 | Lucas Sampedro | 10 | 15:26.79 (PR) |
| 3 Mile | 4 | 4 | Leland Crawford | 9 | 15:29.62 (PR) |
| 3 Mile | 5 | 5 | Robert Buisson | 11 | 15:29.93 (PR) |
| 3 Mile | 6 | 6 | Brady Mullen | 9 | 15:36.92 (PR) |
| 3 Mile | 7 | 7 | Aeric Wender | 11 | 15:44.15 (PR) |
READ MORE…
NOLA.com: Dominican and Jesuit runners finished first. Then they celebrated the success of their district-champion teammates