Jesuit Wins Thriller Against John Curtis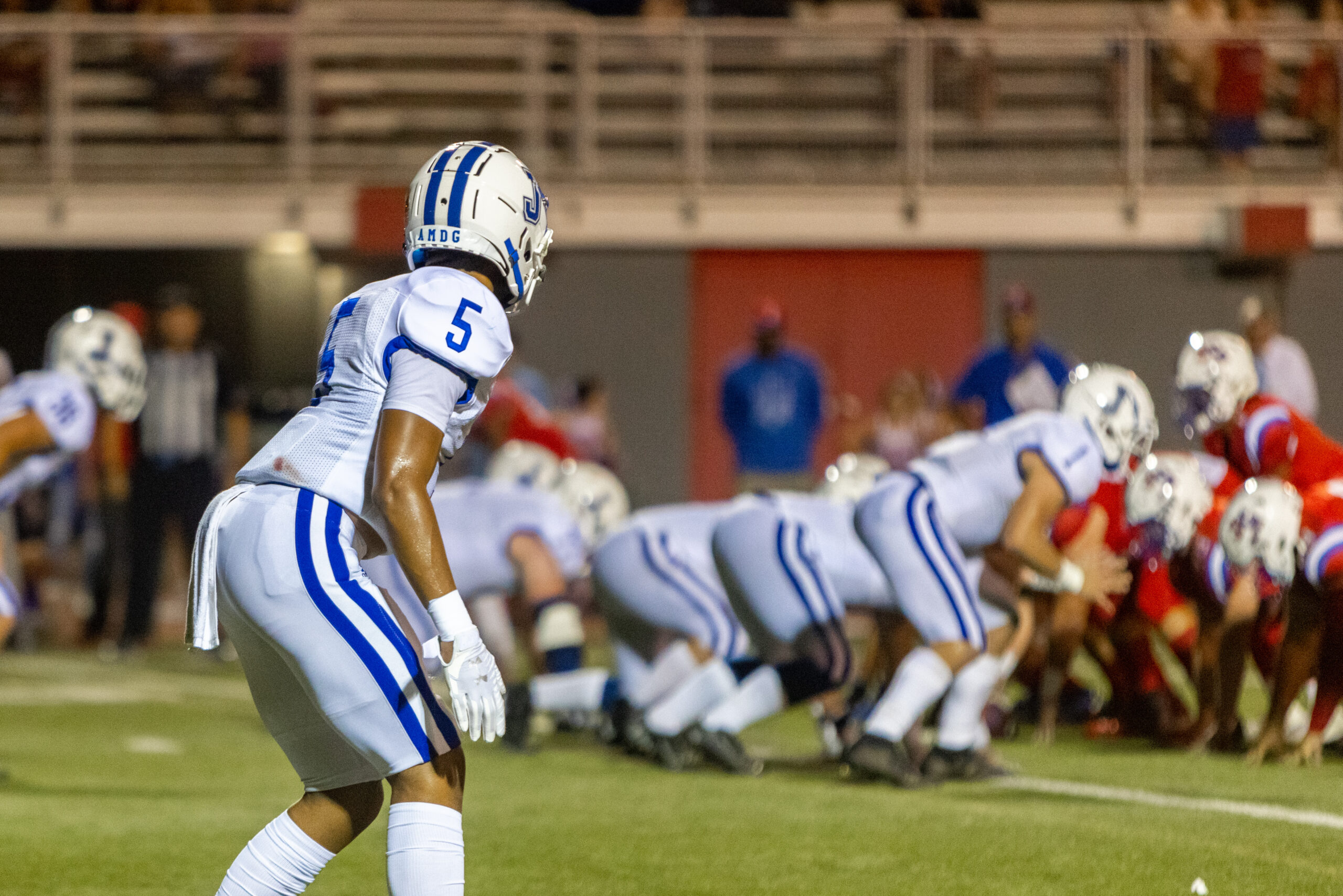 Hoss Memtsas Stadium hosted one of the most exciting Catholic League games of the season on Friday, Oct. 15, 2021, and while one team left a winner, both fan bases left knowing their squad left it all out on the field.
In this methodical, low-scoring affair, Jesuit pulled ahead late to win a tight contest 17-13 against the Patriots. With both teams coming off huge wins, the adrenaline could be felt throughout the stadium. Using that excitement, John Curtis found the end zone on the first possession of the game thanks to tough running and a long touchdown pass.
Jesuit (4-1, 3-1) did not lose hope. Even after missing out on three points during the first possession, the expectation of a win could still be felt on the Blue Jay sideline. When the offense could not find its rhythm, the defense manned the fort and fought all afternoon by holding the Patriots inside the red zone and getting to the quarterback when it was needed.
With 3:56 left in the half, senior quarterback Jack Larriviere looked for the receiver that always seems to get open at the best times. Larriviere rolled out of the pocket on a third and long and found junior receiver Jace Larsen, who took it the rest of the way to tie the game a seven going into the break.
For the first time in two games, Larriviere would have to throw a pass in the second half, and he stepped up to the occasion. He led two scoring drives including one that would ultimately seal it.
With the Patriots leading 13-10 in the final quarter, Jesuit decided to pull out a play that has not been seen yet this year. Larriviere dropped back and found senior tight end Chance Whitfield on a designed screen. Whitfield followed his blockers for 32 yards and found the end zone to give the Jays the final lead with nine minutes remaining.
The defense held strong. Led by senior linebacker Jake Cannizzaro and senior defensive end Andrew Besh, the Jays forced two turnover on downs to give Jesuit their first regular season victory against John Curtis since the teams started playing against each other in 2015.
Jesuit will look to make it four in a row against Shaw at Shaw on Friday night with kickoff set for 7:00 p.m.
Pre-sale tickets are $8.00 each for adults and students (non-participating teams) and $5.00 each for children (ages 6-11). Pre-sale tickets are available for purchase daily at the switchboard from 7:30-3:30. All tickets at the gate are $10.00 each. Both student and faculty ID's, as well as season passes will be honored at the gate for admission. All fan parking must enter the iron gates leading to the campus off of Barataria Blvd. There is a $5.00 parking fee.
Nola.com: 'A long time coming.' Jesuit pulls out a trick at the perfect time to finally topple Curtis