Back in City Park, Jesuit Defeats Holy Cross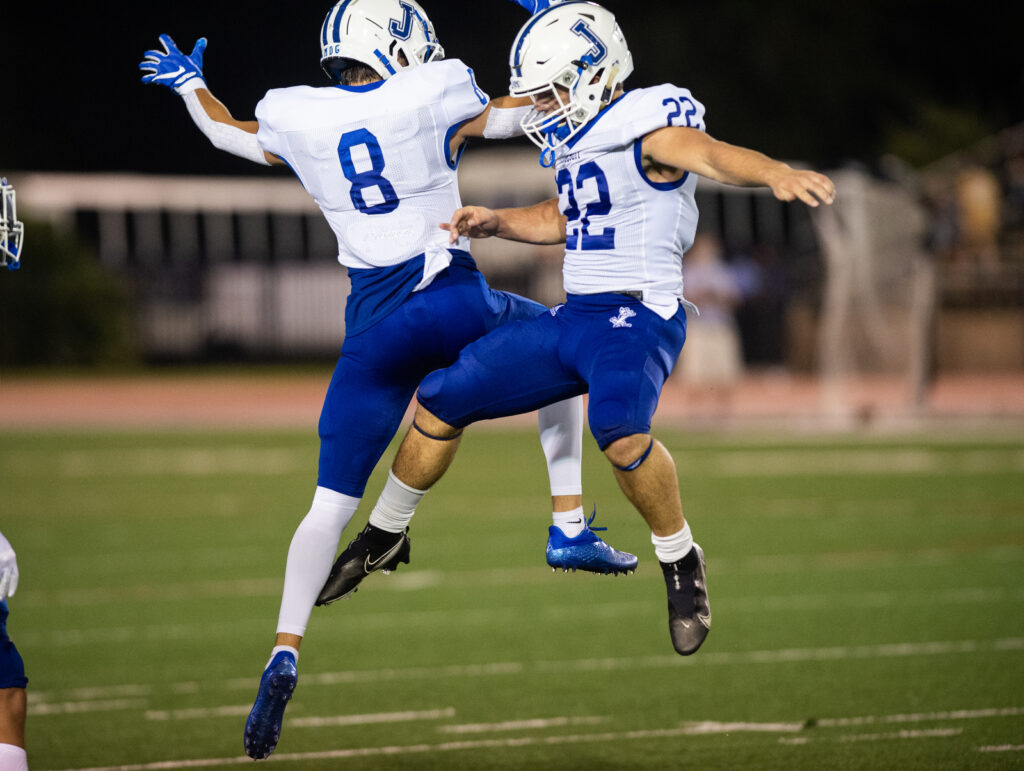 For the fourth consecutive year, the Golden Football will be returning to Carrollton & Banks. The coveted trophy is given to the winner of this great American rivalry, and Jesuit made sure it stayed at its home for another year. The Jays played their best game of the year against Holy Cross and left Tad Gormley Stadium as victors by a score of 51-7, the largest margin of victory in the series for the past 29 years. The Jays now hold a 60-40-1 advantage in the matchup.
Jesuit (2-1, 1-1) scored seven touchdowns and one field goal on its eight possessions. The efficient offense found a rhythm early and never let up, which led to a 31-0 halftime lead against the Tigers (1-2, 0-2). The Jays never threw the ball in the second half, and the stout defense only allowed a single score.
As a part of the offensive onslaught, senior quarterback Jack Larriviere connected with junior receiver Jace Larsen for a 96-yard touchdown, breaking the record for the longest play in Jesuit history which was set last year when Max Milano '21 caught a 89-yard pass from Luke LaForge '21. Before Milano's reception, the record stood since 1954.
Larriviere finished with 200-yards passing and three touchdowns, all of which occured in the first half. Senior receiver Keith Pittman caught the last touchdown of the half that put the game out of reach. Junior running back Jaron Duplessis and sophomore running back Patrick Berrigan each had a rushing touchdown.
While the offense found an early rhythm, the defense danced to the same beat. The Tigers could not get anything going through the air or on the ground and failed to score in the first half of play.
The defense will look to add another dominant performance against St. Augustine on Oct. 8 at Tad Gormley Stadium with kickoff set for 7 p.m.
Nola.com: Efficient Jesuit rolls past Holy Cross: 'It's great to see the team winning again.'