New Student Council Official After Inductions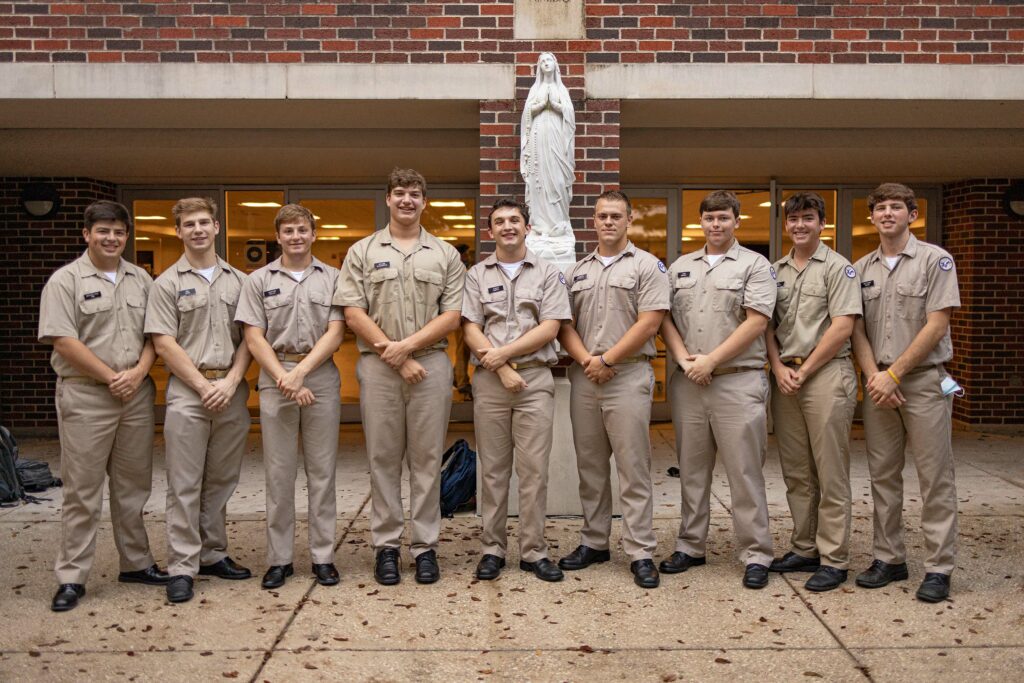 In a return to some normalcy, the executive board of the 2021-2022 Jesuit Student Council was sworn into office during morning assembly on August 27, 2021.
The students campaigned and were elected to office at the end of the last school year.
The constitution of the Student Council outlines the responsibilities of members of the executive board:
To serve as a unifying agency in support of all school activities;
To foster in the students the ideals of Jesuit High School and to inspire the highest type of school spirit;
To provide a means of creating better fellowship and understanding between faculty and students and among the students themselves;
To provide a greater opportunity for self-government and experience in democratic practices by affording a realistic representation of the views of the student body;
To foster ideals of Christian leadership through a spirit of service to the student body and the larger community.
On Aug. 27, Jesuit president Fr. John Brown, S.J., first administered the oath to senior Joseph Liberto, who is president of the council. Liberto then administered the oath to eight of his fellow council members: vice-president Joseph Barnett, treasurer Jack Gasquet, secretary Roland Waguespack, senior class president Jackson Ballay, junior class president Will Sheridan, and executive aids Michael Paul Fine, Ian Bohn, and Matthew Knight.
Upon raising their right hand, each executive board member recited the oath: "I… affirm that I will faithfully executive my office on the Jesuit Student Council, and I will, to the best of my ability, act as a positive example in all that I do, foster Blue Jay spirit in our community, preserve the Student Council Constitution, and live up to the ideals and norms of Jesuit High School."
Justin Genovese '04 and Bryan Bairnsfather serve as co-moderators of the Student Council.