Local News Highlights Monty Montgomery '45, Time Saver and Take 5 Founder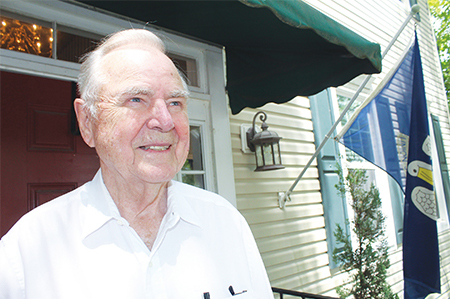 He is the man who started the well-known Time Saver convenience stores in 1951 with his first location at the corner of Carrollton and Oak Street in New Orleans, eventually turning it into a 97 store chain that was sold for over $10 million in 1978.
But his success didn't stop there.
Read the full article on the journey of Levere Cooley "Monty" Montgomery '45 from Jesuit Blue Jay to founder of two iconic New Orleans brands. He is the father of Warren Montgomery '73 and Levere Montgomery as well as the grandfather of three Blue Jays, Daniel Montgomery '06, Levere Montgomery '08, and Austin Montgomery '12.
"My father taught me that you can have a productive and successful life, regardless of your financial status," he said. "It's all about the love from others, and to help others in every way you can."
With so much family all around today, Montgomery said that the love surrounding him is the real success story in his life.