A Blue Jay Forever: An Interview with Alumni Director Mike Prados '83
By Hunter Hoffmann '21, Film Critic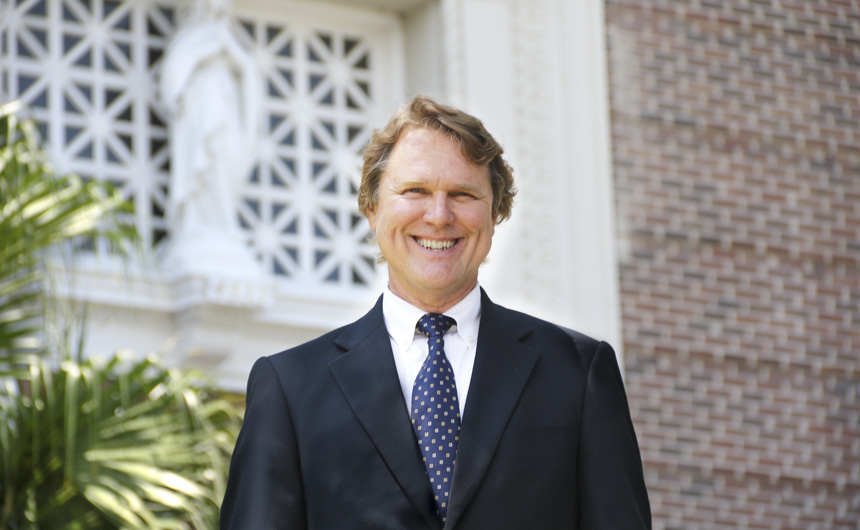 Michael Prados '83 is the current alumni director at Jesuit. He formerly taught English at Jesuit for many years. Although his English classes contained notoriously detailed novel quizzes and rigorously graded essays, Mr. Prados is still beloved by many of his former students for the light-hearted atmosphere that prevailed in his classroom and the appreciation of literature that he instilled in his students.
While Mr. Prados has stated the enjoyment he had in teaching, he is taking the transition to alumni director quite well, humorously citing that he particularly enjoys "not grading papers."
In addition to English, Mr. Prados has taught theology and Latin. He
has coached baseball, run the Blue Jay Shop, and served as director of service projects, student activities, and the
Alumni Service Corps. He is a regular on student retreats and service trips, the 8th-grade trip, and the pro-life trip.
Q: What do you miss most about teaching?
A: I miss the day-in, day-out interaction with students.
Q: What was your favorite topic to teach?
A: I especially enjoyed teaching American literature.
Q: What did you find most difficult about the transition to alumni director and what has been the best part of the transition?
A: First off, I'll say this: I said I miss teaching and the daily interaction with students, but I don't miss grading papers. I've held many different roles around here over the years, but the classroom came first. My students were always important to me, and I didn't want anything to get in the way of teaching. So after twenty-eight years in the classroom at Jesuit, thirty-two years total, it's been a big transition.
Then the work-day is different. It's generally an 8:00-5:00 day, and there are many events outside of school. I don't have the same days off, and I work through the summer. Those were all adjustments to the new position. I spend more time in my office, attending meetings, and going to events or planning
events. But I have enjoyed reconnecting with some of my former students who
are young alumni, as well as people my own age and the ages of my seven brothers and father.
Q: How has COVID affected the day-to-day operations of being alumni director?
A: Many events were cancelled, postponed, or restructured. Last year, all of the reunions that were scheduled from March through June were postponed, so a big part of my job was dealing with postponements instead of attending reunions. Now we are planning for reunions again, starting in May.
Many of the major events that we normally have didn't happen, such as the alumni homecoming Mass and
reception, but we were still able to recognize our alumnus of the year and have a nice event for him and his family.