Bowling Finishes Regular Season with Victory Over Holy Cross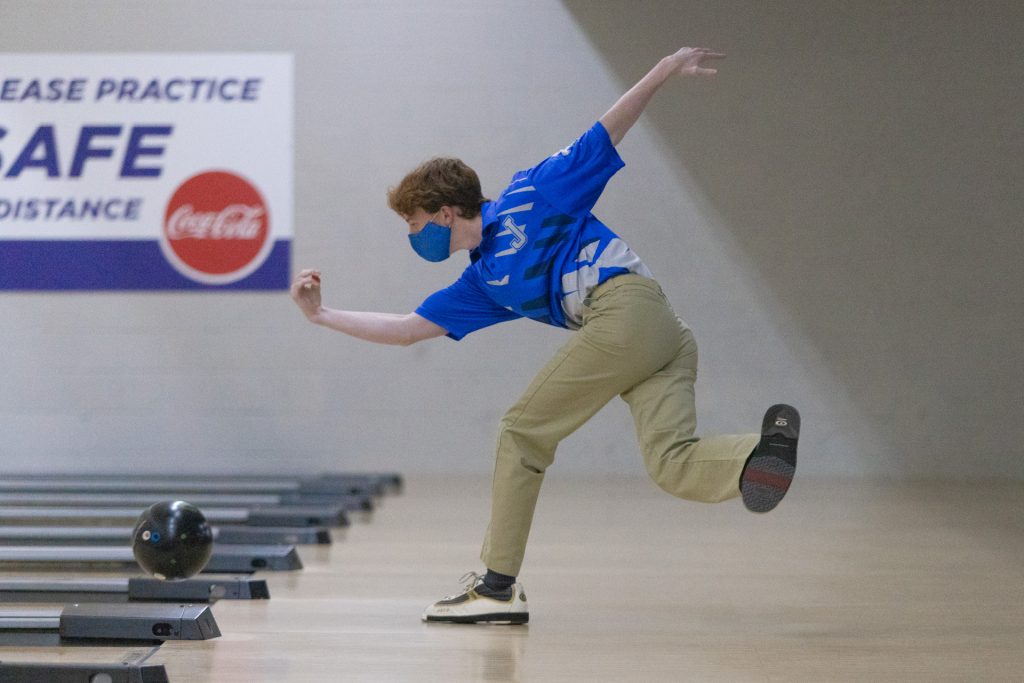 Jesuit Varsity Bowling (10-2) ended its regular season this week with a loss to Brother Martin and a win over Holy Cross. The Blue Jays are currently ranked at No. 9, with the second highest boys power rating in the metro area.
Monday's Game
Junior Gary Sims won all three of his games against bowling powerhouse Brother Martin Monday, but it wasn't enough as the Jays fell to the Crusaders at Colonial Lanes in Harahan. Even though it was a tough loss for the Jays there was plenty of spirit to go around from all the student fans a.k.a. the "Gizzard" who turned out to cheer on the bowlers. Sims posted a 684 series, the top series score amongst both teams. Senior Ben Hunn, junior Luke Wood, and sophomore Will Adams also recorded wins.
Score Highlights
Match 1 – Jesuit 1176, Brother Martin 1279 (2-6)

Luke Wood – 245, Gary Sims – 212

Match 2 – Jesuit 1198, Brother Martin 1245 (2-6)

William Adams – 237, Gary Sims – 236, Benjamin Hunn – 203

Match 3 – Jesuit 1153, Brother Martin 1233 (2-6)

Gary Sims – 236, Collin Pearce – 210, Benjamin Hunn – 206

Game Totals – Jesuit 3527, Brother Martin 3757 (6-21)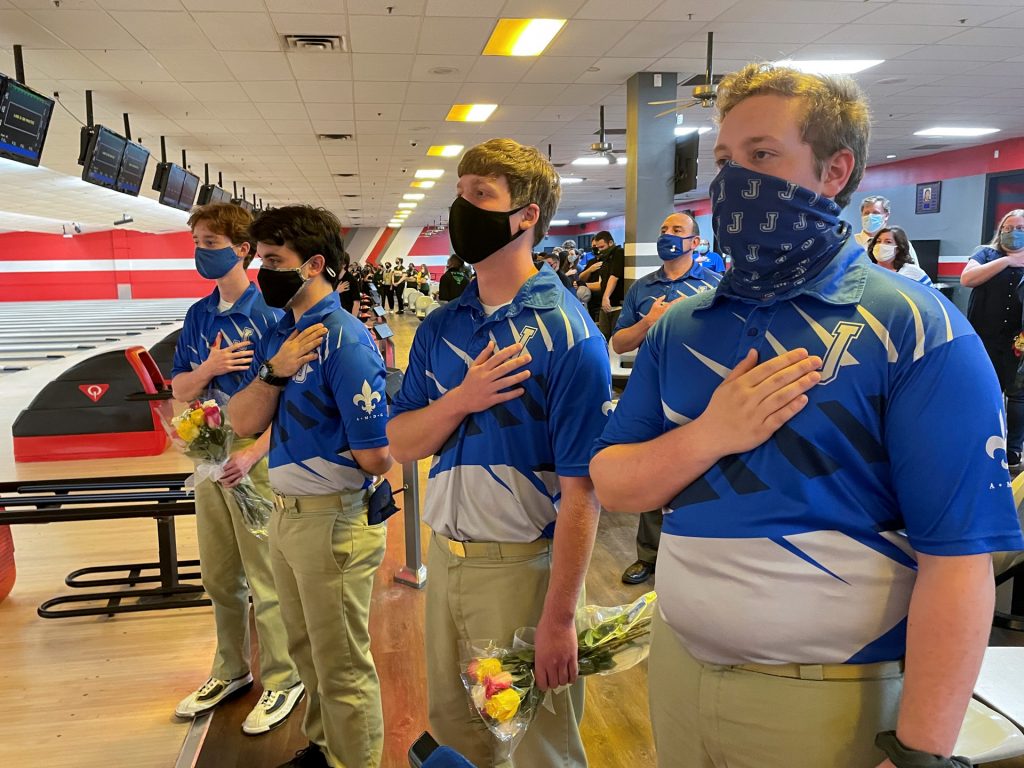 Thursday's Game
The varsity bowling team wrapped up its regular season with a win over Holy Cross, 24-3. Before the match, head coach Todd Bourgeois honored his four seniors — Ben Hunn, Brandon Griffin, Michael McGovern, and Tyler Westfall. The Jays finished the regular season with a mark of 10-2. A record seven Blue Jay bowlers qualified for the state singles championship tournament — Will Adams, Will Carpenter, Ben Hunn, Mike McGovern, Colin Pearce, Gary Sims, and Luke Wood. The Jays look forward to the LHSAA singles and team championships that will take place in April.
Score Highlights
Match 1 – Jesuit 1119, Holy Cross 915 (6-2)
Match 2 – Jesuit 1131, Holy Cross 862 (8-0)

Benjamin Hunn – 216, Luke Wood – 216, Michael McGovern – 201

Match 3 – Jesuit 1035, Holy Cross 913 (7-1)
Game Totals – Jesuit 3285, Patrick Taylor 2690 (24-3)
In the News
Crescent City Sports | Boys Bowling: Brother Martin tops Jesuit in bowling showdown, 21-6
Crescent City Sports | Bowling: Shaw in playoff mix after defeating Rummel; Blue Jays, Crusaders, Tigers, Swamp Owls win