Jays Baseball Starts Season on Winning Track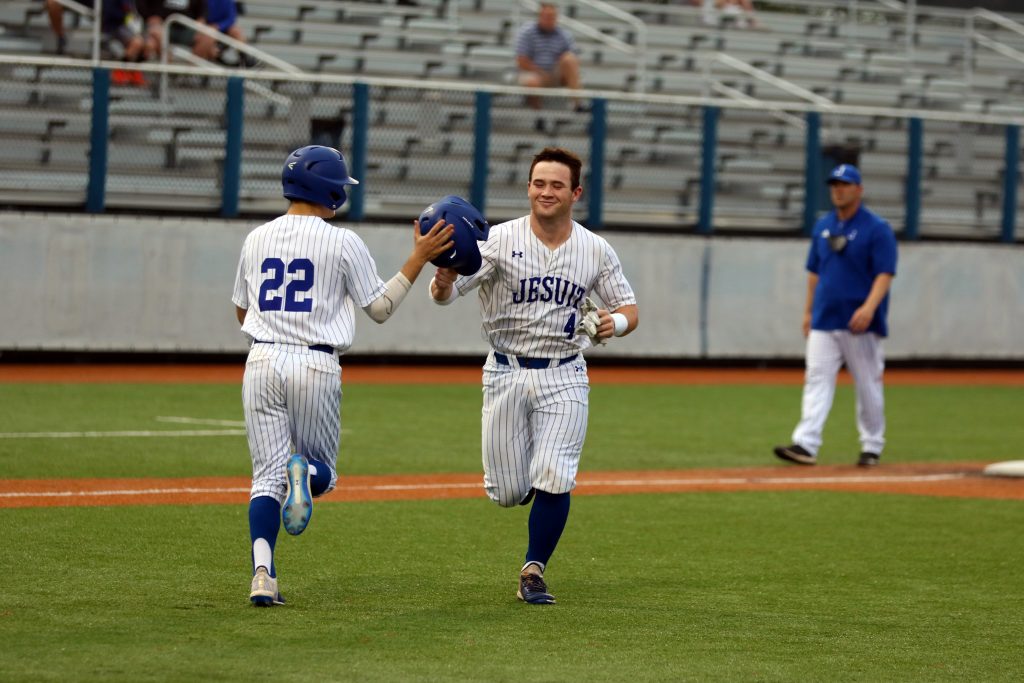 Through 20 games, Jesuit baseball has shown a little bit of everything on the diamond. The squad has illustrated the ability to win close games, dominate teams, and wage a comeback when necessary.
To start the year, Jesuit swept their own invitational and the highly contested Jay Patterson Shootout. In these two tournaments, they have beaten opponents such as Catholic, Destrehan, Hahnville, Northshore, and Lakeshore to name a few.
With all these characteristics and achievements, the Blue Jays won 18 straight contests and picked up their first district win against Holy Cross on Thursday, March 25 by a score of 8-1.
Astonishingly, Jesuit scored four of its first five runs with two outs and never let Holy Cross obtain any momentum.
After a rainy week, junior Holden Hess walked to the bump, took the ball, and never gave it to another Jay. Hess went the distance, hit a two RBI double, and only allowed one run to propel the Jays to another impressive victory.
Senior Joel Terry added two RBIs of his own with a triple and a sac fly, senior Giovanni Licciardi contributed with an RBI of his own.
Jesuit would not have to wait long to play their rival again as the squad traveled to Holy Cross on Friday, March 26 to play another contest.
The Blue Jay offense came out firing and grabbed an early 4-0 lead going into the fifth inning with senior Michael King showing no signing of slowing down on the mound. The Tigers would score 3 in the fifth and threaten to take their first lead.
Jesuit would not allow it. In the top of the seventh, senior Zack Casebonne, Hess, and Terry hit doubles to extend the lead to 7-3 going into the final frame.
Holy Cross showed resilience and tied up the score to send the game to extra innings and would eventually win on a walk-off hit to finish the comeback.
The day after the tough loss, Jesuit did not let its past control its future. The Blue Jays came out at John Ryan Stadium and grabbed an early 1-0 lead against Hannan thanks to a double by senior Tripp Haddad. Sophomore William Good hurled the ball well all afternoon and finished with eight strikeouts in six innings.
Thanks to a big sixth inning, Jesuit jumped out to a 6-1 lead and would win the afternoon showdown 6-3.
While Jesuit is no longer undefeated, the team continues to show progress at the plate, in the field, and on the bases. The Jays will look to build upon their 19-1 start against De La Salle on March 29 at 7 p.m. at John Ryan Stadium.