Basketball Fights Until The End, Falls to No.1 Scotlandville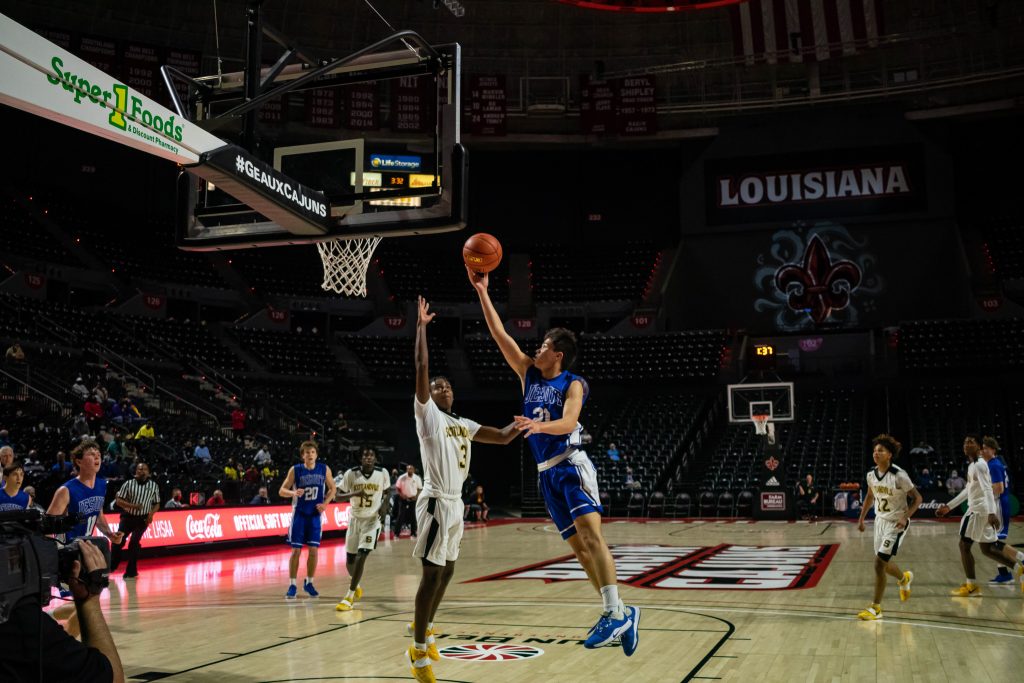 The No. 5 seeded Jesuit basketball team (20-10) had an abrupt end to its regular season but showed resolve and character in the first two rounds of the state playoffs by defeating Catholic and Rummel.
Jesuit went into the semifinal round and left it all out on the court against powerhouse and No. 1 seeded Scotlandville but ultimately fell short in the Cajundome 46-43.
The defensive battle started early with both teams missing typically routine shots inside the arc, but Scotlandville's three point attack gave them an early 13-10 lead going into the second period. Scotlandville made 4 four of their nine threes in the first half while Jesuit missed their only attempt.
Scoring was even harder to come by in the second quarter. Both sides only combined for 14 points and Scotlandville hung on to an early 22-15 lead going into the break.
Jesuit's offense came out firing in the third period. The Blue Jays went 3-4 from beyond the arc and 7-10 overall in the quarter and found themselves within striking distance going into the fourth.
Senior Patrick Lavie made a three from the parking lot to pull the game within one late in the quarter. Lavie had a chance to tie the game with 1.9 seconds remaining, but the shot came up short of the iron.
The Jesuit defense did not allow a made field goal for the last 3:36 seconds, but Scotlandville, with a mixture of free throws and possession, found themselves up three when the final whistle blew.
Senior Porter Lichtl played a superior brand of basketball by constantly driving to the basket. This relentless attack produced 16 points, 5 rebounds, and an assist for the offensive force.
Junior Matthew Knight handled the ball well and scored 10 points by shooting 4-5 from the field to help the offensive effort. Lavie added another 10 points and clutch shooting to help the Blue and White.
Seniors Malcolm Baldwin and Christopher Gillen provided tremendous defense and ball handling to keep the defense diligent and the offense flowing.
The entire Blue Jay squad left it all out on the floor and provided a season to remember with comeback victories and dominating wins. Until the doors to the Gayle and Tom Benson arena open again, fans can rest assured that head coach Chris Jennings '78 will be preparing for another exciting season.