Basketball Wins First Two, Advances to Semifinals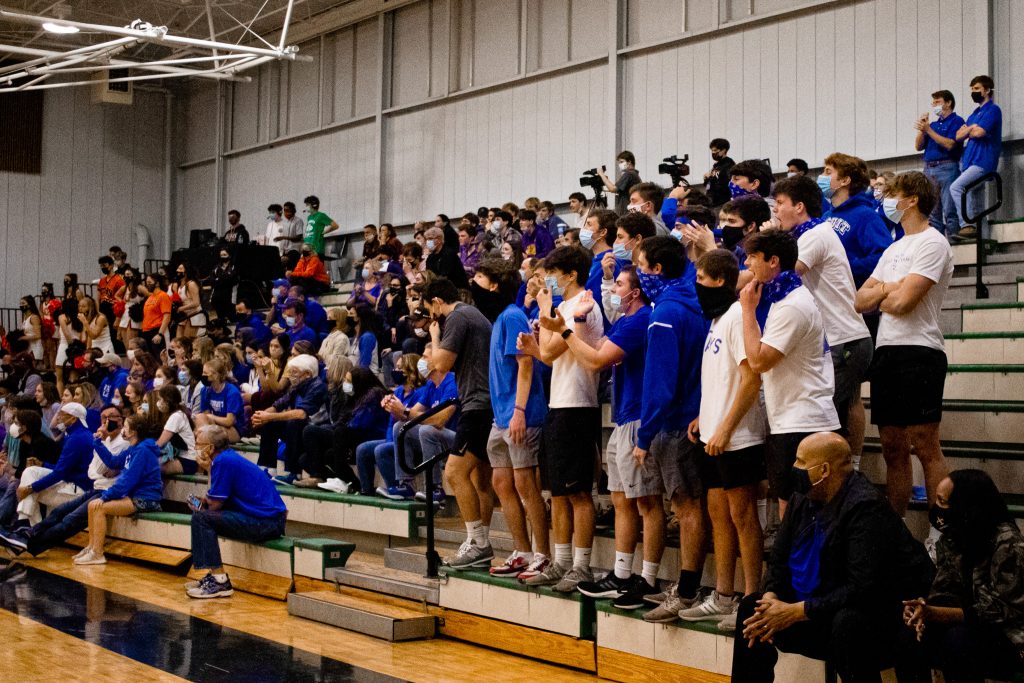 The No. 5 seeded Jays came into the LHSAA playoffs not having played since mid February. Rust was the concern on every fan's mind, but Jesuit showed how well disciplined the team truly is with wins over No. 13 Rummel and No. 4 Catholic.
The Blue Jays started their winning streak in the Gayle and Tom Benson Arena with a matchup against the Rummel Raiders. Jesuit relied on superior defense to power them through a tough opponent and ended up winning big in the trenches. The game ended 58-29 in favor of the Jays.
The second matchup took the Jays on the road to Baton Rouge to face a highly talented Catholic team in a raucous environment. Luckily for Jesuit, a solid number of students traveled to support.
The game started as a defensive battle between rivals. As per usual, senior Christopher Gillen, senior Patrick Lavie, and junior Matthew Knight applied the defensive pressure that only allowed 17 points in the first half and only five in the second quarter. Knight also thrived on the offensive end by scoring 15 points and nailing clutch free throws to close it out.
The third period is when the Jesuit offense came alive. Sophomores Jack Lo and Josh Washington continually brought the ball to the basket and converted tough drives. Lo finished with a game high 17 and Washington pitched in nine crucial points. Senior Malcolm Baldwin handled the ball with caution and found points in the paint and mid-range game.
Going into the fourth, Jesuit found themselves up 41-26 and had all the momentum, but Catholic would not quit and cut the game to as close as two in the fourth.
The Blue Jays survived the scare with clutch free throws late in the contest to win 53-44 in Baton Rouge.
Senior Porter Lichtl rebounded well and kept possession throughout for the Blue Jays, and sophomore Will Good added a spark off the bench.
Jesuit will now move on to play top seeded Scotlandville in the Cajundome on March 9 at 2:30 p.m.