Jesuit Basketball Ends Three Game Skid, Beats John Curtis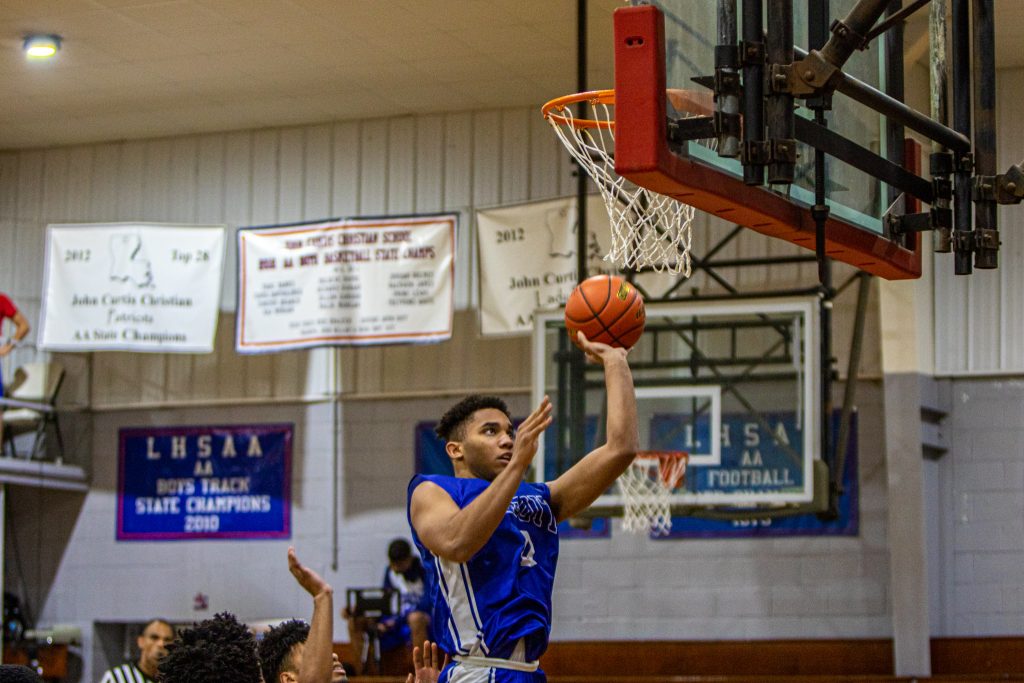 After losing three heartbreakers to Newman, Brother Martin, and Shaw, Jesuit (15-9, 3-3) got back on the winning track with superior defense and won a tough road contest against the John Curtis Patriots 48-33 on Tuesday, Feb. 2, 2021.
The stretch of games started on Jan. 26, at Newman. No one in the building could have expected what was about to unfold. After a constant back and forth affair that saw senior Patrick Lavie, who scored a team high 22 points, hit a jumper with 2.1 seconds left to send it into the first overtime, Newman came out and scored first four of the period. The game was long from over.
Jesuit ended up taking a two point lead with less than a minute to go in overtime, but the Greenies would hit a midrange shot, and the endless night began.
After two similar overtime periods, Newman ended up barely edging out the Jays after three overtimes by a score of 78-74.
The next game on Jan. 29, saw Jesuit host Catholic League Rival Brother Martin at the Benson Arena. In another tight affair, Jesuit held a 40-39 lead going into the fourth thanks in part to the scoring of sophomore Josh Washington, senior Porter Lichtl, and junior Matthew Knight.
The Blue Jays could not find a way to close the contest, and the Crusaders went on a late 11-2 run to give Jesuit its second gut wrenching loss by a score of 63-54.
The next day, Jesuit went on the road and had to play an extremely talented Shaw team that had won five of its previous six. Lichtl scored 15 and helped keep the Blue and White close in the early going, but Shaw would pull away late and win 66-51.
On Feb. 2, Jesuit was not taking no for an answer. Senior Christopher Gillen provided his usual defensive prowess, and he was not alone on the defensive side of the ball. Sophomore Jack Lo used his quick hands and textbook defense to quickly translate steals to points, and Lichtl and Washington provided the interior muscle for rebounds and rim protection.
Washington also produced on the offensive end with expert post moves that constantly sent him to the charity stripe. Junior Michael Britsch provided quality shooting off the bench, and senior Malcolm Baldwin assisted in running a smooth offense and added points of his own.
The most impressive aspect of the game was the ability to play aggressive defense without fouling. The Jays only allowed 33 points and committed two fouls in the second half. Both important statistics that can improve a solid team into a tremendous one.
Jesuit will need to ride this wave of momentum into the weekend as the Blue Jays have two important home district games against Shaw on Friday at 7 p.m. and against Rummel on Saturday at 5 p.m.