Jesuit Starts Hot, Loses to St. Augustine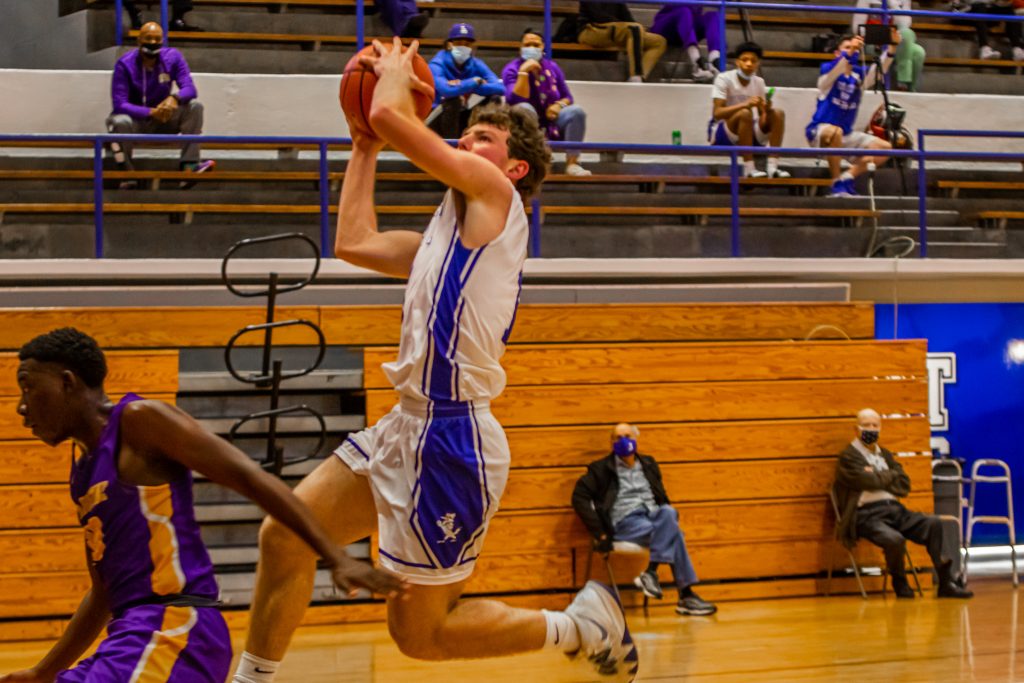 In their first district matchup of the season on Jan. 19, the Blue Jays (13-6, 0-1) came out firing. Senior Patrick Lavie made his first two three-point attempts on way to his team high 19, and junior Matthew Knight threw in a 2 to start the game on an 8-0 run.
The game would continue to go back and forth between the Purple Knights and the Jays, but St. Augustine found a way to secure the victory in the Benson Arena 60-56.
The first quarter showed why this Jesuit team can be successful. All five players were constantly pressuring the opponent and, besides a couple of turnovers, took care of the ball with strong passing and driving. Because of this strategy, Jesuit found themselves leading 20-14 going into the second period.
While both teams started slowly in the second quarter, the Purple Knights found their path to victory by dominating the offensive glass, which led to three and four opportunities on the offensive end.
Thanks to offensive rebounding and the three-point shot, St. Augustine went into the half with a three point advantage.
Both teams came out of the tunnel and struggled to score, but Porter Lichtl's rebounding, Lavie's sharpshooting, and senior Malcolm Baldwin's ball-handling helped Jesuit cut the lead to 1 going into the fourth.
After a well executed play coming into the quarter, Jesuit grabbed their first lead since the first half by a score of 46-45. Unfortunately, that would be the last lead Jesuit would possess.
Lavie hit a three to cut the deficit to two with 59 seconds left and gave Jesuit a chance to tie it up with 10 seconds remaining, but the ball could not find the bottom of the net. The game would end 60-56 in favor of the Purple Knights.
Sophomore Josh Washington scored seven of his 13 points in the fourth to help keep the game within reach, Knight added another 10 to the scorebook, Lichtl always seemed to be around the basketball in the paint, and senior Christopher Gillen applied constant pressure in Jesuit's man defensive scheme.
The Blue Jays will look to exact revenge on Friday, Jan. 22, 2021, at St. Augustine against the Purple Knights.