Jays Fight Until the End, Lose to Brother Martin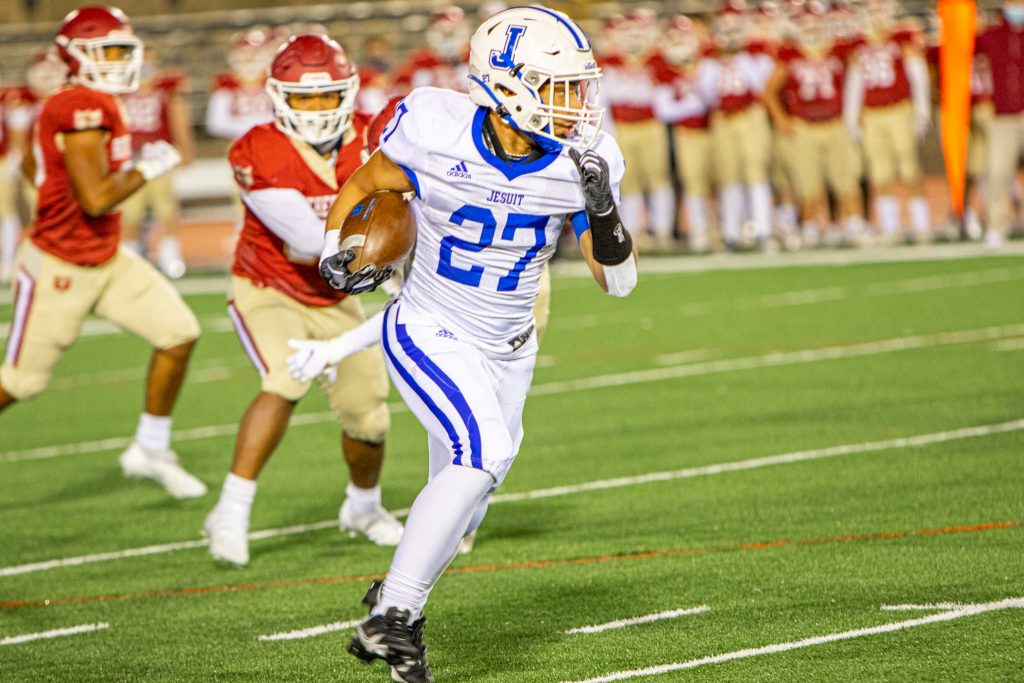 When No. 1 seeded Brother Martin (9-0) hosted No. 9 seeded Jesuit (5-5), everyone expected an exciting matchup between two Catholic League rivals—much like the previous game in October. Fans got exactly what they wished for.
Unfortunately for Jesuit fans, Brother Martin a go-ahead touchdown with 49 seconds left to win by a score of 36-34. Both games between the Jays and Crusaders this season were decided by a total of 5 points.
The Crusaders wasted no time to start scoring in the contest. They drove down the field on the first possession with a tremendous mixture of runs and passes that ended with a Brother Martin red zone score.
The Jay offense started slowly and punted the ball away in each of the first two possessions. The explosive Brother Martin offense took advantage and found themselves with an early 14-0 lead going into the second quarter.
The Jesuit defense knew they had to provide a spark and did just that. Jesuit stripped a Crusader running back, leading to a scoop and score by senior Hayden Morris to cut the Brother Martin lead in half.
Momentum shifted Jesuit's way and led to another tremendous touchdown from senior Luke LaForge to senior standout Luke Besh. After trailing 14-0, the Jays found themselves only trailing 21-13 going halftime.
In the third quarter is where Jesuit showed their collective might. After a huge stop on 4th down, the Jays pushed down the field, finding Max Milano and cutting the deficit to two after a missed 2-point conversion.
The active defense forced another punt from the Crusaders. LaForge and senior running backs Jordan Hughes and Jalen Williams put together another impressive drive that led to a go-ahead 59-yard touchdown reception by sophomore Jace Larsen. To top off the exciting third quarter, LaForge found Milano for the 2-point conversion. Just like that, Jesuit led 27-21 going into the final period.
After a Brother Martin field goal to start the fourth, LaForge found Larsen again for a long score to extend the lead to 34-24 with 9 minutes and 36 seconds remaining.
Unfortunately, that would be the last Jesuit score of the year. The defense held strong against the highest rated team in the catholic league as senior defensive end Luke Carlton, sophomore defensive end Andrew Besh, and junior linebacker Dennis Dougherty constantly made big tackles.
Despite a valiant defensive effort, Brother Martin managed to score two touchdowns in under six minutes to win the game 36-34, advancing to the semifinal round of the playoffs.
This is the way that Jesuit wanted to go out: with heart, grit, and determination. A huge thank you to all of the coaching staff for a spectacular season and to the fans for always cheering on the Blue Jays.